Mizzou ROTC gleans invaluable lessons from 'General Pershing'
Actor David Shuey presenting General John J. Pershing to the Mizzou ROTC. (Anthony C. Hayes)
Everyone recalls that enthusiastic high school history teacher who would don a powdered wig on President's Day and talk about the Constitution. Costumed presentations are nothing new, but when MSG. Justin Hardy of the University of Missouri (Mizzou) ROTC learned that living-history actor David Shuey would be in the area to portray General John J. Pershing, he seized the opportunity to offer his charges life lessons from one of America's foremost military leaders.
Shuey – a Pennsylvania native – was in Missouri last week to present "Pershing – Generally Speaking" to the Mizzou ROTC, and to appear at the National World War I Centennial Commemoration. The commemoration – which was hosted by the United States World War One Centennial Commission – was held at the National World War I Museum and Memorial in Kansas City, Missouri.
John J. Pershing was a monumental figure in early twentieth-century America. His military exploits included serving as a lieutenant with the 10th U.S. Cavalry "Buffalo Soldiers", fighting alongside Theodore Roosevelt in Cuba, subduing the Moros in the Philippines, and pursuing Pancho Villa into Mexico. But it is Pershing's tenure as Chief in Command of the American Expeditionary Forces in World War I which has spurred a revived interest in the enigmatic warrior.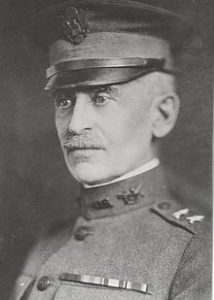 Wearing the requisite high collar tunic, brown riding boots, and four gold stars of "General of the Armies", Shuey was greeted at the door to Mizzou's Crowder Hall by MSG. Hardy.
"Crowder Hall was built in 1938 to honor another Missourian, Major General Enoch H. Crowder," explained Hardy. "He was instrumental in putting together all of the paperwork for the draft when President Wilson needed troops for World War I. He usually gets pushed into the shadows by General Pershing, along with other Missourians like Omar Bradley and Frank Buckles."
"General Crowder also taught Military Science at Mizzou, and he organized the marching band. He did a number of different things here on the campus."
Hardy said Crowder Hall is home to Mizzou's Army, Navy and Air Force ROTC. Museum-worthy displays (including a flag which flew on the battleship Missouri) may be found throughout the building. There is also a cache of fragile documents and sepia-toned portraits awaiting archival care.
The doors are unusually wide because instructional artillery pieces were once stored inside the facility. The basement once housed an indoor rifle range. Today, it is used for storage.
"The cadre breakdown is about 60 Navy, 60 Air Force and 120 Army. We have a joint-force drill team and the students take most of their military classes together," Hardy affirmed, as he ushered us into the classroom where Shuey's Pershing presentation would take place.
About 15 students were seated, when Pershing made his dramatic entrance. Also present were several officers/teachers, including Executive Officer CPT. Matthew Ray, and Department Head LTC. Gary Kerr.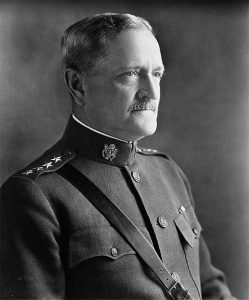 "Do you recognize me?" asked Shuey.
One or two nervous hands went up.
"General Pershing, right?" ventured a junior classman.
"Yes!" exclaimed Shuey. "And what am I famous for?"
The general consensus was that Pershing was an important figure in World War I.
Seven or eight more people filtered in as Shuey soldiered on.
Though at times gruff in his persona, and full of questions for the students ("Who is the only other general in American history to be honored with the rank of six stars?"), Shuey's Pershing also shared some surprisingly somber moments. He revealed for instance that the general lost his wife and three daughters in a tragic fire. He then recalled how his nemesis, Pancho Villa, had sent heartfelt condolences when he heard the sad news of General Pershing's loss.
"Weren't you bitter enemies?" one student asked.
"I didn't want to kill Pancho," said Shuey, "I only wanted to capture him."
Shuey explained that the lessons learned in fighting Pancho Villa proved priceless when America became involved in World War I.
"Much of what we learned in the Mexican Punitive Expedition was employed in Europe. They (the Germans) were trained in trench warfare. We trained for the open-field, and when it was finally time to make the push between the Meuse River and the Argonne Forest, we were ready."
Fielding questions from the class, Shuey was asked, "Why did you (Pershing) not want American forces under the control of the French?"
"Well, for three years, their strategy had been, 'Let's kill more of them than us'. That was not our strategy. Has anyone read The Art of War by Sun Tzu?"
Two hands were quickly raised.
"'If you wish to defeat your opponent, you must defeat his strategy. You will not do so by killing all of his warriors.' We defeated their strategy. We made it pointless for the Germans to continue. Amalgamation would have only allowed our boys to be misused in the fight. That is the reason I steadfastly withheld them, and our President supported us."
By this point, any early trepidation in the ROTC cadets had melted away. Thoroughly engaged, the students seemed mesmerized by the history lessons laid out in realistic detail.
One of the final questions dealt with Pershing's aborted presidential run in 1920.
"I may have entrusted my political career to the wrong people; however, it's my opinion also that, after the worst conflict in the history of mankind, perhaps they wanted to elect someone to that office that didn't remind them of the carnage. Perhaps our nation was war-weary as well."
Concluding his talk, Shuey's Pershing said: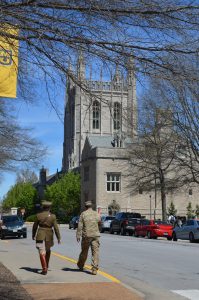 "My destiny was to be a teacher. What will your destiny be? You don't have to decide today. My advice to you is to be ready for anything and prepare for what you desire because your destiny is coming. If you're ready and prepared, you will achieve it."
* * * * *
As the class broke up, a small crowd surrounded Shuey to offer thanks and pepper him with additional questions, comments, and anecdotes. One attendee said his great-grandfather had served under Pershing. Several students expressed admiration for Shuey's vintage uniform.
CPT. Ray, who also serves as Assistant Professor of Military Science at Mizzou, told the Baltimore Post-Examiner he was first exposed to Pershing while a student at West Point. "We had a building at the academy named after General Pershing, so I heard a lot about him.
"I really enjoyed the presentation," continued Ray. "I thought Mr. Shuey did a great job of really getting people into the emotions of General Pershing and seeing him from the perspective of a human being and not the mythical character ascribed to him in hindsight. I think presentations such as this would benefit anyone under my command. In a lot of cases, living-history is not as appreciated as it should be."
Ethan Williams, a freshman Geography major, said he found Shuey's presentation, "Incredibly enlightening into the life of Pershing; especially where it pertains to his time overseas.
"I think this presentation could be valuable to almost anybody's career because the advice that comes from learning about John Pershing's life is universal. Especially the lesson about determination and being prepared."
* * * * *
After class, MSG. Hardy took David Shuey and this reporter for an illuminating tour of the beautiful University of Missouri campus. The tour included a stop at the historic Memorial Union (which was built to honor the World War I dead), a walk through the Gallery of the State Historical Society of Missouri (which is showcasing the work of Thomas Hart Benton), and an impromptu park bench chat with Gary Smith and Ryan Gavin — two delightful Mizzou administrators who were enjoying the warm April weather.

Anthony C. Hayes is an actor, author, raconteur, rapscallion and bon vivant. A one-time newsboy for the Evening Sun and professional presence at the Washington Herald, Tony's poetry, photography, humor, and prose have also been featured in Smile, Hon, You're in Baltimore!, Destination Maryland, Magic Octopus Magazine, Los Angeles Post-Examiner, Voice of Baltimore, SmartCEO, Alvarez Fiction, and Tales of Blood and Roses. If you notice that his work has been purloined, please let him know. As the Good Book says, "Thou shalt not steal."