Award-Winning Filmmaker Leslie Zemeckis Releases Her Latest Documentary 'MABEL, MABEL, TIGER TRAINER'
On March 27, 2018, writer, producer and director Leslie Zemeckis previews her new award-winning documentary, "Mabel, Mabel, Tiger Trainer," with Cinema Libre Studios. The invitation-only screening takes place at The Museum of Modern Art in New York City and reveals the fascinating story of Mabel Stark, the world's first female tiger trainer.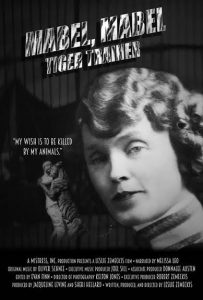 In the early 1900, Mabel left her abusive, poverty-stricken home in rural Kentucky and made her way to Hollywood's big screen as a stunt double for Mae West, and shortly thereafter found her way in the circus as a sexy cooch dancer. But it was when Mabel laid eyes on a 400-lb tiger that her world changed forever. In that that moment she was determined to train the big cats – a skill reserved exclusively for men, and something she was told no woman could ever do.
Leslie's feature-length documentary uncovers Mabel's rise to stardom as one of the most famous and highly regarded tiger trainers in the world. But her rise to stardom was not without sacrifices. After multiple failed marriages Mabel increasingly took solace in the company of her cats, and during her thirty-year career at Jungleland in Thousand Oaks, she transformed the suburban theme park into a world-famous Southern California attraction.
The film, set to be released during Women's History Month, continues Zemeckis' career-long exploration of influential but lesser-known women of history.  Joined by husband Robert Zemeckis, the film's executive producer, additional filmmakers include producers Jacqueline Levine and Sheri Hellard and associate producer Donnalee Austin. And Oscar-winning actress Melissa Leo narrates the film.
For more information about Leslie and "Mabel, Mabel, Tiger Trainer," visit www.mabelstarkmovie.com.