Luray Virginia: Perfect weekend getaway
Luray Caverns 
From my home in Pikesville it took me two hours and 20 minutes to arrive in the town of Luray Virginia. I went via route 70 to 340 south and that was it. The route took me to the entrance of Luray caverns, which I'll talk about further down.
I'll begin with my place of lodging, the Mimslyn Inn,
410 West Main Street
. We all know about location and how important that is to a hotel. The Mimslyn is located about one mile from the caverns, less than a mile from the heart of town and about 15 minutes from Skyline Drive and Shenandoah Park.
When driving into the circular driveway you'll notice the white columns and the sculptured front terraced lawn. The front of the building is two hundred and six feet, much of it a porch with great views of the mountains.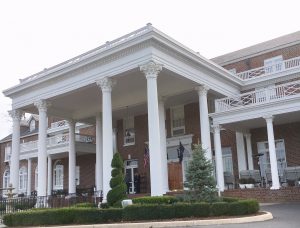 It opened originally May 22, 1931 by the Mims family. In 1974 it was sold to Mr. and Mrs. Louis Mellott of Luray. Today the owners are Mr. and Mrs. Erwin Asam and their sons, Christian and David. That family also owns the Bavarian Inn in Shepherdstown, West Virginia.
This 45 room AAA Three Diamond rated Inn has been successfully managed for 10 years by Jim Sims. His office is in the lobby so he's there many hours for all guests. He is the pure definition of a hands on manager.
Even Chef Chris has been there for 10 years. He supervises the entire food operation. I enjoyed the
Sunday
Brunch and I would be remiss if I didn't mention those sinful cinnamon rolls. The brunch is in the Circa '31 dining room. Dinner is in the Speakeasy Restaurant and bar on the lower level. There I had an outstanding salmon burger.
Amenities of the Inn include a daily Happy Hour, spa, business center, fitness center, outdoor pool, free WiFi, free parking, free newspapers, two restaurants, bar, fireplace in lobby and 24 hour front desk.
I would have loved to stay another day. Unfortunately I had to hurry home to dust. Oh, by the way, there are nine cottages for guests in the rear of the main building.
Now let's take that one mile drive and head to Luray Caverns. This is a Registered National Landmark that was discovered quite by accident in 1848. Two guys, Andrew Campbell and Benton Stebbins, were apparently on the mountain when they felt a strong drift of cold air coming from a hole from below. The caverns were what they found.
It has been owned by the same family since 1905.  Which means they are privately owned and not by the county or state which most people assume. Also on the property is The Rope Adventure Park, the Car and Carriage Museum, the Luray Valley Museum, the Garden Maze and the Toy Junction.
Tours leave about every 10 to 15 minutes with adult admission $27.00 and those 62 and older $23.00. Tours are about one hour and you will walk nearly a mile and a quarter. But there are many stops along the way. All tours are narrated. Also, there are no elevators, you enter and leave via steps, about 60.
I saw some construction going on and when I inquired as to what it was, I was told a new entrance is being built to eliminate the steps. A spring opening is expected.
The caverns are open daily from 9 to 4
Monday
through Friday and from 9 to 5 weekends. The hours will expand after
March 31
. Over a quarter million people from around the world visit yearly. The columns are basically formed through the mixture of water and minerals. They grow about one cubic inch every 120 years. So don't stop to see if you can notice.
Someone in our group asked if any of the above columns ever fall. Yes one did, but that was 7,000 years ago. So you're fairly safe. The lowest point in the cavern is about 220 feet. The constant temperature is 54 degrees and the humidity is 83%.
Before going down a staff member will take your picture. Don't fight it, just do it.You have the option at the end if you want to buy it. The package of pictures is $37.00. I did see many people buying.
My brief visit to Luray was most enjoyable. It certainly is close enough for a weekend getaway or an overnight. I know a few folks who did the cavern in one day.

Eddie Applefeld is a Baltimore native and a graduate of Towson University. He has been in the broadcasting profession for over 30 years. Currently he is the Promotions Director of WCBM radio. Before that, he was part of the Rouse & Company show on WQSR, host of a cable TV show called Dining Out and adjunct instructor at Towson.
His past accomplishments include being named a finalist in Baltimore Tourism's Employee of the Year Program and winner of Toastmaster's Speaker of the Year contest. He was also twice a heartthrob for the American Heart Association's gala fund raiser.