Las Vegas sex-trafficker who is suspect in unsolved double homicide threatened victims weeks before the murders
LAS VEGAS — The murders of Sydney Land, 21 and Nehemiah 'Neo" Kauffman, 20, were both found dead in their Northwest Las Vegas, Nevada apartment on October 27, 2016 may be tied to a cover-up involving police corruption.
Las Vegas Metropolitan Police Department (LVMPD) homicide detectives said they were killed in a 24-hour time period prior to the discovery of their bodies.
Land and Kauffman were both shot in the head.
The Baltimore Post-Examiner was told that police personnel who were on the scene after the bodies were discovered, had disclosed some key facts in the case to the media that compromised the investigation.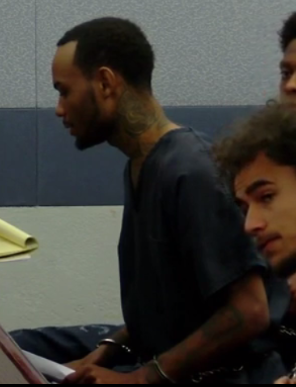 After the 2016 murders, then LVMPD Homicide Division Lt. Dan McGrath, said that Shane Valentine was a person of interest in the case. At the time Valentine, a known pimp, had prior arrests for assault with a deadly weapon and home invasion, police sources said.
The police said that evidence at the scene indicated there were two suspects and that they believed the suspects were known to the victims.
The Baltimore Post-Examiner has reported in several stories that Shane Valentine was an alleged associate of suspected Las Vegas prostitution kingpin, Jamal "Mally Mall" Rashid. The FBI raided Rashid's Las Vegas home and the offices of his escort service in September of 2014. The FBI did not ask the LVMPD to go along on the raids. You can guess why not.
Sheriff Joe Lombardo said in 2017 that his department was the subject of an FBI federal corruption probe. The FBI and the US Attorney's Office have so far been mute on the investigation.
As the Baltimore Post-Examiner reported previously, court records indicate that Rashid allegedly had several corrupt LVMPD vice detectives on his payroll for protection and at least one detective from the LVMPD's Criminal Intelligence Division was involved sexually with Rashid's prostitutes.  As of this date, no one has been charged.
One person familiar with the case, who spoke to the Baltimore Post-Examiner said that on October 8, 2016 at 5:00 a.m. Shane Valentine pulled out a gun and threatened to kill both Land, her girlfriend Frankie Zappia and Kauffman at a parking garage of a local Las Vegas casino.
Valentine was allegedly upset with Kauffman because Kauffman had something that Valentine wanted back. The police were not notified at the time of the incident. Later that same day Valentine shot into Kauffman's mother's house.
In 2018 LVMPD Lt. Ray Spencer of the LVMPD Homicide Division said, "We have not ruled out Shane Valentine as a suspect. We are still looking at him as a person of interest in the case."
Valentine is currently in prison on charges unrelated to the murders.
The October 8, 2016 shooting into an occupied structure
According to an LVMPD incident report obtained by the Baltimore Post-Examiner, on October 8, 2016 police patrol officers responded to a report of a firearm being discharged into an occupied structure, which was the residence of Alethea Kauffman, the mother of Nehemiah "Neo" Kauffman.
Mrs. Kauffman reported that at about 11:40 a.m. she was in her house with her daughter and her grandson when they all heard what sounded to her like a car backfiring and went outside to see what the noise was and saw no one in the street. They stated that they noticed a hole that looked to have been made from a bullet on the north facing wall where one of the bedrooms was located. Since they had seen or heard no one when they checked outside they both went back inside. About five minutes later, they stated they all heard what sounded to be a car ramming into their garage door. When they went back outside to see what was happening, they again saw no one on the street or anything suspicious in the neighborhood. Again, they walked back into the house. About five minutes later, they all heard 4-5 more gunshots but again by the time they got outside, there was no one in sight.
The police officers interviewed the neighbors.
One witness said he had heard a gunshot and when he looked toward the Kauffman residence he saw a gray sedan in front of the house, according to police reports. The vehicle drove away and returned about 20 minutes later before leaving again.
Another witness heard a loud noise that sounded like a gunshot and saw a silver Toyota Camry with tinted windows stopped in front of the residence, according to police records.  A black male got out of the car and threw several objects, which were possibly rocks, at the residence. The black male then fled in the vehicle at a high rate of speed.
A third witness observed a black male in his twenties with a thin build and a goatee arrive in front of the residence, according to police records. The black male was accompanied by a white female, who was seated in the passenger seat of a silver Nissan sedan. The black male used the term "Neo" as he yelled and challenged the residence. The black male then said, "Come out, you're a dead man!" The witness said he then heard a gunshot. The black male got into the Nissan sedan and fled the area at a high rate of speed.
The police noticed a bullet hole on the second floor, a broken window also on the second floor, and a damaged garage door. The patrol officers secured the scene, according to LVMPD policy.
According to another police report obtained by the Baltimore Post-Examiner, an LVMPD patrol investigations detective and a crime scene analyst arrived on scene. They documented the scene with photographs and collected evidence. There was a bullet hole on the second floor east facing bedroom. The bullet perforated the east wall of the bedroom, struck the ceiling and lodged in the attic. The bedroom window was broken, and a large rock was recovered from the bedroom floor. There were tire impressions leading to the garage door and the lower portion of the garage door was damaged. A Nissan emblem was left at the scene, which was also recovered by the crime scene analyst.
According to the report, the patrol investigations detective spoke to Mrs. Kauffman and she said "Neo" was the nickname for her son, Nehemiah Kauffman. She said Neo hadn't lived at the residence since June of 2016. The patrol detective contacted Neo and he said he did not recognize the description of the suspect and claimed he did not have any issues with anyone and declined to meet with the detective for an in-person interview.
Sources told The Baltimore Post-Examiner that this crime was not followed up on.
The Baltimore Post-Examiner also learned that the following items related to the October 8, 2016 shooting into an occupied structure case, are in the possession of the LVMPD evidence room: Two pieces of plastic, a car emblem, a boulder, and a bullet.
There is nothing out of the ordinary with that because as indicated in the police reports, a crime scene analyst responded on October 8th and recovered evidence, which would be in accordance with proper police procedure, more so when shots are fired into an occupied residence, after a suspect had yelled, "Come out you're a dead man!"
The only problem is, the bullet that is in evidence was not recovered from the Kauffman residence on October 8, the Baltimore Post-Examiner was told.
The reason for this is the Crime Scene Investigations section of the LVMPD doesn't want to cause further damage to a house by retrieving bullets when it's only a property crime, sources said.
If indeed that is true, that makes no sense at all and appears contrary to proper crime scene investigative techniques. Either way, the bullet was never recovered on October 8.
The LVMPD participates in the ATF's National Integrated Ballistic Information Network (NIBIN) which is a program to help incarcerate armed violent offenders.
When police recover shell casings and/or bullets from a crime scene, they are submitted to NIBIN and the forensic analysis characteristics are entered into a database to aid law enforcement during criminal investigations, to link firearms that are used in various crimes.
A suspect threatens someone's life, shoots into a house with people inside, the police knew a bullet was lodged in the attic, and then they leave the crime scene without recovering the bullet, which could later be used to identify a suspect and/or a firearm.
The October 26, 2016 murders of Sydney Land and Nehemiah 'Neo" Kauffman
According to records obtained by the Baltimore Post-Examiner on October 27, 2016, Sydney Land's cousin attempted to contact her multiple times, with no response. Land and Kauffman were living together in an apartment. Her cousin sent her boyfriend over to the apartment to check on Land. When he responded he noticed that the front door was unlocked and made entry. He then found Kauffman unresponsive on the living room floor. He found Land, also unresponsive, on the bedroom floor and called 911.
The police believe they were killed within a 24-hour timeframe prior to the discovery of their bodies.
LVMPD Homicide Detective Mitchell Dosch obtains arrest warrant for Shane Valentine
According to an LVMPD Declaration of Warrant obtained by the Baltimore Post-Examiner that was filed on October 31, 2016 and requested by LVMPD Homicide Detective Mitchell Dosch for the arrest of Shane Valentine on that same date, Dosch refers to the events outlined in the police reports that I have detailed previously in this story.
Dosch's warrant for arrest also reads in part:
"On October 27, 2016, your Affiant and Detective Grimmett were assigned to investigate the death of Nehemiah after he was found deceased. Two friends of Nehemiah suspected Shane Valentine was a possible suspect. Valentine is a 24-year-old black male who was known to Nehemiah. The friends told detectives that Valentine was the person responsible for shooting the residence at [Kauffman's mother's house].
On October 28, 2016, a forensic examination was performed on Nehemiah's cell phone. Your Affiant and Detective Grimmett noted several text messages between him and phone number 702-[redacted] which belonged to Valentine. The text messages were from October 8th and revealed Valentine was upset with Nehemiah. Valentine sent Nehemiah several text messages that contained death threats that were directed to both Nehemiah and his girlfriend. The text messaging started well before the shooting and appeared to conclude at approximately the same time the shooting was called into the LVMPD.
At about 1126 hours, Nehemiah texted Valentine that he was at his mother's residence. Valentine replied he was at the residence too and demanded Nehemiah "come out" several times. At approximately 1129 hours Valentine texted Nehemiah for the gate code and Nehemiah responded, "6736."
Valentine continued to text Nehemiah to come out. At about 11:51 hours Valentine sent Nehemiah two text messages that read, "Check your garage pussy" and "Look at your garage." At about 11:52 hours Valentine texted "I ran right thru your garage." At about 12:15 hours it appeared Nehemiah sent a text message to another person which read, "This nigga shoot my mom shit up and ran into the garage." This was after patrol officers had arrived at [Mrs. Kauffman's house] and the suspect had fled.
Later that same day your Affiant conducted a records check and discovered Valentine had pawn activity on the date of the October 8th shooting. Valentine went to the Super Pawn… and sold an item at approximately 1729 hours. Your Affiant contacted Super Pawn management personnel and requested a copy of the video surveillance from the purchase. The business had both internal and external video surveillance. The video surveillance depicted Valentine arriving at the store in what appeared to be a silver Nissan sedan. Valentine left in the same vehicle. It appeared Valentine was alone when he entered the store.
On October 30, 2016. Your Affiant and Detective Grimmett received Valentine's call detail records from October 8th. At approximately 1125 hours Valentine's cell phone hit off a cell phone tower located near CR-215 and Cheyenne Avenue. Then at approximately 1832 hours Valentine's cell phone hit off a cell tower located near CR-215 and West Centennial Parkway. These two calls suggested Valentine was driving toward the victim's residence. At approximately 1844 and 1857 hours Valentine's cell phone hit off a cell tower near Racel Street and Al Carrison Street. The cell tower was less than ¾ of a mile north, northwest of the victim's residence. At approximately 1202 hours Valentine's cell phone hit off a cell tower located at 7375 Tule Springs Road, which suggested Valentine was leaving the area of the shooting.
Wherefore, Declarant prays that a Warrant of Arrest be issued for suspect Shane Valentine on the charge of Discharge Firearm Into an Occupied Structure.
How did the bullet that wasn't removed on October 8 get into evidence?
The Baltimore Post-Examiner was told that after Shane Valentine had been arrested on the warrant obtained by Dosch.
Dosch had returned to Mrs. Kauffman's house with a crime scene analyst, and the bullet was then removed from the attic and submitted into evidence on the October 8 case.
Detective's Dosch and Grimmett did some very good detective work after they were assigned the double homicide investigation.
They linked Valentine to the October 8 shooting and immediately obtained an arrest warrant for Valentine on that charge based on probable cause that was developed by their investigative efforts.
On November 15, 2016, Valentine was arraigned on that charge and subsequently agreed to a plea deal. He is currently in Nevada State Prison. No one to date has been charged in the murders of Sydney Land and Nehemiah Kauffman.
LVMPD Homicide Detective's Mitchell Dosch and Jarrod Grimmett speak about the case
On April 27, 2018, Crime Watch Daily featured the unsolved murders of Sydney Land and Nehemiah Kauffman.
Det. Grimmett commented on the show that Kauffman had been involved in some illicit activities like burglaries and the sale of narcotics.
The following are excerpts from the show:
Dosch: It's apparent that a lot of his [Kauffman's] female friends that he may have also courted were being utilized in various manners related to prostitution.
Grimmett: There were several items that contained DNA evidence. The problem is these people had a lot of friends, a lot of associates that hung out at the apartment complex, so sorting through all the details of what was relevant or what's not, has been a challenge. Everything looked like Shane [Valentine] may have been our guy. When I refer to DNA, I mean there's cigarette butts everywhere, ashtrays full of stuff, drink cups everywhere and so you talk about DNA being in the apartment, there's all kinds of stuff you know. Who knows what was supposed to be there and what wasn't supposed to be there? It's something we want to solve. It bothers us that it hasn't been solved at this point.
Dosch: Although it appears that he [Valentine] may have been the shooter, the possibility remains he was aware of what was going to happen or what was happened, immediately thereafter.
Grimmett: Again, I go back to the lack of forced entry into the apartment. They were inside the apartment, Neo and Sydney as they prepared to leave and out of nowhere they were shot. I think if we could have found a motive, we could have found a direction in the case. Still keeps me awake at night. I know it keeps my partner, Det. Dosch awake at night. It's something that we want to solve.
—————————————————————————-
Crime Watch Daily reported that Sydney Land's friend Frankie [Zappia] who became a prostitute, was the last known person to see Land and Kauffman alive. The word on the street, according to Crime Watch Daily was that Frankie's pimp, known on the street as "Domo," was the shooter.
The Baltimore Post-Examiner has confirmed that Frankie Zappia is the step-daughter of now-retired LVMPD Detective Daniel "Dano" Giersdorf.
When asked by the reporter on the show, "There were some claims that Dominick [Domo] had a rivalry with Neo," Grimmett responded, "We're not really going to talk about Dominick, but I can tell you there's no rivalry or anything that uh, that I know of."
Sounds like by his reaction that "Domo" might be another "person of interest."
The Baltimore Post-Examiner confirmed that "Domo" is Dominique Thompson, 34, a known pimp. He was sentenced last year on a federal weapons charge and is currently in a federal detention center due to be released on January 20, 2020.
The police said they believe Neo was the intended target, not Sydney. Shane Valentine's cell phone was pinged from a cell phone tower in the area on the night of the murders, and about the time of the murders. Valentine left for California the next morning, according to Crime Watch Daily.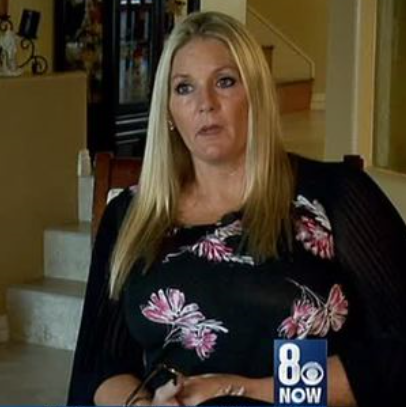 Connie Land, Sydney Land's mother told the Baltimore Post-Examiner last week that she was shocked when she saw for the first time the crime scene photographs when they aired on Crime Watch Daily. They were released to the show by the LVMPD and she said the police never notified her that they would be shown on the show.
I don't know why the police released crime scene photographs to the media when the case is still unsolved. Combine that with the information that was released to the press right after the murders that compromised the investigation and once more I have to ask, "What's going on Sheriff Joe Lombardo?"
The Baltimore Post-Examiner has reached out to Neo Kauffman's mother several times. She has not returned our calls.
However, Mrs. Kauffman posted on her Facebook page on November 15, 2018:,"I am never sleeping on those who took my son from me!!!!! Sleep while you can to those who were involved!!!!! I know who you are!!!!!"
Connie Land, Sydney's mother provided the following statement to the Baltimore Post-Examiner on Sunday:
"Very early on in the investigation, we believed there was corruption tied to this investigation. It has been confirmed countless times through media stories with the uncovering of the FBI investigation into Vice and DA corruption over the past few years. Most recently, the explosive article in the Baltimore Post-Examiner, in which Judge Tobiasson directly links the "persons of interest" in my daughters double homicide case to the FBI investigation of corrupt cops in Vice, Criminal Intelligence Division, the District Attorney's Office, and now, an insinuation of a cover-up within the FBI.
It has been previously stated this "person of interest," known pimp Shane Valentine, has allegedly been protected by corrupt vice cops on the LVMPD. He has been given less than minimal sentences (as well as several other violent pimps) by the District Attorney's Office, who are also tied to the corruption. We know another "person of interest" has family members who have been in and/or are currently in Vice, who have participated in this murder investigation.
The shooting on October 8, 2016, Shane Valentine had an outstanding warrant. Because of Nehemiah's involvement with Shane, somehow spurred Shane to make death threats to my daughter Sydney, Nehemiah Kauffman, and Frankie Zappia. After the death threats to the victims and going over and shooting up Nehemiah Kauffman's mothers home, the LVMPD failed to bring him in on his warrant. The case was closed a few days after. Considering this violent crime involved shooting into an occupied house, the crime scene analyst failed to recover the bullet the day of the incident. Sydney and Nehemiah were found brutally murdered two weeks later.
After the murder occurred, Shane Valentine was immediately named a "person of interest." It was our homicide detectives that went back, retrieved the bullet from the October 8th shooting, and went after Shane Valentine for the home shooting which ultimately resulted in his current prison sentence. Had homicide not done so, I believe the LVMPD would have never followed up on the shooting and Shane Valentine would have been allowed to continue to terrorize and victimize the Las Vegas Valley, as he has been allowed to do so, without police interference for so many years. Unfortunately, the DA's Office, with their revolving door, once again, gave Shane, a violent repeat felon a pathetic and weak plea deal. I fully believe the death of my daughter Sydney Land and Nehemiah Kauffman could potentially have been avoided had the police department and district attorney's office done their jobs by getting Shane Valentine off the streets and locked up. There are select few who are corrupt within the LVMPD and the DA's Office who have gone to great lengths to protect the criminals, while revictimizing victims and knowingly putting civilians in harm's way, for their own personal gain.
Ultimately, I hold Sheriff Lombardo and District Attorney Wolfson responsible for the actions, horrific crimes and cover-ups that have taken place for so many years within the departments in which they are responsible for. They are elected officials who have forgotten the oaths taken to protect the citizens who've put them in the powerful and influential positions they currently enjoy.
I believe my homicide detectives have been given the daunting task of trying to solve a very complex murder riddled in corruption. A double murder I believe, the upper echelon within the LVMPD and DA's Office would like to make disappear altogether.
I will never stop my relentless fight for Sydney. Her voice was silenced, so now I am her voice. I am fighting to bring to justice the animals who violently and brutally murdered our girl. I will uncover the sinister truth of her murder and the corruption tied to it. In the process, I hope to help find justice for victims and families of victims, who have yet to experience it."
IF YOU HAVE ANY INFORMATION RELATING TO THIS BRUTAL DOUBLE HOMICIDE CONTACT THE LAS VEGAS METROPOLITAN POLICE DEPARTMENT HOMICIDE DIVISION AT 702-828-3521.

Doug authored over 135 articles on the October 1, 2017 Las Vegas Massacre, more than any other single journalist in the country. He investigates stories on corruption, law enforcement and crime. Doug is a US Army Military Police Veteran, former police officer, deputy sheriff and criminal investigator. Doug spent 20 years in the hotel/casino industry as an investigator and then as Director of Security and Surveillance. He also spent a short time with the US Dept. of Homeland Security, Transportation Security Administration. In 1986 Doug was awarded Criminal Investigator of the Year by the Loudoun County Sheriff's Office in Virginia for his undercover work in narcotics enforcement. In 1992 and 1993 Doug testified in court that a sheriff's office official and the county prosecutor withheld exculpatory evidence during the 1988 trial of a man accused of the attempted murder of his wife. Doug's testimony led to a judge's decision to order the release of the man from prison in 1992 and awarded him a new trial, in which he was later acquitted. As a result of Doug breaking the police "blue wall of silence," he was fired by the county sheriff. His story was featured on Inside Edition, Current Affair and CBS News' "Street Stories with Ed Bradley". In 1992 after losing his job, at the request of the Federal Bureau of Investigation, Doug infiltrated a group of men who were plotting the kidnapping of a Dupont fortune heir and his wife. Doug has been a guest on national television and radio programs speaking on the stories he now writes as an investigative journalist.