Las Vegas police and prosecutorial corruption, misconduct forefront of sex-trafficker's appeal
Liz Mercer and Chris Baughman ( 2012 LVMPD press briefing) Screenshot.
LAS VEGAS — Attorneys representing convicted Las Vegas sex-trafficker Ocean Fleming are appealing his 2018 re-sentencing to the Supreme Court of the State of Nevada citing corruption and misconduct in the Las Vegas Metropolitan Police Department and the Clark County District Attorney's Office.
History of the Ocean Fleming case
Fleming was convicted in August 2012 of 23 criminal counts including first-degree kidnapping, pandering, living off the earnings of a prostitute and battery.  He was sentenced to life imprisonment with the possibility of parole after serving five years.
Fleming appealed his convictions, asking for a new trial based on alleged police corruption involving some members of the Las Vegas Metropolitan Police Department and prosecutorial misconduct by Assistant Clark County District Attorney Elizabeth Mercer who prosecuted his case.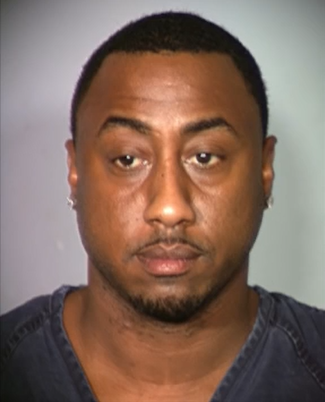 Fleming's attorneys alleged that former LVMPD Detective Chris Baughman and other detectives were involved in a criminal conspiracy with Jamal Rashid, known as "Mally Mall," a music producer and suspected prostitution kingpin and competitor of Flemings in the Las Vegas sex trafficking industry.
In 2014 the FBI raided Rashid's Las Vegas home and the offices of his escort service.  The FBI did not ask the LVMPD to accompany them on those raids.
Fleming's defense attorneys stated in court documents obtained by the Baltimore Post-Examiner that the detectives received monthly cash payments from Rashid and in return, the police targeted rival pimps on behalf of Rashid to eliminate his competition.
Fleming in court filings alleged that LVMPD Detectives Chris Baughman and Al Beas were both having sex with Jessica Gruda, the primary witness against him and that Baughman, the lead detective in his prosecution was also believed to have been having a romantic/sexual relationship with the lead prosecutor, Assistant Clark County District Attorney, Elizabeth Mercer (and Baughman's current wife) during his prosecution and trial in 2012.
Fleming's attorneys alleged that Baughman was also having a romantic/sexual relationship at the time with his supervisor, Lt. Karen Hughes, now retired from the LVMPD, who had formed the pimp investigating team in 2008.
During the appeal for a new trial, attorneys for Fleming wanted the internal files of Detective Chris Baughman and Lt. Karen Hughes, both of whom no longer work for the LVMPD and the files on Criminal Intelligence Detective Warren Gray and Vice Detective Al Beas.  Gray and Beas have since been transferred to patrol.
Because of the conflict of interest with the Clark County District Attorney's Office relating to the accusations that Assistant District Attorney, Elizabeth Mercer, had been romantically involved with former Detective Chris Baughman, her chief witness during the Ocean Fleming trial, and whom she is currently married to, a special prosecutor was appointed to handle Fleming's appeal.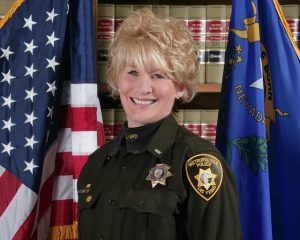 Chris Baughman who no longer is employed by the LVMPD exercised his fifth amendment right to self-incrimination in 2017 during courtroom testimony.
Clark County Sheriff Joe Lombardo who runs the LVMPD told the media in April 2017 that his department was cooperating with an FBI federal corruption probe of some members of the LVMPD.
That statement though seemed odd when juxtaposed with the fact that in 2017 the LVMPD hired attorneys to prevent the testimony of other detectives.
The LVMPD attorneys fought to not have any of those officers testify in District Court, even those no longer employed by the department and LVMPD attorney Jackie Nichols, admitted in court in October 2017 that Baughman's testimony in court would implicate other officers.
Why would Sheriff Lombardo not want to uncover other corrupt LVMPD police officers?
In May of 2018, Fleming accepted a plea deal based on the re-negotiation of his charges.  That plea deal came on the eve of an evidentiary hearing that was scheduled so Fleming's attorneys could question witnesses under oath, including police officers, a prosecutor, and prostitutes.  When Fleming withdrew his appeal for a new trial and plead to the 3 criminal counts that ended what could have been some very interesting testimony concerning police corruption and prosecutorial misconduct.
As part of the 2018 plea deal, 20 criminal counts were dismissed, and Fleming pleaded guilty to three counts; first-degree kidnapping and two counts of assault with a deadly weapon.
Fleming was sentenced in July of last year.  If Fleming is given credit for time served he could be released on parole sometime in 2020.
Fleming's attorneys are appealing his 2018 sentencing.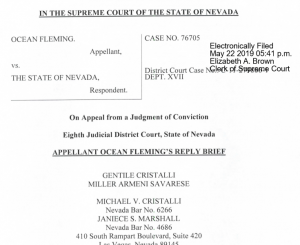 Excerpts of Appellant Ocean Fleming's Reply Brief filed May 22, 2019, with the Supreme Court of the State of Nevada
The police and prosecutorial corruption and misconduct committed by LVMPD Vice Detective Christopher Baughman and Prosecutor Elizabeth A. Mercer, and exposed through Ocean Fleming's post-conviction proceeding, remains a blight on Nevada's judicial system.  This Court has not only the inherent power, but the duty and the opportunity to prevent further injustice and to preserve the integrity of Nevada's judicial process by correcting the abuse of sentencing discretion that occurred during Ocean Fleming's second sentencing.
The egregious misconduct of the police and the prosecutor who prosecuted Ocean Fleming cannot continue to be swept under the rug.  The misconduct and corruption must be acknowledged and the wrong corrected.  Ocean Fleming has been incarcerated since 2011 and continues to be incarcerated to date.  People are watching to see whether this Court will use its inherent power to right this wrong.
If this court does not take action to protect the integrity of the judicial system, then the trust of the people in our legal system will continue to erode.  We need our citizens to respect the law, but when police officers or prosecutors use their positions of trust to coerce witnesses to lie, to conspire with convicted felons or to accept bribes for their own financial gain or career enhancement and the judiciary does nothing, then we should not expect our citizens to respect the law.  If this Court doesn't preserve the integrity of the legal system then who will?
At Ocean Fleming's second sentencing, the District Court acknowledged that the affidavits were "troubling", but took no action, proceeding to rely upon the PSI [Presentence Investigation Report]. Those affidavits should be troubling because it is evidence that the lead detective and lead prosecutor were coercing witnesses and coaching them to lie in their witness statements and at trial.
[For further on the mentioned affidavits read the May 19, 2018 Baltimore Post-Examiner story, "EXCLUSIVE: Affidavits provide insight into Las Vegas FBI corruption of Las Vegas Metro Police Department".]
Even more troubling is the fact that the District Court presided over the deposition of Detective Baughman, the lead detective in charge of the investigation, including the preparation of the PSI. Detective Baughman was also a trial witness against Ocean Fleming.  The District Court determined the scope of Baughman's Fifth Amendment assertion and knows that Baughman refused to answer questions about the investigation, the reports, the coercing of witnesses or the conspiracy to set up Ocean Fleming.  If Detective Baughman cannot be asked about his reports or his trial testimony, then any evidence involving Detective Baughman, including the documents he submitted to the Division for the PSI, cannot be considered in sentencing Ocean Fleming.
Furthermore, despite the District Court's acknowledgment of the troubling affidavits and Baughman's assertion of the Fifth Amendment, the District Court continued to rely upon the PSI that was based upon those lies and the corruption of the investigation.  The District Court's position was that since there was no statutory authority requiring the Division to interview witnesses, that the reports were part of the PSI and he was not in a position to say whether the report are unsubstantiated.  The District Court then proceeded to sentence Ocean to consecutive sentences based upon that PSI.
If the District Court did not have sufficient information to make a determination that the PSI was not based upon information that was impalpable or highly suspect when presented with evidence establishing that the witnesses lied and that the lead detective refused to answer any questions about his investigation and the prosecution of Ocean Fleming, then the District Court's failure to fully inform himself constitutes an abuse of his sentencing discretion.
Contrary to Respondent's contention, Ocean Fleming presented evidence that the District Court abused his sentencing discretion because the PSI was based upon information that was impalpable or highly suspect, including:
Two key witnesses, April Millard and Jessica Gruda, admitted that they lied in their statements and at trial because Detective Baughman and Prosecutor Mercer coached and coerced her them to lie.
The Vice Detectives were having improper sexual or romantic relationships with the testifying witnesses, warning them which casino properties to avoid due to prostitution sweeps by Vice, renting them cars for them or giving them money and never disclosed their relationship to the witnesses at Ocean Fleming's trial.
Detective Baughman asserted his Fifth Amendment right against self-incrimination, refusing to answer any question regarding his investigation and the prosecution of Ocean Fleming.
Significantly, the District Court actually presided over the deposition of Detective Baughman, hearing for himself Detective Baughman's assertion of his Fifth Amendment privilege against self-incrimination when asked whether Baughman had accepted bribes from convicted felon Jamal Rashid aka Mally Mall to set up Ocean Fleming and whether he was present when Prosecutor Mercer prepared witnesses for testimony.
Ocean Fleming also submitted to the District Court independent evidence of the conspiracy between Detective Baughman and convicted felon Mally Mall to set up Ocean Fleming and requested an adverse inference from Baughman's assertion of the Fifth Amendment, including: (1) the affidavit of Mally Mall's driver, Don Ramos, who witnessed Baughman accept large cash payments in the back of Mally Mall's Rolls Royce Maybach, including at least one payment of Ten Thousand Dollars ($10,000) and (2) the phone records of Baughman and Mally Mall, establishing the extensive and excessive communications between Mally Mall and Detective Baughman before and during Ocean Fleming's trial, and which abruptly ended the day after the District Court sentenced Ocean Fleming.
For the reasons set forth above, Ocean Fleming requests that this Court find that the District Court abused his sentencing discretion.  Ocean Fleming further requests that since he is being denied his right to refute and rebut the investigation and testimony by Detective Baughman once Detective Baughman asserted his Fifth Amendment right to refuse to answer any questions about his investigation and the prosecution of Ocean Fleming, that this court order the sentences to be concurrent rather than consecutive.
***************************
Neither Jamal Rashid aka Mally Mall, Clark County prosecutor Elizabeth Mercer, nor any of the former or current LVMPD police officers accused of corruption have been charged with a crime as of this date.
For more on Elizabeth Mercer read our May 17, 2019 Baltimore Post-Examiner article, "Nevada Supreme Court: Vegas Prosecutor Elizabeth Mercer committed prosecutorial misconduct in two cases".
Jamal Rashid aka Mally Mall and the Las Vegas Metropolitan Police Department
An internal LVMPD memo obtained by the Baltimore Post-Examiner indicates that the LVMPD Vice unit was aware of Jamal Rashid aka Mally Mall as far back as July of 2009.
In the memo dated July 20, 2009, a patrol sergeant notifies a member of the LVMPD's Tourist Safety Unit about Mally Mall's Rolls Royce.  The Tourist Safety Unit member advises that "Vice is actually working him, so we are backing off".
According to a 2017 affidavit from Don Ramos, Mally Mall's former driver and bodyguard:
In 2010 the LVMPD raided Rashid's home as well as his business, VIP Escort Services.
Earlier on the morning of the raid, Ramos had transported money from Mally Mall's office to the house safe, an amount totaling approximately $100,000.00
Ramos stated that prior to the raid Rashid had unexpectedly, unusually and abruptly left his home after receiving a telephone call.  Mally Mall refused to tell Ramos where he was going after he received the telephone call.
Ramos stated that Mally Mall later told him that the LVMPD had raided the property and confiscated guns and $100,000.00 that was in his safe.
The police also confiscated computers from the house.  Located on the computers were records about Mally Mall's prostitution business, including but not limited to "call sheets" for the prostitutes as well as Mally Mall's financial cut from the fees earned by the prostitutes who worked at VIP Escort Services, according to Ramos.
Was Mally Mall tipped off about the LVMPD raid?
Is that why the FBI did not inform the LVMPD when they executed federal search warrants on Mally Mall's home and the Las Vegas offices of his escort services in 2014?
Mally Mall was never charged in Clark County Nevada with any crime stemming from the LVMPD's 2010 raid.
The status of the FBI federal corruption probe of the LVMPD is unknown.
The FBI and the US Attorney's Office for the District of Nevada remain silent.
That is very disturbing considering the magnitude of the corruption allegations.

Doug authored over 135 articles on the October 1, 2017 Las Vegas Massacre, more than any other single journalist in the country. He investigates stories on corruption, law enforcement and crime. Doug is a US Army Military Police Veteran, former police officer, deputy sheriff and criminal investigator. Doug spent 20 years in the hotel/casino industry as an investigator and then as Director of Security and Surveillance. He also spent a short time with the US Dept. of Homeland Security, Transportation Security Administration. In 1986 Doug was awarded Criminal Investigator of the Year by the Loudoun County Sheriff's Office in Virginia for his undercover work in narcotics enforcement. In 1992 and 1993 Doug testified in court that a sheriff's office official and the county prosecutor withheld exculpatory evidence during the 1988 trial of a man accused of the attempted murder of his wife. Doug's testimony led to a judge's decision to order the release of the man from prison in 1992 and awarded him a new trial, in which he was later acquitted. As a result of Doug breaking the police "blue wall of silence," he was fired by the county sheriff. His story was featured on Inside Edition, Current Affair and CBS News' "Street Stories with Ed Bradley". In 1992 after losing his job, at the request of the Federal Bureau of Investigation, Doug infiltrated a group of men who were plotting the kidnapping of a Dupont fortune heir and his wife. Doug has been a guest on national television and radio programs speaking on the stories he now writes as an investigative journalist.