Las Vegas Metro Police Detective Lawrence Rinetti arrested on multiple charges
UPDATE: Read about the case against Rinetti and the charges by clicking on this court document.

LAS VEGAS — Lawrence Joseph Rinetti Jr., 46, a Las Vegas Metropolitan Police Department detective was arrested on Friday and charged with selling, transporting, giving, or the attempt thereof of a Schedule I or II controlled substance,  misconduct of a public officer and destroying/concealing evidence  according to court records obtained by the Baltimore Post-Examiner. 
Rinetti, a U.S. Marine and 13-year veteran of the department, is assigned as a Task Force Officer with the United States Marshals Service according to his LinkedIn account.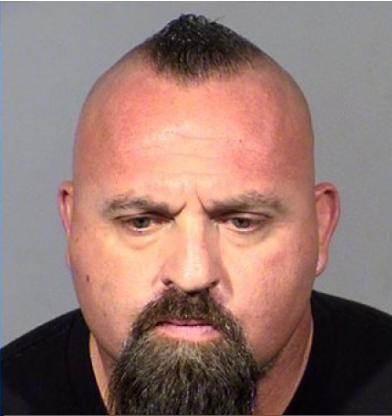 Court records indicate that Rinetti posted bail on Saturday to secure his release and has a scheduled court date of November 18, 2019.
The Baltimore Post-Examiner received information that Rinetti for the past five years is also a Fight Inspector with the Nevada State Athletic Commission (NSAC). That information has been verified with the NSAC's website.
The Nevada Revised States defines misconduct of a public officer as one who: "Asks or receives, directly or indirectly, any compensation, gratuity or reward, or promise thereof, for omitting or deferring the performance of any official duty or for any official service which has not been actually rendered, except in case of charges for prospective costs or fees demandable in advance in a case allowed by law; or who employs or uses any person, money or property under the public officer's official control or direction, or in the public officer's official custody, for the private benefit or gain of the public officer or another."
At the time of this story, it could not be determined if the charges stem from Rinetti's official capacity with the Las Vegas Metropolitan Police Department or with the Nevada State Athletic Commission.
Rinetti's status with NSAC as a result of his arrest is unknown at this time.
The Baltimore Post-Examiner has received information that the drug involved with Rinetti's arrest is Oxycodone and or Oxycontin.
UPDATE: Rinetti who is also on the Board of Directors for the Las Vegas Police Protective Association, the union that represents the rank and file members of the Las Vegas Metropolitan Police Department has been relieved of duty with pay, the LVMPD said Monday.

Doug authored over 135 articles on the October 1, 2017 Las Vegas Massacre, more than any other single journalist in the country. He investigates stories on corruption, law enforcement and crime. Doug is a US Army Military Police Veteran, former police officer, deputy sheriff and criminal investigator. Doug spent 20 years in the hotel/casino industry as an investigator and then as Director of Security and Surveillance. He also spent a short time with the US Dept. of Homeland Security, Transportation Security Administration. In 1986 Doug was awarded Criminal Investigator of the Year by the Loudoun County Sheriff's Office in Virginia for his undercover work in narcotics enforcement. In 1992 and 1993 Doug testified in court that a sheriff's office official and the county prosecutor withheld exculpatory evidence during the 1988 trial of a man accused of the attempted murder of his wife. Doug's testimony led to a judge's decision to order the release of the man from prison in 1992 and awarded him a new trial, in which he was later acquitted. As a result of Doug breaking the police "blue wall of silence," he was fired by the county sheriff. His story was featured on Inside Edition, Current Affair and CBS News' "Street Stories with Ed Bradley". In 1992 after losing his job, at the request of the Federal Bureau of Investigation, Doug infiltrated a group of men who were plotting the kidnapping of a Dupont fortune heir and his wife. Doug has been a guest on national television and radio programs speaking on the stories he now writes as an investigative journalist.