Kitchen Dwellers Leading the Charge of Fall Bluegrass Shows
Kitchen Dwellers (Photo by Chris Swanson)
Bluegrass fans have a slew of great upcoming concerts to the region.  Fall tours are in full swing and we're fortunate to have several national and regional acts to satisfy our appetite for all things banjo, mando, and otherwise mountain music.  Here's a brief rundown of who's coming 'round.
Kitchen Dwellers w/ The Plate Scrapers
8×10 Baltimore, MD  10/26
Making their long-awaited return to the 8×10 after last year's Covid 19 lockdown forced a postponement, Bozeman Montana's Galaxy-Grass foursome are not to be missed.  Intimate venue and a bargain ticket price make this a Tuesday worth getting out of the house for.  Get tickets HERE.
Railroad Earth
B Chord Brewing Company, Round Hill, VA 10/29-31
Jam-Grass vets Railroad Earth will host a 3-day Halloween party at this absolutely beautiful venue.  A little more than an hour's drive from Baltimore, B Chord's outdoor stage in Virginia's wine country has become a Mecca for touring bluegrass acts in a very short time, hosting a huge collection of socially distant Shows over the past year.  This will be Railroad's third stop-through, bringing their show total to nine for the venue.  Single-day and 3-day passes available HERE.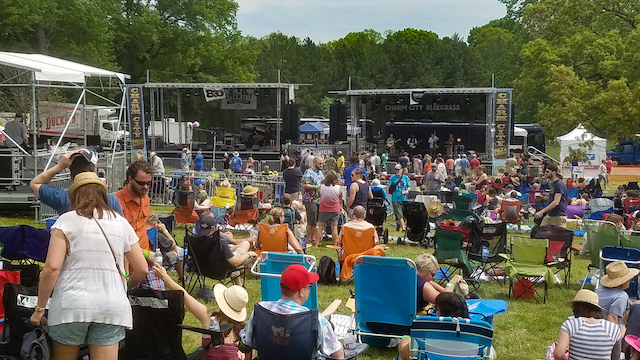 Halloween Hullabaloo 
Merriweather Park at Symphony Woods, Columbia, MD 10/30
Grab a costume and head down to that crazy green spidery-looking-thingy Chrysalis Stage for a big candy bucket of music from Wicked Sycamore, Dirty Grass Players, The Wharf Rats, Live!, and Ron Holloway Band.  This one is geared to the grownups. The Hullabaloo kicks off at 3 p.m. and you can get tickets HERE.
Billy Strings
The Anthem, Washington, DC  11/13
Strings is riding the crest of the wave.  One of the hottest acts in bluegrass is currently in the midst of a tour that pretty much covers every zip code in America.  His latest album Renewal debuted at #1 on Billboard's Bluegrass Album chart, and he just keeps piling up his fanbase.  The show sold out quickly, but his website does offer a waitlist HERE.
Finally, for those looking down the road a bit, Charm City Bluegrass just dropped a Save The Dates notice for April 29 & 30, 2022.  While no details were given with the announcement, we can certainly hope it signifies the return of their award-winning festival to Druid Hill Park.

Chris Swanson is a live music and sports fanatic and a long-time Maryland resident. He holds tightly to what some consider an unreasonable affection for the Baltimore Orioles and older music venues. Chris has a Communications Degree from the Franciscan University of Steubenville.