3 out of 4 stars
Can you blame Spencer for wanting to be Smolder Bravestone, again?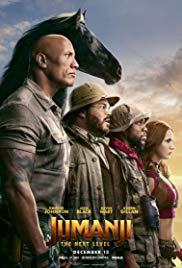 Spencer, the scrawny, nerdy teenager who magically transformed into the hunky character played by Dwayne Johnson in 2017's smash hit "Jumanji: Welcome to the Jungle," is feeling pretty much worthless.
He and the red-headed Martha, who had fallen in love with each other when they were swept into a video game, have put their romance on hold. He's now in college, away from home, and alone. He pretty much gone from being "The Man" to being "The Boy."
So when he returns home for winter break, he realizes his life has gotten even worse. He's forced to share his bedroom with his cranky and confused grandpa Eddie (Danny DeVito), who is recovering from hip surgery.
He feels so sorry for himself that when he's supposed to meet his friends and the last movie's heroes — now philanthropist Bethany (Madison Iseman), the now confident Martha (Morgan Turner) and college football star Fridge (Ser'Darius Blain) – for brunch he decides his past is better than the present.
He goes to his basement and turns on the "Jumanji" video game that somehow, someway still works despite it being smashed at the end of the last movie. His friends get worried when Spencer no-shows at the restaurant, so they head to his home and wander into the basement. They realize he's been sucked into the video game.
At this point, Jake Kasdan, who returns to the director's chair, could have gone two ways with the film.
He could have had the foursome return to their avatars from the last film – with Bethany becoming Jack Black's cartographer Shelly Oberon; Martha being transformed to the butt-kicking Ruby Roundhouse (Karen Gillan) and Fridge turning into Kevin Hart's zoologist Mouse Finbar.
But instead, Kasdan uses a glitch — presumably created when the game was damaged — to prevent the teens from picking their characters. Spencer just becomes a pickpocket played by Awkwafina instead of Bravestone, who inherits Spencer's grandfather, who just happened to be in the house and unaware that a game had started. Finbar has been taken over by Eddie's senior-citizen friend Milo (Danny Glover), while Fridge has become Oberon. Martha, at least, returned as Roundhouse.
The result is hysterical as the avatars adjust to their new bodies. Johnson talking and acting like the 75-year-old DeVito is a highlight of the film, while Hart speaking like the long-winded Milo is very amusing. Fridge – having to go from a football player's body to that of a portly cartographer who gets winded easily – is worth a few laughs. And when Bethany finally makes an appearance in the game, it is worth the wait.
While those who didn't see "Welcome to the Jungle" will have no trouble following along with the sequel, they won't understand some of the jokes, including why Finbar acts as he does in the presence of cake. The avatars' strengths and weaknesses from the first film are mainly the same, but there are a few traits – both good and bad – that impact all of them.
The biggest difference between "Welcome to the Jungle" and "The Next Level" is the degree of action and violence, which are both higher. When the avatars lose one of their three lives, they explode into bloody pieces. The obstacles the avatars also must overcome to advance in the game are also more arduous, with ostriches, monkeys, rocket launchers and dozens of gang members. 
The foursome's goal is simple: restore the natural order to Jumanji by regaining possession of the precious gem, which was stolen by Jurgen the Brutal (Game of Throne's Rory McCann), who plays a bloodthirsty villain. 
It took Sony less than two years to produce a sequel to "Welcome to the Jungle," which generated more than $960 million at the worldwide box office off a $90 million budget. But that doesn't mean the studio rushed "The Next Level."
In fact, Kasdan and screenwriters Chris McKenna, Erik Sommers, Scott Rosenberg and Jeff Pinkner did something that rarely done: they made a sequel that's even better than its predecessors and created an ending that lets the audience know this game of "Jumanji" is far from over.