Joel Hodgson brings his last MST3K tour to Baltimore
Fans of the mega-popular Mystery Science Theater 3000, better known as MST3K, need to head to the Modell Performing Arts Center at The Lyric in downtown Baltimore on Thursday. Because while this most certainly is not the end of the MST3K brand—as its resurgence on Netflix with new episodes proves—it will be the last time that creator Joel Hodgson is part of the live show.
"This is the last time I'm going to do it," says Hodgson, 59. "It's my chance to kind of say goodbye and meet everybody who wants to come to the show. I kind of felt like I needed to do that."
Creating a Cult Hit
Hodgson didn't plan to create his cult hit. Actually, in the 1980s, he was performing stand-up comedy in Los Angeles. Hodgson didn't feel like that was his calling, though. When he was pondering his next steps, then-President of NBC, Brandon Tartikoff, approached him about doing a sitcom.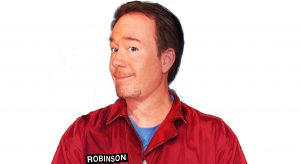 Hodgson said no.
While most people would have jumped at the chance to head their own sitcom, Hodgson says that he didn't think the show was funny, and he knew he couldn't do a good job with it. Then the network offered to double the money.
Once again, Hodgson turned them down. He packed up and headed home to Minneapolis, Minnesota. There, he started thinking about how people talk or riff over the sound of movies, whether they were creating new dialogue or making sarcastic remarks. He then wondered why no one was doing this as a show.
MSK3K emerged because Hodgson was trying to make the cheapest show that he could. It took off and eventually was made into a live touring show as well with past performances such as "Cinematic Titanic."
Why This Last Show
Hodgson's latest live show, which rolls into town on Thursday, sports the moniker "The Great Cheesy Movie Circus Tour," and the awful movie they will riff on in Baltimore is Circus of Horrors from 1960. (The other film shown in various cities is No Retreat, No Surrender, from 1986, which features Jean-Claude Van Damme.)
Hodgson says that he wanted to make his final live tour really special for fans. "I wanted to innovate as much as I could and not leave anything on the field. So creatively, it's state-of-the-art to me," he says. They have a new way of staging the robots: in this show, Servo can fly, Crown walks, jumps, and even rides a unicycle, and Gypsy has been redesigned to do a lot that she couldn't do before.
To make these changes, Hodgson says that they're doing a hybrid of bunraku (a traditional style of Japanese puppetry theatre) with green screen kind of technology—though Hodgson stresses that they're using black backgrounds instead of green because he believes that the green color tends to take over. The crew spent the last four months working full time to build the show. Hodgson says that he and the show's artistic director, Matt McGinnis, have worked closely every single day this past summer to get everything working so well.
Hodgson has found that working on this show and putting this tour together has been rewarding for him. "I think it just kind of reminded me of why I do it. I like to get involved with the building, art direction, and fabrication—it's a big part of the show," he says. "This is what keeps me interested. And teaching this next group of cast members—the writers, performers, and crew who are talented and capable—it's amazing. All I want to do it create a nice bench for MST3K so that it can keep rolling."
"It's my way of getting to touch it one more time," quips Hodgson. "Plus, I can kind of set it up so it's functioning at a really high level, so when the crew comes in next season, it's nice. I'm trying to leave them a really good, sturdy live MST to play with."
Hodgson admits that while having produced more than 200 episodes of the television version of the show over 30 years, there's just something special about the live tour. "The live performance is when Mystery Science Theater fans gather. It's really a different thing. It's more social than social media, and I really relate to it," explains Hodgson. "But I want to meet the people and say goodbye. It's a personal thing. Because the next time around, I won't be there, and I want to introduce the fan base to the new class of MST3K."
The final Joel Hodgson tour of MST3K comes to The Lyric, Thursday, September 26, with the show starting at 8 p.m. For more information or tickets, check out the Lyric website.

Michele "Wojo" Wojciechowski is a national award-winning writer and author of the humor book Next Time I Move, They'll Carry Me Out in a Box. Her work has appeared in publications such as Vanity Fair, Esquire, Parade, Discover, AARP, PBS' Next Avenue, Family Circle, Reader's Digest, and many more. Over the last few years, she's been learning to play the drums and dreams of playing one song with the Foo Fighters. Oh yeah, and she's got a Xena Warrior Princess costume hanging in her closet. Don't ask. Reach her at WojosWorld.com, Twitter @TheMicheleWojo, Facebook WojosWorldFanPage.com.