Jason Isbell has just received four Americana Music Association Award nominations but he needs at least one more —  an award for cool.
Like everyone else, Isbell has had his ups and downs. The problem, of course, is that famous folks have their spats publicized.
In the years that I've known Isbell, starting way back in 2006 during his time with the Drive-By Truckers, he's never been anything but gracious and forthcoming. When his manager caught him on the road to offer a quick reaction to his award nominations, no one would have blamed him if he gloated a bit. He didn't.
"I'm honored to be in such great company and surprised that so many folks appreciated our work this past year," was his classy response.  "Looking forward to seeing some of my traveling friends at the show."
The gracious demeanor, especially during our interviews, has to be difficult at times. That must have been especially true when Patterson Hood and the Drive-By Truckers seemed to zoom ahead with their music while critics harped that Isbell & the 400 Unit couldn't get their music in gear.
Fans and some critics, including me on both counts, believed Isbell had the same strong sound he always did. It just wasn't recognized. "Dress Blues," "Brand New Kind of Actress," and "Shotgun Wedding" were all on his 2007 release "Sirens of the Ditch," which some of the Truckers' played on and chief Trucker Patterson Hood co-produced.
We could go down the line with his other recordings ("Cigarettes and Wine" off the band's 2009 self-titled release is one major stand out we must mention) but the point could be Isbell never stopped turning out great music. But he didn't have huge stage props. Or wind machines. Or pyrotechnics. At the end of the day, it really came down to the man, his band, and their music.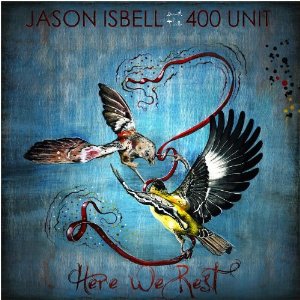 It's funny how many people profess to love the pure sound of Americana but flock to the bells-and-whistles modern rock. As Marty Stuart told me recently country performers always felt they were second class. Now they're on the cover of "People" magazine — but at what cost?
But I digress.
The point here is that at long last, it's Isbell's turn for some well-deserved recognition in the form of four nominations: Isbell and his band were nominated for Song of the Year for "Alabama Pines," off the album "Here We Rest," Group of the Year, and Album of the Year (of course for "Here We Rest"). Jason also was among those nominated for Artist of the Year.
Not that Isbell will likely rest on his laurels. Just recently, he was heading to an early show at Rams Head on Stage in Annapolis. It was a 1 p.m. show on a sunny weekend, so there's no telling what audience he had. But in talking, he said the crowd size isn't an issue.
"It's easy for me. It is easy travel," Isbell said of why he continually does acoustic shows. "I like playing in those settings where people are really paying attention.  In an acoustic show, it's all about delivering the songs."
And, of course, Isbell has always been all about the songs. Lucky for us fans that are all about them too.
Congratulations, Jason. Here's hoping this is the start of a long string of accolades.
Read more about the Americana Music Association Awards on the organization's website.