James Watts Shares the Secret of his Success in Forex Trading
Trading is not a skill that the majority is aware of or excel in. Understanding the volatility of the Forex market is hard for even the most competent investors as the market is anything but predictable. However, James Watts was able to make a successful career out of it. James found his path in trading five years ago and founded an educational platform in Forex trading by the name of The Forex Hub that teaches anyone the skills needed to master the market.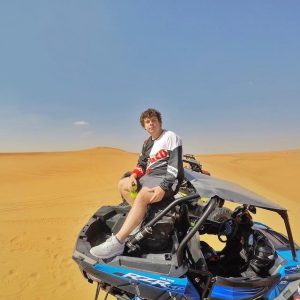 Even when James did discover that entrepreneurship was what he wanted to get into, he still had a hard time getting off the starting block. He struggled with finances, the pressure of getting financially stable, and found success after failing two business start-ups. Throughout his business-oriented career, James was concerned about every 8 out of 10 people giving up on Forex trading, who can now benefit from the training James offers. 
"I dropped out of school, then dropped out of college, shortly after which I worked at Mcdonalds, and during this employment, I had a side hustle of buying and selling car parts. Specifically, car head-lamps. After realizing that it was not a sustainable business, I moved onto the next business that was building custom car dashes. Unfortunately, that business also failed. I soon realized none of the start-ups was sustainable. Eventually, I ended up finalizing a business model that allowed me to trade money for money instead of my time. That led me to create my first educational institute called "The Forex Hub." I came to realize that Forex trading had beginners who needed my guidance, so I had to do what's right and kick-start the company." Says James. 
James created his current company – The Forex Hub, soon after he entered into Forex trading. His training teaches students all the knowledge and skills required to be a successful Forex trader through classes that follow his personal experience and learning. Now a profitable trader, James uses what he has learned through his trials and mistakes to show other people the path to success. 
"Being a forex trader and educator, my goal is to use my skill set and help others become successful. I want to help my students become financially stable through trading as I did. I am passionate about helping people and leaving an impact on the world." James added.
James Watts continues to teach his students via The Forex Hub beside the success in trading, which helps him flaunt his obsession with the latest trendy cars every year. Like any impressive Forex trader, he has excellent motivations that inspire him to achieve his goals. 
James states that to help his mother become financially stable has been his ultimate source of motivation when it comes to success in his business venture. 
"After observing what my mother was able to accomplish as an underprivileged single parent, it made me believe that if she can do it, then I most definitely can do it as well," James explained. 
James also advises people who want to get into trading and start their own business to have a balanced mindset and an organized lifestyle. 
"9 hours of sleep is truly everything. I knew coming into entrepreneurship, risking all my savings will be a rollercoaster ride. However, I believe that it is all worth it if you stay persistent and not get carried away by failures. Everything will work itself out." Recommends James.
James Watts dreams of upgrading The Forex Hub into one of the best educational providers of the world, and with such dedication, we are sure that it won't take him long to conquer his ultimate dream.