How Will Shiba Inu Surge Affect HUH Token's Price?
Image by Pete Linforth from Pixabay
With HUH Token's launch imminent, it will be highly interesting to see how the sudden surge of popularity around the Shiba Inu Coin will affect this. In the last week, Shiba Inu's value went up by 216% and this has ranked it at #21 on the current CoinMarketCap. This significant rise in popularity has people outside of the cryptocurrency world talking about the possibilities of investing in cryptocurrency. This is relevant to HUH Token as they are a new cryptocurrency that is launching as soon as this week, and what a time to launch. So how will the surge in popularity for Shiba Inu affect the presence and price of HUH Token?
What Is Shiba Inu?
Shiba Inu is an altcoin cryptocurrency inspired by Dogecoin and initially, it was considered to be the mascot for Doge. However, now it acts as its own token on the Ethereum blockchain. Shiba Inu currently has a whopping 1 quadrillion coins in circulation and is shown as SHIB on exchange platforms. Billions of people can buy SHIB and their website states:
"Nicknamed the DOGECOIN KILLER, this ERC-20 ONLY token can remain well under a penny and still outpace Dogecoin in a small amount of time (relatively speaking)."
What's more, the cryptocurrency is the first to be listed on the coin's own decentralized exchange platform, ShibaSwap.
Why Has The Shiba Inu Coin Skyrocketed?
So why is Shiba Inu suddenly hitting all the headlines? The soar in popularity is so profound that even people outside of the crypto community are talking about Shiba Inu Coin. According to CoinGecko, the SHIB Coin went up by another 69% in just one day last week, which places its market value above $10 billion.
So, what caused the surge? Well, one of the biggest factors in play here is the presence of renowned Tesla boss, Elon Musk. He returned to Twitter on October 4th and tweeted a picture of his Shiba Inu puppy and captioned it "Floki Frunkpuppy". Following this tweet, the cryptocurrency's value went through the roof and so it is more than likely that Elon Musk contributed to the frenzy.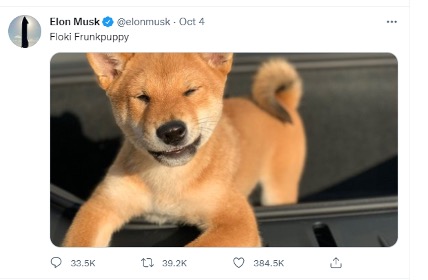 How Will This Affect HUH Token And Its Price?
This sudden price increase has a lot of people talking about cryptocurrency and this might either be a blessing or a burden to the soon-to-be-launched HUH Token. The creators of HUH Token have suggested that the token could be launched as early as this week. In some ways, the increase in Shiba Inu's popularity may potentially benefit HUH Token as this has ignited a conversation around cryptocurrency and it has also inspired people outside of the crypto community to get involved. With that in mind, people are on the hunt for the next best thing and in their research, they are likely to come across HUH Token. In which case, this could lead to a massive influx in the price for the token.
However, there's also potential for a negative impact as critics are attempting to pull Shiba Inu down and in turn, this could bring down other cryptos, such as HUH Token. 'The Big Short' investor Michael Burry has criticized Shiba Inu Coin and has dismissed the coin as being pointless.
What Is HUH Token?
If you haven't heard of HUH Token, then look no further as this post will explain it all. The creators of HUH Token claim that their goal is to 'challenge the status quo and create a source of income for everyone.
HUH Token is a cryptocurrency that has an intelligent and easy-to-use referral system. This referral system threatens to change the whole game. The creators state on their website that they have created a way for you to earn extra income passively through a one-of-a-kind referral system. The idea is that if you refer someone, you then get 10% BNB from their first purchase. If the person you refer goes on to refer someone else, you also get 2% of that person's purchase. The rewards don't stop there, as you both receive a discount sales tax from 20% to 10%.
The idea and motivation behind HUH Token is that anyone who wants to invest in HUH Token can do so. According to their Whitepaper the cryptocurrency will:
"Revolutionise this, in favor of the social investor, through smart contracts and a fair redistribution mechanism, one that will be easier for the average investor to understand and utilize."
So, if you are a first-time investor who has been inspired by the rise of Shiba Inu, HUH Token might be a plausible option for you. Make sure you do your research, even as a well-seasoned cryptocurrency investor, the game is continuously and rapidly changing. The best way to decide where you put your money is to make sure you dedicate the time to researching your options.
Who Is Behind HUH Token? 
Whoever is behind HUH Token has done very well to carefully maintain their anonymity as nobody has figured out who the creators are yet. According to the HUH Token website, they will reveal their identity when the time is right.
Final Comments
While there will be some people trying to tear down Shiba Inu, the critiques are yet to affect its prominent position. Consequently, the popularity of Shiba Inu is likely to have a domino effect on other cryptocurrencies such as HUH Token. People will be looking towards newer options in the hope that these will be the ones to boost investors' wallets.
Follow HUH Token on their Socials before they Launch:
Website: https://huh.social
Twitter: https://twitter.com/HuhToken
Instagram: https://www.instagram.com/huhToken/
Telegram: https://t.me/HUHTOKEN