How Starting Entrepreneurs Are Increasingly Benefitting From Registered Agent Services
The National Bureau of Economic Statistics published research indicating that business formations were up 82% between September and December 2020. This is a substantial increase compared to the same quarter of 2019. Throughout most developed nations in Europe, Asia, and Africa there were numerous accounts of new business formations and company registrations logged with government entities even as the novel coronavirus ticked in more daily infections. 
Financial indicators have also revealed that the United Kingdom is looking to withstand economic challenges throughout the fall and winter months, as daily new cases are sharply increasing – with the UK government looking to keep restrictions to a minimum and open more channels for financial support towards small businesses and startups. 
Mass vaccination campaigns around the world have now enabled developing nations to tighten their grip on the pandemic. In doing so, more and more entrepreneurs are bringing a breath of fresh air to a somewhat eerie economic outlook. Although some governments remain hesitant to fully reopen their economies, younger startup entrepreneurs are using this as an opportunity to fuse their industries with innovation and modern transformation. 
With 2021 reaching its end, business prospects for the upcoming year may see a host of new startups and progressive businesses come to life. But with so much uncertainty still glooming, how are entrepreneurs able to afford the risk of opening their new business? Entrepreneurs are innovating the industry, and one such way is through the use of registered agents to get their new ventures off the ground quicker and more seamlessly. 
What are entrepreneurs doing to start their new businesses in 2021? 
Various factors can contribute to the overall success of an entrepreneur's business ventures, but it's become quite noticeable in the modern era at least, that entrepreneurs are seeking to resolve traditional issues with modern and advanced technology. 
Eliminating issues of remote working, human error, and mitigating the need for human intervention has brought to life a plethora of new tools and resources. Not only are entrepreneurs reaping in the success thereof, but they are also adjusting the industry, helping other business owners to better leverage the use of technology in their businesses to improve productivity, increase customer engagement and satisfaction, and build a better understanding of market trends. 
Why is it beneficial for entrepreneurs to make use of registered agents? 
There are various reasons why entrepreneurs are more open to using registered agents to help with business formation procedures. Some may include legal and regulatory reasons, but overall, entrepreneurs using registered agents are far more likely to avoid issues of non-compliance and overlooking important tax and local government regulations.  
Furthermore, entrepreneurs have shared that using a registered agent has enabled them to spend more time focussing on their business and its operations, and less time stressing about any back-end registrations and formation procedures. 
For a more comprehensive understanding of the benefits of registered agents, you can review this article.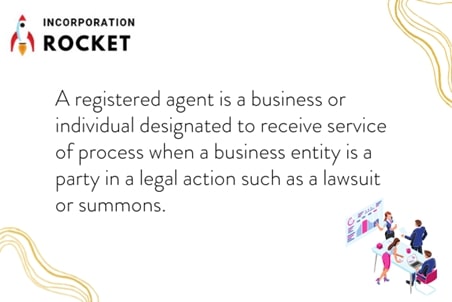 What purpose does a registered agent have for an entrepreneur?
In simple terms, a registered agent is looking to assist business owners and entrepreneurs with any business-related queries throughout the formation and registration process. When a new business comes to life, owners normally will be required to register certain aspects of the business with the local government and ensure they remain compliant in regards to tax and incorporation regulations. 
How can a registered agent help entrepreneurs? 
Although entrepreneurs may host a wide variety of skills and business knowledge, some entrepreneurs may still not fully comprehend the basic understanding of how the business formation and registrations works. In these circumstances, service providers such as Incorporation Rocket, among others have come to light to offer business-based solutions. 
To conclude 
Business prospects for the coming year might look somewhat eventful, but overall there is a sharp increase in younger and more innovative entrepreneurs stepping up to change how the world of business will function in the coming decades. Making use of registered agents, and other business formation services, entrepreneurs have built a wealth of industry knowledge and connections to improve these processes, but also show how leveraging these tools can help ease the process of business formation.