How I 'Voted' Twice (Legally) in Maryland
BALTIMORE — With our presidential election presumably past the voting stage and rapidly rushing toward the "I'll see you in court" part of the process, I thought this would be a good time to confess how I was able to fill out two certifiable ballots to vote in this year's Maryland general election.
Perhaps "confess" is the wrong word here, since everything I did was perfectly legal.
To begin with, there was never any question in my mind that I would NOT be voting by mail. No less an authority than the 2005 bipartisan report of the Commission on Federal Election Reform (headed by Jimmy Carter and James Baker III) said that voting by mail is a really bad idea. I am also uncomfortable with the touch-screen machines the state of Maryland has lately employed. Thankfully, paper ballots are available here now – giving election observers and the ballot counters something solid to hold onto.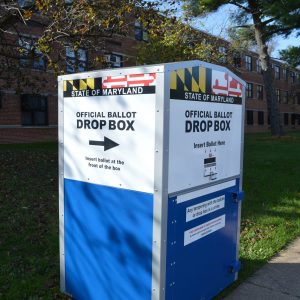 My original plan was to vote on Tuesday Nov. 3 – election day. However, my overworked friend needed a ride to the polls in northwest Baltimore the night before, so I opted to join her in line for what turned out to be a fairly uneventful one-hour voting mission.
We both left that night with "I Voted" stickers and only one question in our minds: "What's for dinner?" Who knew that a week later we'd still be talking about the election over our evening meal?
Two quick takeaways from our trip to the polls:
First, it was nice to see a lot of young families with little ones in tow – curious tykes who were getting an early lesson in the civil side of civics.
The second thing of note I observed on Monday night was the circuitous trek of a woman who was accompanying her disabled husband. The couple was waved to the front of the line just as I was about to be called over to the sign-in table. I was embarrassed that the judge even thought that she had to ask if the pair could slip in front of me.
The wheelchair-bound man appeared to be paralyzed from his shoulders down. Obviously, he would be unable to vote without some form of assistance. The election judges produced a series of forms and did whatever was needed to get the man and his wife set up for voting in one of the electronic stations. Even with the extra rigmarole, they got finished about the same time I was ready to submit my completed paper ballot.
Watching this process unfold leads into how I was back in a booth the following day with yet another paper ballot.
Before you reach for your keyboard to tell Santa on me, while screaming "voter fraud", you should probably know that I'm at that point in life where I am spending a lot of time caring for my aging parents.
Mom's health prevented her from casting a ballot, for the first time since she emigrated to America. However, Dad was determined to vote in person, and while his mobility has slowed with the passing years, he was game to weigh in the old fashioned way.
Admittedly, after an hour in line the night before, I was concerned Dad would feel a long wait to be too taxing. But we arrived at an elementary school in west Baltimore to find there wasn't a wait at all. Once inside the gymnasium (where the poll was set up), it only took a minute for Dad to check in by using the state mandated honor system (a voter's full name, street address, and date of birth are the only confirmation needed in Maryland.)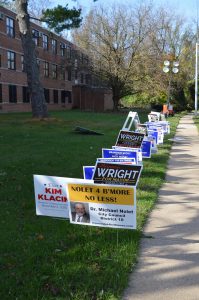 Where we ran into a hitch was at the second station, when I told the judge I would be helping Dad with his paper ballot. Suspicious as this may sound to some, I know the bean counters can be sticklers when it comes to sloppy ballots, and the slight tremor in my father's hand would play havoc on those tiny selection ovals.
In order to help Dad with his ballot, there was a special "assisting the voter" form which needed to be filled out. I'm guessing this is the same form the paralyzed man's wife had to fill out the night before.
I entered my info in ink (full name, street address, and date of birth are again the only confirmation needed in Maryland.) Dad signed the consent line on this form, started into a story about voting for JFK, and an election judge smiled and nodded as she witnessed the entire transaction.
From there, we were directed to the ballot-marking section.
In Maryland (and I believe this is true in most other parts of the country), voters either stand or sit at a station with a three-sided privacy shield, take a ballpoint pen, and fill in the box or oval beside their candidate's name. Here in Baltimore, we were not only voting for a president and a new congressman, but also for mayor, city council president, comptroller, several judges, and an assortment of state and local questions. This amounted to four full pages worth of ovals for those who ventured that far.
The shortest of these stands might be fine for someone of a smaller stature but are really not workable for a person seated in a wheelchair. I asked if there were other accommodations, such as a regular desk or a table where we both could sit (there were not) so, to be precise, I handed my father the first page of the ballot and asked him to point to his presidential selection. This he did, and I used the voter's stand and ballpoint pen to fill in the oval. I then handed the ballot back to him so he could see what I had done. Next was the house member, and so it went through the entire ballot – one oval at a time.
Let me just add here that, along the way, my father voted "Yes" or "No" for a few candidates and questions I strongly differed with.
My response to his varying choices, I believe, was the correct one.
I didn't say a word.
I may have been the one filling in the ovals, but this was my father's ballot – not mine. And as an honorably discharged veteran who flies a flag from his porch year round, I doubt there is anything more precious to him than his right to vote.
My mother – who grew up in Nazi-occupied France – certainly feels the same way. Maybe even more so.
I know my father felt good about the entire process, and I was glad I was able to help. Once we were done with the ballot, I handed it back to him – again, one page at a time – and asked him to confirm that it was filled out to his satisfaction. From there, I wheeled him over to the casting/counting machine, and – following the judge's direction – we entered the ballot.
Several poll workers thanked both Dad and me as we exited the school. I was mostly thankful for a chance to get a hands-on look at another aspect of the election process.
I'd estimate the entire proceeding took us about 25 minutes – including the time election officials spent following Covid-19 protocols and hunting for that voter assistant consent form we had to fill out at station 2. At no time were we hassled or rushed. To the contrary – everyone we encountered was helpful and friendly.
Needless to say, my father got an "I Voted" sticker for his appearance. And I got a tearful thank you from my declining Dad when we got back to the house.
I know that not everybody my father's age – or with his laundry list of health issues – should have been out in public this year. Or had someone who could take them to the polls to vote in person. But Dad made it out, as did that paralyzed man I saw in northwest Baltimore.
Clearly, both of these men have a real understanding of what election day is all about.
As I write this tonight, it's evident that we are in for a bumpy ride to the inauguration – and likely beyond. Not just with litigating the results of this year's election but with affirming the integrity of the entire process.
I "voted" twice in this year's election, and everything I did was on the up-and-up. I only hope for myself, for that paralyzed man and his wife, my aging father, and tens of millions of others, our efforts on election day weren't for naught.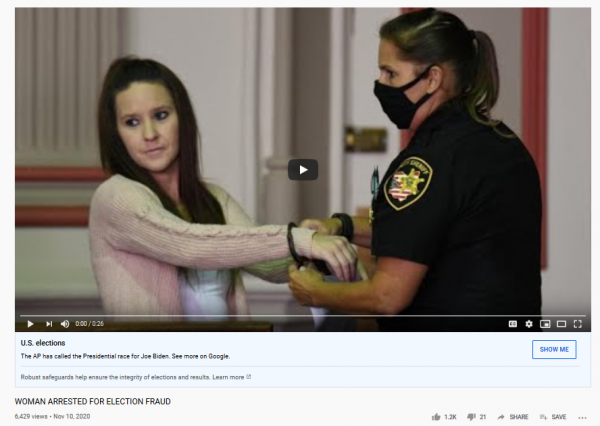 © Copyright 2020 Baltimore Post-Examiner. All Rights Reserved

Anthony C. Hayes is an actor, author, raconteur, rapscallion and bon vivant. A one-time newsboy for the Evening Sun and professional presence at the Washington Herald, Tony's poetry, photography, humor, and prose have also been featured in Smile, Hon, You're in Baltimore!, Destination Maryland, Magic Octopus Magazine, Los Angeles Post-Examiner, Voice of Baltimore, SmartCEO, Alvarez Fiction, and Tales of Blood and Roses. If you notice that his work has been purloined, please let him know. As the Good Book says, "Thou shalt not steal."