Hotel Revival comes to Charm City
There's a new hotel in downtown Baltimore, 101 West Monument Street to be exact, that opened May 3.  It's the Hotel Revival, owned by Two Roads
Hospitality, with other locations close by, Washington for example. By the way, that location puts it one block west of the Washington Monument. The night I was there George was my nighttime partner since I was able to see the statue from my room. I could swear he was moving, but that could have been the wine.
To more precisely pinpoint the location, the hotel is at the corner of Maryland Avenue and Monument. There are two entrances, one on each street and both will get you to the front desk. The lobby was hand painted intended to represent the area a long time ago. The lobby area offers seating and books. They can be taken to your room, but please remember to return them.
There are 10 guest floors, though the hotel has 14 floors, with a total of 107 rooms. They are not all the same and the prices vary with the room. But I would use a rate of about $179.00 to be average. At the far end of the lobby is Friday Evening, not the actual day of the week, but a room with that name.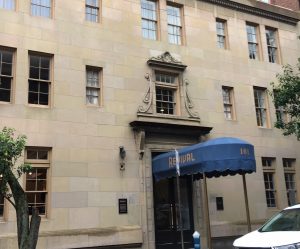 It is used for private meetings and I imagine parties too. Outside the room is a comfortable seating area. On the lower level are two restaurants but at first glance, it appears to be one big one.  One side is the Café serving breakfast and lunch, the other the Lounge serving dinner (collectively known as Square Meal).
I had breakfast during my brief stay. It was basic, scrambled egg whites, grits and fruit. Adjacent to the lounge is three karaoke rooms. Said to be quite popular. Tell me when you'll be there and I'll do my Manilow medley.
On the top floor is Topside offering an outstanding three-sided view. The only view you don't get is east. Here dinner and Sunday Brunch are served. And yes, there is also a bar, with plenty of craft beer options. And if you get bored looking out the window, indulge in foosball, chess or checkers. I do think a fun game would be trying to identify Baltimore landmarks. See if you can spot the top of the Meyerhoff or the Empire State Building. Hint, one is easier.
Way back when, the building was something or other, too far back to worry about, but in 1929 it became an apartment. You might recall just before Hotel Revival opened this was the Peabody Court Hotel. A very nice upscale hotel that just didn't make it in Mt. Vernon.
There is an overnight parking charge and if my memory is good I think it's $38.00. I had a delightful time here. I found the staff to be quite pleasant and eager to help. I always ask the staff questions, even if I know the answer, just to see how they respond. Sneaky you say? Oh nay, nay. It's a good barometer of their training and attitude.
This is, of course, a great addition to the city and to the Mt. Vernon area. If you don't want to spend the night, come on down and check out the restaurants. And you must go up to Topside for the view. Reach the hotel at 410-727-7101 or go to jdvhotels.com.

Eddie Applefeld is a Baltimore native and a graduate of Towson University. He has been in the broadcasting profession for over 30 years. Currently he is the Promotions Director of WCBM radio. Before that, he was part of the Rouse & Company show on WQSR, host of a cable TV show called Dining Out and adjunct instructor at Towson.
His past accomplishments include being named a finalist in Baltimore Tourism's Employee of the Year Program and winner of Toastmaster's Speaker of the Year contest. He was also twice a heartthrob for the American Heart Association's gala fund raiser.