Hookas to hookers: Dubai is anything but boring
Panoramic view of Dubai from the 124th floor observation deck of the Burj Khalifa, the world's tallest building. (Larry Luxner)
The surprise offer arrived at 4:30 on a freezing Thursday afternoon — in the form of an urgent email from a New York public relations firm.
"Apologies for the last-minute invitation," it began, "but would you be interested in joining us for a group press trip to attend the Dubai Food Festival?"
Why not, I thought, browsing the itinerary and suddenly imagining that I was basking in the warm desert sunshine. Champagne Friday brunch at the Armani Hotel. Walking tour of Old Dubai and the spice market. Visit to the 124th-floor observation deck of the Burj Khalifa, the world's tallest building.
To be honest, I'd never been crazy about Dubai, having first reported from the overpriced, somewhat artificial city-state for two weeks during the 1991 Gulf War, and then again for three days in 2006. But perhaps the wealthy emirate had gotten some soul, and besides, I was eager to escape — if for only six days — a brutal Maryland winter that was only just beginning.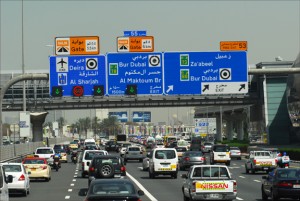 With only 30 minutes to decide before the coveted spot would be offered to someone else, I immediately called New York and said yes.
Exactly two weeks later, me and 60 other passengers in a nearly empty Boeing 777-300ER jet lifted off from Dulles for a 14-hour Emirates flight to Dubai International, which now ranks as the world's busiest airport — even busier than London's Heathrow.
As I was soon to learn, last year DXB handled 66 million passengers and expects to hit 90 million by 2018. DXB, with its plastic palm trees, refreshing mist machines and fabulous duty-free shops, covers 13.4 square miles, about one-fifth the size of the District of Columbia. Terminal 3, used exclusively by Emirates, cost $4.5 billion all by itself and is the world's second-largest building in floor space.
That's an impressive statistic, but not very comforting when you realize you have to walk across the entire terminal to claim your baggage.
Over a welcome lunch at Al-Fanar Restaurant & Café, I got acquainted with the 14 other writers invited to cover the Dubai Food Festival, a carefully staged, 23-day extravaganza aimed, said one press handout, at "showcasing the city's staggering array of culinary experiences."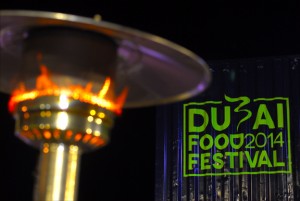 Among my new travel mates: a British rock-band photographer who later in life became a food blogger; an Australian wine writer who'd been a high-school exchange student in New Mexico years before, and a 29-year-old journalist named Kamini famous in her native South Africa for having won the 2013 "Master Chef" competition.
Al-Fanar tries to connect diners with Dubai's modest origins as a small town inhabited by fishermen, pearl divers and merchants. Even before entering, visitors walk past nostalgic scenes of Bedouins herding their camels; a donkey loaded with kerosene, and a blue 1960s-era Land Rover parked next to a bustling tent market. It's a relaxing place nestled inside Dubai's Festival City Mall — and offers a chance to savor samboosa, kebobs and other local Emirati dishes, as well as smoke traditional hookas or water pipes.
But the best way to learn about Dubai's history — what little remains of it — is to visit the Dubai Museum, located along the creek in the oldest part of town, not far from a storefront emblazoned with the dubious name "Moral Trading."
At the walled museum's entrance is a sign listing the usual prohibitions against eating, drinking, smoking, using flash photography and touching artifacts. But Rule #5 made me laugh: "Overcrowdedness is not allowed in exhibition corridors and halls."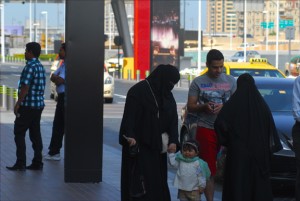 Nevertheless, the morning our little group stopped by, the Dubai Museum was crammed with Muslim tourists from the Philippines and Indonesia. Veiled young women in colorful scarves happily photographed each other among the replicas of wooden fishing boats and ancient cannons.
In fact, if not for our Russian-born tour guide Alex, I would have missed the museum's most unusual exhibit of all: a hologram of a desert tomb uncovered in Hatta that allows you to see what it looked like 5,000 years ago, and what it looks like today.
Although Dubai first became an independent political entity in 1833, its economy didn't prosper until 1894, when tax exemptions were granted to foreign traders. On Dec. 2, 1971 (by coincidence, the day I turned 10), Dubai, oil-rich Abu Dhabi and five much smaller emirates collectively known as the Trucial States combined to form the United Arab Emirates. Those five others — Ajman, Fujairah, Ras Al Khaima, Sharjah and Umm Al Qiwain — were known only to nerdy stamp collectors like myself who eagerly sought their colorful but ultimately worthless issues.
With Dubai now a part of the UAE, things really began to take off with the completion of the Al-Shandagha Tunnel in 1975 and the Garhard Bridge a year later. Today, Dubai is a booming metropolis of 2.1 million that boasts — as the world already knows — the world's tallest skyscraper (the 2,722-foot-tall Burj Khalifa), its largest shopping mall (the 3.7 million-square-foot Dubai Mall, with 1,200 outlets) and its biggest man-made island (Palm Island, which is visible from space).
Dubai is also among the fastest-growing cities on Earth, as is the country it's located in. Thanks to its prosperous economy, the United Arab Emirates is today home to 8.3 million people, yet fewer than 20% of them are locals, known here as Emiratis. The rest are expatriates, mainly from India, Bangladesh, Nepal, Sri Lanka, Pakistan and the Philippines. These Asians do the dirty work — construction, sanitation, transport — that locals don't want to do, and their legal rights are severely limited.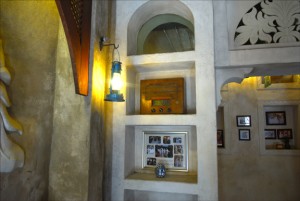 Alex, our guide, has lived in Dubai for 28 years. We weren't convinced he really liked living there, but his generous salary certainly made it palatable.
Early the next morning, we were taken to our next appointment: the Bateel date factory, where 600 employees from 52 countries work in a sprawling complex about 45 kilometers outside the city, packing chocolate-covered dates for export to fancy boutiques and specialty shops around the world.
"We are trying to become tomorrow's banana," explained Tina Memic, Bateel's deputy general manager for retail operations. "Dates are packed with antioxidants, and we're 100% organic. We got into date chocolates because you have to keep re-inventing yourself if you want to stay in business."
By the time we were done with Bateel, all of us knew more than we ever expected — or wanted — to know about dates. So somewhere along the tedious road back to town, the talk turned to booze, and Alex launched into an explanation of the intricacies of Dubai's liquor laws. Of the seven emirates that make up the UAE, only Sharjah strictly prohibits alcohol, even in hotels. In the other six, tourists may consume freely in bars.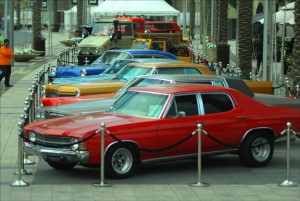 "As an expat, you need a liquor license if you want to buy," he said. "More than 40 stores in Dubai sell liquor, but you must be non-Muslim to obtain such a license."
It's hard to get a handle on Dubai, and even harder to find any real soul here. But one place bursting with local color is the crowded gold souk, where we arrived via a motorized wooden dhow across Dubai Creek. In this ethnic marketplace are more than 600 shops, nearly all of them run by Indian merchants. Every two seconds, it seems, somebody comes up offering to sell you cold bottled water. Bargaining is expected here, but it helps that electronic displays digitally show the day's gold prices, in 18-, 21-, 22- and 24-karat varieties.
Another 250 or so shops crowd the Dubai spice market, whose narrow lanes are crammed with shops selling cinnamon, cardamom, curry, turmeric, frankincense and dozens of other herbs and spices imported from India, Pakistan and the Far East.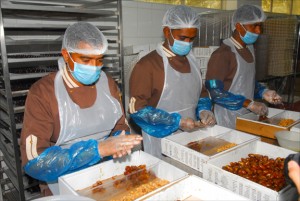 That evening, we met up at Sultan Dubai Falafel Restaurant, which is owned by a kindly Palestinian named Mr. Ibrahim. Our foodie guide for the evening was Arva Ahmed, a young, attractive Emirati woman of Indian origin who started her tour company — Frying Pan Adventures — in January 2013 with her sister Farida.
The tour lasts five hours, takes in half a dozen ethnic restaurants along Muraqabat Street in Deira — the gastronomic heart of Old Dubai — and costs 415 dirhams ($113). That includes food, beverages and transportation to and from the Mall of the Emirates.
"I'm a finance girl. Food is just my passion," said Arva, who has two degrees from the Wharton School of Finance and worked as a consultant in New York before returning to Dubai. "I was always fascinated by food. That's all I think about all day."
Arva began her evening tour by asking where falafels come from. I decided to be provocative.
"Israel?" I ventured, uttering the one word that is practically verboten in the UAE.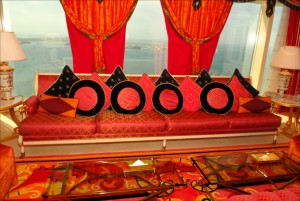 "Ooooh, this is a very controversial answer," Arva replied with a devilish smile, explaining to the uninformed that Israel had unfairly appropriated Lebanon's invention as its own national dish. Fearful of igniting the next Middle East war, I didn't mention Israel again. But later on, when Arva distributed pamphlets showing the region's most popular dishes, I noticed that the Jewish state had been left off her map, as if it didn't exist.
The next morning, while heading out to the Camelicious dairy farm, Alex told us about Saeed Abdul Ghafour Khouri, an Emirati businessman who paid the outrageous sum of 52 million dirhams (about $14.3 million) for Abu Dhabi license plate #1.
"It's a country full of excess," he said. "But at least 20% of the money they raise from auctioning license plates goes to help victims of road accidents and their families."
Speaking of excess, Dubai — besides all the other superlatives it's famous for — is also home to the world's most expensive and quite possibly its tackiest hotel, the seven-star Burj Al Arab. Completed in 1999, the sail-shaped structure sits on its own island off Jumeirah Beach. Each of its 202 suites occupies two floors, with prices starting at $1,200 a night.
The presidential suite goes for about $20,000, and given that this was a press trip and no heads of state were currently around, my fellow travel writers and I were given half an hour to look around. We took pictures of each other lounging on the purple velvet couch, posing in front of the gaudy Jacuzzi and sprawled on the master bed with satin sheets, looking up at the gilt-edged ceiling mirror.
The Burj Al Arab appeals mainly to Chinese and Russian tourists with money, though Saudis, Kuwaitis, Qataris and other Gulf Arabs frequent the place too. Guests who can afford it may arrive by helicopter (the hotel has its own heliport). The view from the 27th floor Skyview Bar is truly breathtaking, but that's about the best that can be said for this so-called "man-made wonder."
It's a good thing the Dubai tourist folks didn't put us up at the Burj Al Arab. Instead, we were graciously hosted by the JW Marriott Marquis, whose twin 72-story towers make it the world's tallest hotel.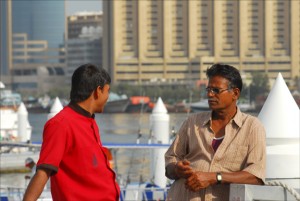 Overlooking Sheikh Zayed Road — Dubai's main drag — it's hard not to beat the Marriott Marquis for sheer dining luxury: its many fine restaurants include Prime 68, a boutique steakhouse with a fantastic view of the city; Positano, which serves up authentic Italian coastal cuisine, and on the fifth floor, Nawwara, specializing in Arabian cuisine.
The hotel's recently opened VIP Room also offers an ideal venue for observing the hypocrisy that pervades Dubai society. The evening we were invited there (our table alone, complete with private butler, supposedly cost $4,000 for the night) we found ourselves in the middle of loud pulsating house music and half-naked girls dancing on stage in lingerie. Then suddenly, 10 waiters in uniform marched in with flaming bottles of Dom Perignon to celebrate some local sheikh's birthday.
All this goes on in a strictly Islamic country where neither alcohol nor scantily clad women are tolerated. But behind closed doors, anything goes (one woman in our group even managed to snap photos of an Arab drag show with her iPhone).
The next morning, as business executives waited in the lobby to check out of the Marriott Marquis, two tall blonde Russian-speaking hookers — wearing high-heel shoes, miniskirts and little else — anxiously waited for a taxi at the hotel curb. We immediately recognized them from the night before.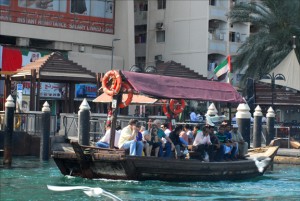 Whatever it is about Dubai that makes tourists want to come here — whether it's the food, the glitz, the glamour or the shopping — it's obviously working. In 2014, Dubai's hotels welcomed nearly 12 million guests, a 7.5% increase from 2013. But that's nothing compared to emirate's goal of attracting 20 million visitors by 2020 — and surpassing both Paris and London to become the world's most visited city.

Larry Luxner is news editor of The Washington Diplomat and former editor of CubaNews. Born and raised in Miami and based in Bethesda, Md., since 1995, Larry has reported from every country in the Western Hemisphere. His specialty is Latin America and the Middle East, and he's written more than 2,000 articles for publications ranging from National Journal to Saudi Aramco World. Larry also runs an Internet-based stock photo agency at www.luxner.com.