Holidays bring out the 'Fear of Missing out'
We're in the middle of the holiday season – a joyful time of year, perhaps, but more than likely one of stress, too.  The holidays produce in most of us a bad case of FOMO – or the Fear Of Missing Out.
FOMO rears its contagious head in many holiday-oriented arenas.  My dad's FOMO is displayed every night promptly at 10:30 p.m. when the rest of us are up drinking mulled wine, reading How the Grinch Stole Christmas (yes, I read this aloud dramatically to anyone who will listen), or discussing the latest statements of the NRA.  He will not go to sleep thanks to his family time FOMO and must be marched to bed by my diligent mother as she sighs, battling her own FOMO.  This leaves my sister, me, our dog and the wine.  I guess they have a reason to fear missing out with that lush combination.
FOMO also appears on Christmas morning.  When gifts are opened, there's a sense of competition – who got the best gift and who gave the best gift?  If I'm someone who didn't get and/or give the best gift, I have anxiety-ridden FOMO of missing out on the best Christmas morning experience (you can see I'm a victim of consumerism).  Alternatively, if I got/gave the best gift, I fear the neighbors next door will have gotten/given a better gift (like the iPad 3) and a desperate keeping-up-with-the-Jones's FOMO consumes me.  Why didn't I think of an iPad 3??
My best friend is abroad through the holidays and confessed to me before leaving that she had FOMO about all the inside jokes she would miss amongst our friends and family – and she was going to one of the most beautiful countries on the planet – experiencing a trip that evoked tremendous FOMO in me.  Why didn't I think to travel over Christmas??
FOMO even extends through Social Media.  In fact, I've had many friends tell me they gave up Social Media all together because everyone's Partridge Family status updates were giving them FOMO and making them feel badly about their seemingly Addams Family existence.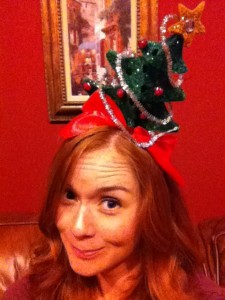 To top it all off, as the New Year approaches, I'm prone to making a stupid resolution that I can't keep – like drinking more water every day and quitting caffeine.  As I'm resolving to change I'm also panicking because what if no more caffeine means no more coffee dates and no more coffee dates means missing out on Cheryl's break up with Sean for the third time…??  FOMO.  FOMO.  I just can't do it.
Of course, this attitude of FOMO in myself and among others yields an amazing crop of characters, which will obviously show up in one of my sitcoms someday, but I think these small worries can get blown up into full on inhibitions that ultimately have the potential of keeping me from living my life fully.  Emphasis on "my."
Because it really doesn't matter if I'm missing out on the drunk dog, iPad 3, trip abroad, or break up story (Please note: we don't actually give alcohol to our dog).  If I'm living my life fully, those people I'm missing out on are also missing out on me.  Maybe 2013 is the year we let go of the FOMO and embrace the adventure.  Our own adventure.  Emphasis on "own."

Jana (it rhymes with "banana" or "anna") is an artist from Clarksville, Maryland. Growing up her parents always told her to "be whatever you want to be." Seeing as she has come from three generations of doctors, she obviously became an artist. As an actor, she has performed internationally Off-Broadway, and locally to the Baltimore/DC area. Favorite roles include Juliet, Ariel, and Caliban. Jana is the Founder of Red Connect Online, a social media marketing company that creates customized advertising campaigns for small businesses. You can listen to her podcast, Confessions of a Closet Christian, on the E-Squared Media Network. You can also follow her on Twitter (@Jana_Stambaugh) and friend her on Facebook.