Heilung takes over the Fillmore
"Heilung" translates to "healing" in German, but there were no doctors, scalpels, or any products originating from the modern era on display at the Fillmore in Silver Spring on Wednesday.
On the contrary, the Denmark-based trio delivered a mind-bending "amplified history" lesson. For the uninitiated, Heilung's brand of experimental folk music blends ancient Germanic lyrics, looped recordings of nature sounds, archaic weapons used as instruments, on-stage visual performers, and plenty of drums of all shapes and sizes.
Wednesday's show was the fifth of seven stops on Heilung's first-ever North American tour. Given how packed the Fillmore was, it came as no surprise that all originally announced tour dates sold out within the first 72 hours of ticket sales.
Several ritual-goers dressed in linens, wools, and pelts reminiscent of the Iron Age, complete with face paint and animal skull props. Presumably, most of the crowd would be experiencing the ritual for the first time, discounting a video of the band's first ever show that went viral, and it was impossible not to get swept up in the anticipation. While waiting in a line that wrapped around the block, I chatted with a couple who proudly talked about featuring Heilung's music in their wedding.
A minute or two before nine, a hooded figure appeared on stage and purified the audience with burning sage.
He was joined on stage by Christopher Juul, Kai Uwe Faust, and Maria Franz, the core trio of Heilung.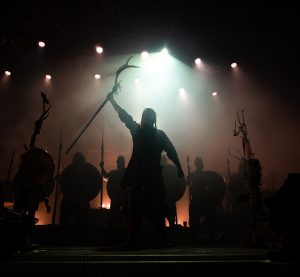 The show kicked off with the spoken word "Opening Ceremony," engaging the crowd in call-and-response and driving home a sense of community and belonging: "Remember that we all are brothers. All people, and beasts, and trees, and stone, and wind."
Ambient bird calls and trumpets from a buffalo horn initiated the ritual proper with "In Maidjan," quickly escalating with trancelike layers of drums and emotive vocals.
Throughout the performance, Juul, Faust, and Franz traded chants, growls, soulful vocalizations, and authentic throat singing.
Five spearmen with shields took the stage during "Alfadhirhaiti," and Juul beat on a broadsword for percussion during Krigsgaldr.
A shieldmaiden was sacrificed and resurrected during "Traust," and spearmen broke character to crowd surf during show closer "Hamrer Hippyer."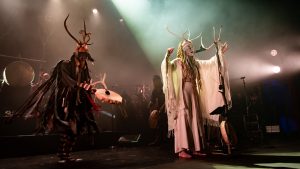 Fog effects and a lightshow synchronized with the heaviest drums added to the immersive ambiance of the experience.
Make no mistake—Heilung's interpretation of Viking-era music sounds intense, carnal, and even dangerous at times, but I felt inexplicably at peace leaving the venue after the hooded figure re-saged the crowd a final time.
Heilung's live ritual evokes the id, guiding the crowd in primal catharsis and leaving us with a lingering calm. As I began to come down from the experience on my way home, I realized there was something universally therapeutic about these driving, simplistic rhythms with incomprehensible lyrics, granting listeners the freedom to assign their own meaning to the songs.
If you're lucky enough for an opportunity to participate in the ritual, don't miss a chance to heal.
Setlist: Opening Ceremony, In Maidjan, Alfadhirhaiti, Krigsgaldr, Hakkerskaldyr, Norupo, Othan, Traust, Galgaldr, Hamrer Hippyer

Alex May has been attending concerts in the DMV for his entire life. He was born and raised in Maryland, attended college and graduate school in Virginia, and lives in DC with his girlfriend and dog. He believes all music sounds best live, and he never misses a Sunday show.