Hassan Giordano jumps in race for Office of the Clerk of the Circuit Court in Baltimore City
Hassan Giordano with Lt. Gov. Hon. Boyd Rutherford (r) and supporter in the middle.
Hassan Giordano announced his candidacy Monday for the office of the Clerk of the Circuit Court in Baltimore City.
The event took place at the "Terra Cafe Bmore," which is located at 101. E. 25th Street, on the southern fringe of Charles Village.
On hand for the kickoff were many of Giordano's supporters, including the current Lt. Governor of Maryland, the Hon. Boyd Rutherford.
After the candidacy announcement, a documentary, entitled: "A Political Pathway Through with Hassan Giordano" was featured. His current favorite hatch tag is #mrpolitics.
In the last mayoral election, Giordano was a top aide in the campaign of ex-Mayor Sheila Dixon. She finished a very close second in the General Election to the winning candidate, and now Mayor of Baltimore, Catherine Pugh.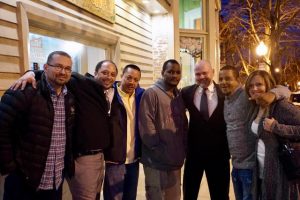 Among other organizations that Girdano has been active with in the recent past is the Baltimore Branch of the NAACP (National Association for the Advancement of Colored People).
Spotted in the audience tonight was the prominent criminal defense lawyer, A. Dwight Pettit. (Mr. Pettit and I go back together to the 1976 Democratic Convention, at Madison Square Garden, in NYC. We were both delegates then. That's the convention where Jimmy Carter pulled off an upset and won the nomination for the presidency).
The occasion tonight just happened to be Giordano's 41st birthday. So, it was reason for a double celebration on his part.
To learn more about tonight's event, check out the events Facebook page.
To see more photos from spirited political happening, check out my Facebook Page.

Bill Hughes is an attorney, author, actor and photographer. His latest book is "Byline Baltimore." It can be found at: https://www.amazon.com/William-Hughes/e/B00N7MGPXO/ref=dp_byline_cont_book_1