Grounded: Actress Megan Anderson scores direct hit at Everyman Theatre
Megan Anderson stars as The Pilot in Grounded at Everyman Theatre. (ClintonBPhotography)
Twenty-first century warfare has produced a new kind of warrior and with it, an entirely new set of problems. How, for example does one deal with post-traumatic stress disorder while fighting the enemy from an office chair half a world away?
Dealing with the fallout of such a scenario is the theme of George Brant's gripping one woman drama – Grounded, the current production at Everyman Theatre.
Directed by Derek Goldman, Grounded tells the story of a hot-shot fighter pilot who loses her spot in an F-16 squadron when an unexpected pregnancy occurs. Slowly, she comes to accept motherhood along with the man she will now marry; warming to the natural changes domesticity brings. But the joys she experiences in her newfound life are tempered by the shift she must also make in her military career. Much to her dismay, the high-flying pilot finds herself reassigned stateside; stuck inside a windowless trailer outside of Las Vegas, remotely manning the stick of an eleven million dollar drone.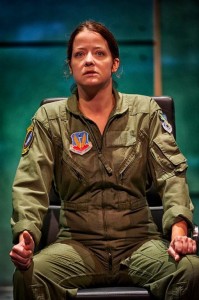 Shocked and visibly shaken, the disbelieving major asks her unseen commander, "You want me in the Chair Force? I am a real pilot."
Being grounded is "a pilot's worst nightmare", even though, "The threat of death has been removed from our lives."
The commander's selling point that drone flying is the future falls on unconvinced ears, as the major explains what drone pilots do.
"We learn to fly with our asses firmly planted on the ground," she says, while fighting a war "twelve hours ahead but only 1.2 seconds away."
But once she settles into her new job of "driving to war like it's shift work", the major finds her assignment of "searching for the guilty" absolutely addictive, until the Asian wasteland she watches on the trailer's screens for twelve hours a day starts to look like the same desert she drives home through every night.
As the unnamed pilot in this one woman show, Everyman Theatre company member Megan Anderson takes a deceptively complex character through her paces at full throttle.
Anderson sets the tone when she offers at the onset, "I never want to take this (flight suit) off. It is who I am." Then she continues the freewheeling monologue with a take-no-prisoners spirit which would make any seasoned combat pilot proud.
There are instances when Anderson comes across as harsh and a bit too grating. Even George C. Scott's General Patton gave the crowd an occasional wink. But the overall effect of Anderson's performance is engrossing, and for seventy minutes she took the audience on an acrobatic ride.
Artistically, this show is as tight as a Thunderbird formation.
Luciana Stecconi's simple set design consists of a single Naugahyde chair and a wall covered with multiple video screens. Combined with Jared Mezzocchi's projection design, and the lighting of Harold F. Burgess II, the transitions (and transmissions) color the major's monologue while starkly setting the mood of the windowless trailer.
Eric Shimelonis' sound (which includes screaming jets) and music are spot on, and costumer Ivania Stack's utilitarian flight suit almost takes on a life of its own.
Grounded is a solidly produced and solidly acted play; an intriguing drama which shows counterinsurgency in a way that strikes this war-weary nation at its core. As the pilot rightly notes, "(The Odyssey) would be a different book if Odysseus could come home every day."
* * * * *
Everyman Theater's production of Grounded runs now through November 16. Running time is seventy minutes with no intermission. The theater is located at 315 W. Fayette St, in downtown Baltimore, Maryland. Tickets and other information may found by contacting the box office at 410.752.2208 or online at Everyman Theatre.

Anthony C. Hayes is an actor, author, raconteur, rapscallion and bon vivant. A one-time newsboy for the Evening Sun and professional presence at the Washington Herald, Tony's poetry, photography, humor, and prose have also been featured in Smile, Hon, You're in Baltimore!, Destination Maryland, Magic Octopus Magazine, Los Angeles Post-Examiner, Voice of Baltimore, SmartCEO, Alvarez Fiction, and Tales of Blood and Roses. If you notice that his work has been purloined, please let him know. As the Good Book says, "Thou shalt not steal."