Greta Van Fleet takes Rams Head Crowd on a Hard Rock Safari
There's something exciting about seeing a band that's riding its first really big surge of popularity.
The enthusiasm of the initial breakout and the buzz of expectation that even bigger things are coming down the road combine, fueling the energy level that symbolized Greta Van Fleet's tour stop last week at Rams Head Live.
Following opening act Dorothy, Greta Van Fleet took the stage with a close to two-hour statement on how to take a late 70s classic rock experience and reinvent it with a modern sensibility and sound.
The music is pure rock and roll, blues heavy and interlaced with some frantic guitar work among the rhythms. Opening with "Highway Tune," the band's first single which reached No. 1 on Billboard's Rock Radio charts, and finishing with the latest single "Safari Song," the set featured six songs from their latest release "From The Fires," a cover of Howlin' Wolf's "Evil," and five as yet unreleased songs, some of which we could see on the band's next release.
"We gained a certain amount of attention from the two EPs, so all we wanted to do this past month is release something more substantial, a complete thought, an album. So we set out to do a ten song, all originals, full length LP." guitarist Jake Kiszka said in a recent phone interview.  "That should be out mid summer hopefully. It's very close to done. We'll be playing a few songs from that this spring."
The show had several nods to performance elements reminiscent of a 70s rock vibe, from tambourine-shaking singer Josh Kiszka tossing flowers to the crowd when taking the stage, to Jake Kiszka cutting loose with a behind the back guitar solo, to bassist Sam Kiszka sliding stage right to double up on keyboards for some of the the more trippy musical moments ala Led Zeppelin's John Paul Jones.
And there it is – the seemingly unavoidable Led Zeppelin comparison, strategically placed to the margin so as not to not jump in directly and blurt out "Holy crap! that guy Josh sounds just like Robert Plant."
It's a real thing to mine and many others ears, and by no means a criticism, but the band seems to be more comfortable not mentioning the similarity in their official promotional material, so I'll just leave it at that. (but we know you're not a cover band guys, so it's OK to own it.)
The crowd remained fully engaged throughout the show, packed in tight and eating it up all night.  Fans ranged from young teens catching one of their first concerts to 50-something veterans who grew up on the musical style GVF draws so much inspiration from. The show marked the band's third trip to Baltimore in the past year.
"The very first time we had ever toured out, we went out with a British band, The Struts, and we went to the Rams Head, it was the first tour and Sam and Danny Wagner had taken weeks off School for," Jake Kiszka said of their first stop here last May.
They returned in October for a show at the Ottobar in Charles Village.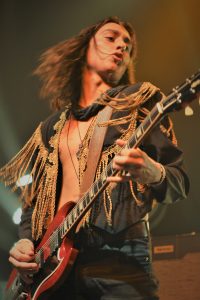 "Out of all those larger cities that we've been to, LA, New York, Chicago, Nashville, things like that, it just seems like there's kind of groove with a smaller town feel, and Baltimore has that, and we really appreciate that and like Baltimore for that, and so yeah, we'll keep coming back," he added.
This tour's Baltimore show sold out very quickly, just like the rest of the band's tour stops, a reflection on just how popular these three Michigan brothers and Wagner have come into the collective musical consciousness.
"It's really something we hadn't expected to launch at this degree, to have this honor, to have such immediate attention to what we're doing, so that was kind of shocking in itself." Jake Kiszka said. "Being that Josh and I are 21, and Sam is 19, fresh out of high school and out of a small town it does kind of feel seemingly overwhelming at times to see how many people are coming along to see us, and the shows selling out. In fact it's very humbling at the same time that people want to see what we have to offer musically. That would be one of the forms for maintaining our groundedness, everybody's just coming for the music, you know?"
It's not just the rank and file fans finding something special about Greta Van Fleet. In March the band received a personal invitation from rock icon Elton John to perform at his annual Oscar Viewing Party.
"You have these figures, people that have inspired you, legendary people that have been a part of your creative life to some extent. Especially someone like Sir Elton John," Jake Kiszka said. "It was such an honorable and humbling thing that someone of that magnitude appreciates music that we make."
Sir Elton performed his classic "Saturday Night's Alright for Fighting" and GVF's "You're the One" with the band.
When asked about what it's like working in a band with his two siblings, Jake Kiszka shared a bit about how the teenage brothers brawled and bonded on the way to where they are now.
"We grew up playing quite a bit together. It can be one of the most creative, leisurely things you can possibly have and one of the worst things at the same time," he said. If there is a creative dispute, there is a difference. You know there's going to be sparks flying and fists thrown, you have three people who just won't back down from something they think should be a certain way. I remember early on we would be rehearsing in the garage, and it would come to the point where we would have a creative disagreement, and a garage door window would be busted out and our mom would come out yelling at us because we were always fighting each other, chasing each other around the yard, throwing instruments at each other. But I think we've grown a lot as musicians together, and learned to respect each other, and treat each other a lot better these days."
With the high demand for tickets to the Rams Head Live show, prices on the secondary ticket markets got pretty steep, with many going for two to three times face value.
"We've been dealing with scalpers for quite a bit, and i think we all kind of hit a point where it irritated us enough," Jake Kiszka said. "The fact is that it was taking advantage of people that want to come and see our shows, and couldn't."
They came up with a plan to counteract it by setting up a second, box office only sale at several of the venues as the shows grow closer.
"We took it to the degree where we thought that if everybody comes to the box office and we limit tickets there, then people can come and we can pretty much eliminate the majority of that scalping issue." he added. "I'm flattered (that someone would pay a scalper), but it's highly unnecessary. It always seems there's been third-party elements involved with ticket sites, so just to be able to eliminate that, I think it's great, people can actually come to see the show for a decent price."
Greta Van Fleet returns to the area for two Washington D.C. shows July 21-22 at the 9:30 Club and The Anthem, respectively.
Setlist: Highway Tune; Edge of Darkness; When the Cold Wind Blows; Talk on the Street; Flower Power; You're the One; Evil; Mountain of the Sun; Watching Over; Lover Leaver Taker Believer
Encore: Black Smoke Rising; Safari Song

Chris Swanson is a live music and sports fanatic and a long-time Maryland resident. He holds tightly to what some consider an unreasonable affection for the Baltimore Orioles and older music venues. Chris has a Communications Degree from the Franciscan University of Steubenville.