The Great Gadsby's and the French Revolution in Columbia
What's going down in Columbia, MD? Only a bit of fine eating and drinking, that's what!
I've always had a think about all these 'ruddy chain restaurants' (don't forget, I'm British!) in Columbia and when a place pops up that is different, unique and offers me something off the beaten track, I'm so there.
Gadsby's American Bar is located off the 100 in Columbia, and whilst I totally don't get the location (a business park), what's inside rocks.
Gadsby's describes itself thus: 'Gadsby's Bar American is a unique restaurant offering progressive American cuisine from Chef Robert Gadsby.
What is American cuisine, exactly? American cuisine is the culmination of regional influences on America over the last several hundred years. The best American cuisine is a combination of American ingenuity, with a French taste for sophistication, Italian outlook on sourcing the freshest local & sustainable ingredients, and Japanese discipline.
These theories shape the cuisine at Gadsbys. Gadsby and his culinary team offer an approachable & comfortable menu for both lunch & dinner. Our lunch menu includes classic Regional American comforts and a three course tasting option. For dinner, we offer seasonal beginnings, followed by pasta courses, seafood courses, meat courses, cheeses and desserts.
They also offer a selection of 100 percentdomestic wines and craft beers sourced from all over the country. But what makes this place stand out is the cocktail program, which is utterly fresh, fun and unique. Chad reigns over the cocktail bar and can give Tom Cruise a run for his money, that's for sure!
Chad says of his cocktails: 'Cocktails? Think again! We have carefully recreated some traditional and familiar bar drinks. By keeping the integrity & flavor profiles we have birthed something new, fashionable, and exciting.' They sure do! Lavender infused drinks with protein stabilizers and cucumber cocktails – I didn't realize that even alcoholic beverages could be 'healthy'!
Giving Gadsby's a run for their money with class and sophistication is Petit Louis, located at the Lakefront in Columbia. Wine tasting is the way to go here – their wines are served well and their food is amazing. I feel like I really am in France when I am this restaurant, which has a sister bar and restaurant in Baltimore.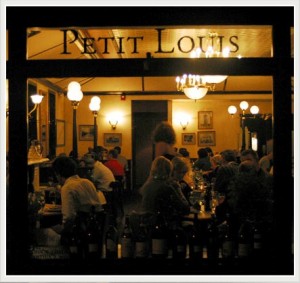 The menu offers a variety of classic French bistro dishes while highlighting the freshest seasonal and regional ingredients. Savor Steak Frites, Confit de Canard, Poulet à L'Estragon, Truite Almondine, Escargot de Bourgogne, Cassoulet, and Boeuf Bourguignon among the selections. That, friends, is proper French food. Delicious!
Let's talk wine at Petit Louis! The wine list is comprised of a wide range of selections from all of the wine-producing regions of France that make sense with Louis' classic kitchen. Selections for the cellar are made through extensive tastings including cellar visits across the wine regions of France on a continual basis. I knew I loved it! (Not a big fan of Maryland wine!) Petit Louis' Tony Foreman, who co-own Petit Louis with Cindy Wolf, says: 'From simple table wines to age-worthy and highly-complex Grand Crus, each choice is made with specific dining situations, seasons and varying dishes in mind. Our staff is trained in the use of our cellar and is very happy to assist you in marrying our menus with the wines.'
And I have to hand it to the waiting staff, they know how to put on an event and get the customers in. And the location? Well chosen, Cindy Wolf!
Nice work, Columbia – I never say no to new and interesting places to eat and drink. Now, where to have my 40th…?!

Claire Bolden McGill is a British expat who lived in Maryland for three years and moved back to the UK in August 2015. Claire wrote about her life as a British expat on the East Coast and now works in travel and hospitality PR in the UK. She still finds time to blog about her repatriation and the reverse culture shock that ensued – and she still hasn't finished that novel, but she's working on it. You can contact Claire via twitter on @clairebmcgill or via her blog From America to England.