3 ½ out of 4 stars
Somewhere, in the deep blue sea, Godzilla is smiling: Hollywood, after years of lackluster efforts, finally made him proud.
"Godzilla: King of the Monsters" is the best of the monster movie genre, better than any of its Godzilla predecessors – far superior than 2014's "Godzilla" that was a slap in the big guy's face – and trumps any King Kong movie.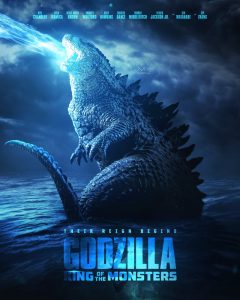 Finally, Hollywood let Godzilla be Godzilla and didn't let any human get in his way. Director Michael Dougherty lets the humans be great side dishes, enabling the audience to savor the main course, which is glorious monster — or in this case "Titan" – after spectacular monster. For two hours, it's a monster-geddon, where Godzilla goes against the baddest creatures on the planet. It's all filmed in captivating computer-generated imagery that brings what had been mostly confined to comic books and shoddy B-rate movies to life.
The movie opens in the years following 2014's "Godzilla," which featured the demolition of San Francisco that led to the death of Mark and Emma Russell's young son. The couple has since divorced, with Mark ("Friday Night Lights'" Kyle Chandler) channeling his loss into alcohol and Emma (Vera Farmiga) having invented a machine that transforms a monster's language patterns and translates them into a dominant alpha signal or a soothing lullaby.
Emma works for the mysterious – and nefarious – Monarch company, which knows exactly where the titans reside throughout the world. But instead of hunting them, they are studying them.
Emma finally gets her contraption to work while in China, where she has the larval Mothra under control – until an army of mercenaries led by eco-terrorist Jonah Alan (Charles Dance) bursts into the compound, kills the team of scientists, commandeers the machine and abducts Emma and her daughter, Madison ("Stranger Things'" Millie Bobby Brown).
Meantime, Mark, while vacationing in Colorado, is swept up by the U.S. Army and other Monarch company employees to help find his daughter and ex-wife, but most importantly, her machine who gives its owner God-like power.
The two sides meet in Antarctica, where the bad guys awaken Godzilla's biggest foe: the three-headed, spike-laden hydra Ghidorah, who could be the most impressive monster to ever grace a movie screen.
Ghidorah's re-emergence from centuries spent in ice leads to other monsters coming out of hiding from across the planet to threaten Godzilla's supremacy. The unveiling of the monsters is like opening a gift – each one is covered in a landscape, and by the time it emerges, you can't take your eyes off it. This is especially the case with the arrival out of a volcano of Rodan, a fiery creature whose wings are so powerful the wind they generate destroys cities.
Not all the creatures are bad guys. But Mark, Monarch and the Army don't see it that way, especially Mark, who wants to kill them all after his son died in 2014's "Godzilla." However, Godzilla isn't a bad guy, which he proves repeatedly by saving Mark and his crew from ending up in a monster's belly.
Dougherty makes good use of Ken Watanabe, Sally Hawkins, O'Shea Jackson Jr. and Zhang Ziyi to break up captivating fight scenes that get better as the movie progresses with conversations about the creatures' background and whether they should be destroyed or studied.
And that's the way it should be. Because in this film, all the humans can really do is talk because it's Godzilla's world and they are just living in it.