Four Twelve Roofing launches Baltimore Roof Trust: Donates Free Roof To Deserving Baltimore CityFamily
Baltimore, MD,  — Four Twelve Roofing is pleased to announce the launch of its Baltimore Roof Trust program. 2019 will be the inaugural year of this program. The Baltimore Roof Trust was created as a way for the Baltimore City-based company to give back to the community by providing families in need with new roofs. This year they selected one local family. 
The first recipients of the program are the Johnson Family. Mr. Andrew Johnson and his brothers Samuel and Duane, are third-generation residents in their home, which is located in the Greenmount West neighborhood of Baltimore City. Andrew is a retired firefighter. His brother Duane is a correctional officer. Active participants in the community, the Johnson brothers have been generous with their time and energy to make Greenmount West a better place over many years.
"We have lived in this neighborhood a long time. It is my hope to be able to pass this house onto my granddaughter, and a new roof would be great to help protect this house for years to come,"said Andrew Johnson. 
Four Twelve has strong ties to the Greenmount West neighborhood and felt it would be appropriate to do their inaugural Roof Trust project in the neighborhood where their business began. When Four Twelve made plans to launch the Roof Trust, the company contacted Jubilee Baltimore and the Greenmount West Community Association – both non-profits that are highly active and engaged in the Greenmount West neighborhood. Both organizations agreed that the Johnson family was most deserving of a new roof.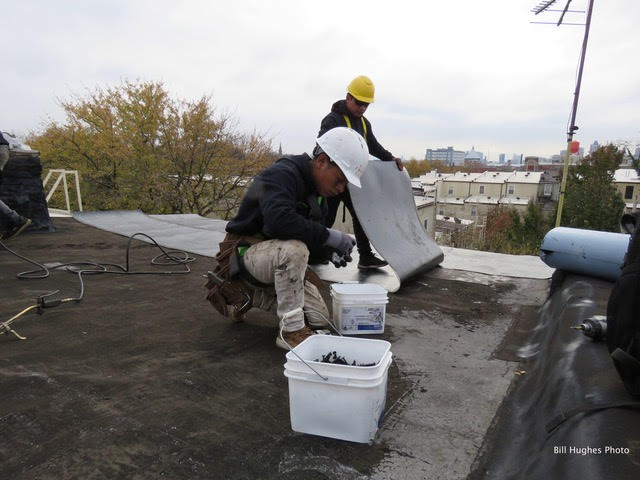 The roof replacement will be completed in early November. Four Twelve plans to donate at least one roof per year through The Baltimore Roof Trust. "Everyone deserves safety and comfort, and through our journey growing a roofing company – we have learned how important a roof can be. The whole team at Four Twelve looks forward to the opportunities this project presents to strengthen ties across the City and better the lives of those living in it," says Shea Frederick, Co-Founder and Partner at Four Twelve. 
For those looking to get involved, you can support the Baltimore Roof Trust by nominating someone in your community. For the calendar year 2020, Four Twelve will be accepting nominations through its website. The only criteria will be that the family is from Baltimore City and deserving of a new roof.
For more information about The Baltimore Roof Trust, please visit our website at www.fourtwelvedev.com or call 410-989-7343.