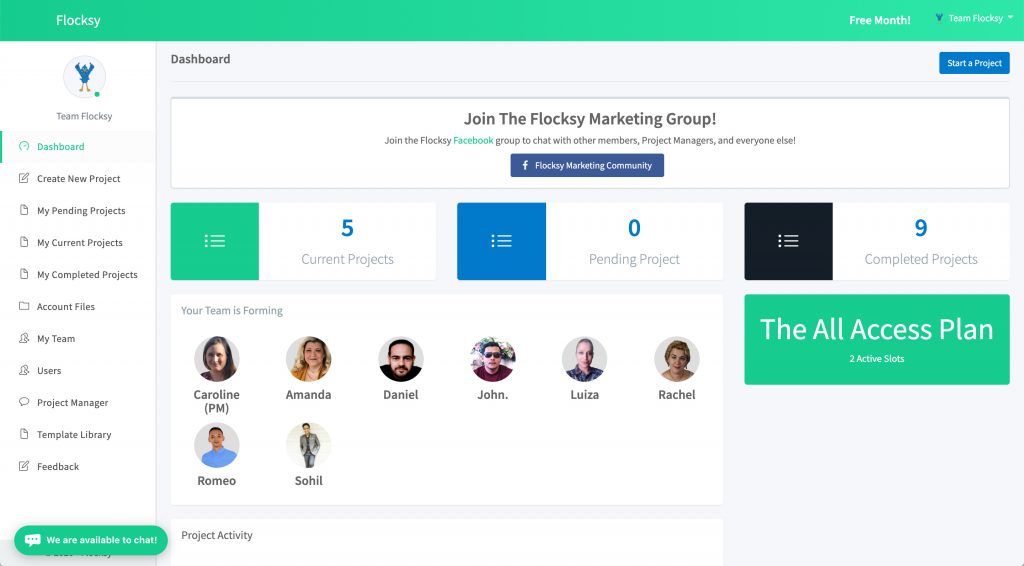 Businesses today must keep up in a high-speed world, and the rapid-fire of new technology guarantees that we won't be slowing down anytime soon. Consumers receive information from more channels every day, making it crucial to attract target markets early to stay ahead of competitors.
This makes the marketing key for your business' success. But marketing departments have a lot to juggle: development and reporting on a marketing plan, content creation and distribution, internal and external communications, Internet and social media management, and more. It's hardly surprising that an in-house team can't always get everything done. Even the hardest working team is going to drop a ball sometimes, especially if they're missing a skill set or dividing their time among too many projects.
The solution? Outsource your marketing. The concept is far from new. Companies have outsourced creative marketing functions such as advertising campaigns for a long time, but the time to consider outsourcing all marketing operations has arrived. It often saves money and improves quality, and it's starting to look like the future as more and more companies begin to benefit from outsourcing.
By outsourcing marketing, you can avoid the hefty investment and vicious cycle of sourcing, hiring, and replacing an in-house team. A credible partner provides a fully vetted team of marketing professionals who are ready to execute highly targeted campaigns that fit within your budget. Outsourcing also eliminates non-revenue producing activities by aligning sales and marketing goals.
For example, in-house marketing professionals tend to get sucked into designing collateral that only ends up being used by sales 30% of the time because it is not relevant to their prospecting efforts or does not support their sales goals. And yet, 88% of missed opportunities could be avoided if salespeople had the right internal resources and collateral to leverage. By outsourcing, you'll benefit from a team that proactively aligns marketing and sales campaigns to consistently execute against specific goals to drive revenue for your business.
Outsourcing marketing to businesses like Flocksy can save money and time, as well as source the best talent from around the world. Flocksy is a professionally managed flat rate creative services and content platform focused on long-term relationships with clients, designers, and partners. Flocksy utilizes only U.S.-based project managers who understand the needs of both clients and on-demand teams. Their team is fully vetted and tested, ensuring their clients get top-notch results for the projects they desire. Flocksy was founded in 2016 as the first platform of its kind to offer the breadth of services and consistency of teams.
Cost is, by far, the most overwhelmingly compelling reason for outsourcing marketing responsibilities. It's hard to pin down exact figures on how much cost reductions outsourcing can bring, but a commonly cited benchmark is that outsourcing an entire marketing team costs less than having one full-time marketing professional on staff. That is, outsourcing lets you tap people who can get the job done minus the overhead, onboarding, and other expenses related to having an internal marketing team. Flocksy's proprietary platform is cost-effective for businesses of all sizes and locations. Their retainer-based monthly service fee includes all work, licensing, and more.
A marketing agency employs experienced professionals who possess the expertise, insights, and creative energy to develop successful, personalized marketing strategies and approaches that will best position your business and your brand. Again, you're the expert in what you do…so let the experts handle your marketing. Flocksy was designed so clients get a whole team they are working with and not one person that they may or may not connect with. Their platform vets and selects only the best creatives from around the world, ensuring work is done correctly and on time.
Their professional-grade work is work they use themselves. Flocksy has consistently beat client expectations for quality of work and work turnaround times from their first day in business. Typically, the Flocksy team is one you build as a consistent, complete outsource team, focused on your core business needs.
Outsourcing isn't only available to large firms, though. Data shows that more than one-third of small businesses (37%) currently outsource a business process, and more than half (52%) plan to outsource within the next year. Flocksy was designed to work with small to mid-sized businesses the way they do business best. Clients can do as many projects as they can complete in each month.  To better focus on client work, projects can be located into their dashboard and are completed one at a time.  When you sign off on a project, the next one begins. Flocksy enables you to keep your team for the long haul or change them around whenever you want to.  Their professional creatives and active team members serve as outsourced members of YOUR team.
There are incredible benefits to outsourcing your marketing activities, especially now. First and foremost, you're the expert in what you do for a reason–so why wouldn't you leverage professional expertise to manage your marketing efforts? Most importantly, with a professional marketing team, businesses can hold onto customers in a time of crisis, expand digital footprints, position brands, and explore ways to increase sales and revenue for once COVID-19 passes.