Flaunt street style and chic look perfectly with Malaysia's jewellery and fashion brand 'EK'
An amalgamation of two styles and trends is a challenging and exciting project for every fashionista; whether you are a designer or someone who loves flaunting their wardrobe. Street style fashion became a rage in the 90s and is still ruling the fashion world. In fact, high-end brands and celebrities have also made it part of their fashion statements. One such brand that focuses on high-end jewellery and accessories for all street style lovers is EK.
Created by Eric Keok, EK Malaysia was initially just a hobby for him since he loved bracelets. One evening, he spotted a bracelet at a store that he fell in love with but couldn't afford since he was a student. That's when he decided to make his bracelets and design more of them so everyone could afford them. Now that's one inspiring birth story of a brand, isn't it?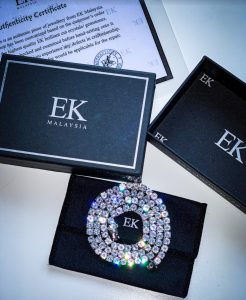 One of the best things about EK's jewellery and clothing line is that they can blend well with whatever you choose as your look of the day. Streetwear is something that is comfortable and grabs eyeballs wherever you go. Fashionistas are breaking stereotypes every day, and you can create a chic look with streetwear, too.
You can opt for over oversized sweatshirt or the oversized Anubis tee from EK's collection and pair it up with your favourite leggings. You can never go wrong with a pair of knee-high heeled boots or stilettos if you are feeling rowdy. Sneakers are quite common and of course, comfortable but if you want to try something new, go with an unconventional pair of shoes.
Choose from the sunflower earring or the black magnetic earring from EK's collection, pair it up with your choice of bracelets from the brand's variety of designs and a few rings. EK has a lot of rings and designs that even make you want to own pretty much everything.
Add a casual element to your overall look by opting for the trident shoulder bag or a slingback. Now leave the house with all that swagger you've got on and up your social media game. Pick your favourite jewellery from EK's Instagram page, @ekcollectio, or check their website, www.ekmalaysia.com for the best fashion and jewellery pieces.