Five new pizzas, which would you choose?
The 58-year-old Grotto Pizza wanted to do something different to kick off October's National Pizza Month and launched "Create Your Own Pizza Competition."  Out of forty submissions they received, Grotto Pizza narrowed it down to these five finalists that were judged October 29th at their Columbia, Maryland location.
Fall'n for Brie – ham, brie, apple (See above)
Ultimate Burger – ground beef, bacon, blue cheese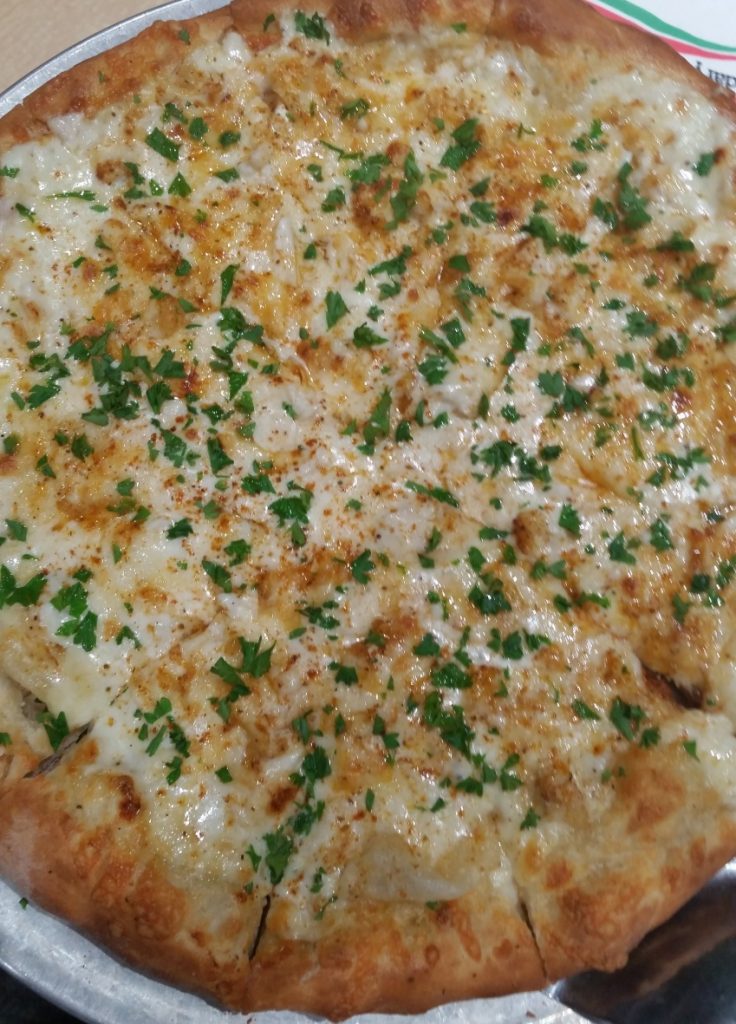 Coastal Crab – white pizza with crab and old bay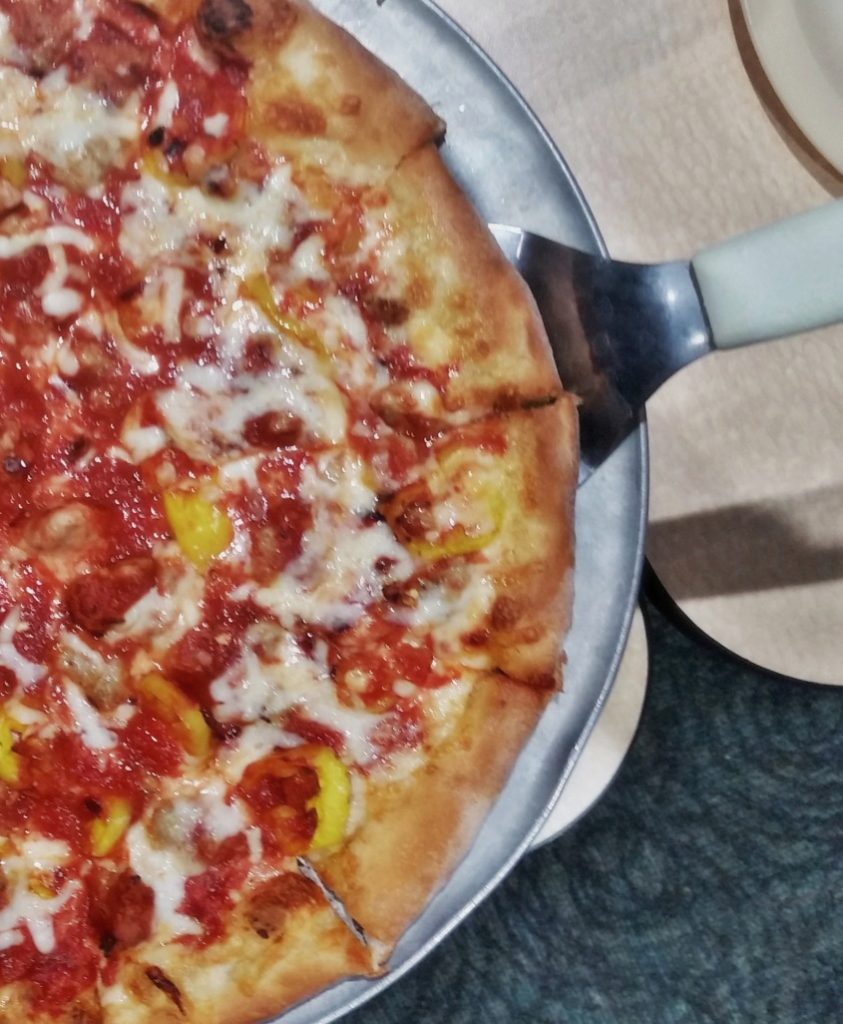 Swirl of Fire – banana peppers, sausage, spicy tomato sauce
Big Fat Greek – spinach, sliced red onion, garlic, Kalamata olives, pizza cheese, feta cheese 
It was a tough job to taste all these pizzas, but I along with the celebrity judges tasted, ranked and ultimately came up with the winner.
Judging panel and coordinator – left to right
Jermaine Lewis (Baltimore Ravens Alumni, Super Bowl XXXV)
Franchon Crews Dezurn (WBC Super Middleweight World Champion; "The Heavy Hitting Diva")
Vinne Di Natale (Grotto Pizza, contest coordinator and moderator)
Dara Bunjon (Food Writer: www.diningdish.net & publicist-Dara Does It)
Gina Crash (Co-host; Today's 101.9 Morning Show, Today's 101.9 FM),
Darren M. Haynes (Sports Director/Anchor, WUSA9—Washington),
Which one of these entries tempts you?  Which one would you have chosen?  The judging panel chose "Swirl of Fire" as the winner. Personally, that was my first place pick and the Big Fat Greek was a tight second.
Coming soon, Grotto Pizza will add the "Swirl of Fire" pizza to its menu, recognizing it as the "2018 National Pizza Month – Pizza Creation Contest Winner, created by Erin Glass of Timonium, MD." Glass also will receive a $100 Grotto Pizza gift card.
Grotto Pizza has grown to 24 locations throughout Delaware, Maryland and Pennsylvania. Still a family owned business, Grotto Pizza is a casual family dining restaurant that specializes in award winning pizza and hospitality. The full menu includes pizza, pasta, sandwiches, subs, appetizers, salads, beer, wine, cocktails and Grotto Gelato. www.grottopizza.com

For Dara Bunjon if it is food, Dara Does It, in fact, that is the name of her company which offers creative solutions for the food industry the likes of public relations, marketing, social media, cookbook compilations, food styling, culinary events, networking and freelance writing. You will now find Dara applying her broad range of culinary skills as a food stylist for television chefs/cookbook authors the likes of Steven Raichlen, Sara Moulton, Nick Malgieri, and Nathalie Dupree. Dara Bunjon lives, eats, dreams and writes about food and isn't hesitant to share her views and experiences about restaurants, culinary trends, recipes, cookbooks or even her childhood food memories. She has been on the food scene for too many years to mention. Known both in Baltimore and nationally, Dara Bunjon is a former member of Women Chefs and Restaurateurs' national public relations committee.
In the past, she has written for Style Magazine, Foodservice Monthly, Mid-Atlantic Restaurant Digest, Urbanite and other sundry publications. Since 2004 she has maintained an award-winning food-related blog called Dining Dish. She co-authored her first cookbook Yum! Tasty Recipes from Culinary Greats in association with Studio Spear. And has written Baltimore restaurant reviews for Gayot.com
Dara believes food is subjective; everyone's taste is different and she enjoys bringing you to her table to commiserate and enjoy lively discourse.
Considered one of Baltimore's food influencers, you can follow her on Twitter and Instagram @daracooks.