Final farewell to Judge Tom Ward
"And until we meet again, May God hold you in the hollow of his hand." Old Irish Proverb
Corpus Christi R.C. Church, located in the Bolton Hill area, was filled to capacity. In fact, it was standing room only. On Saturday, March 12, 2016, at 11 AM, a funeral Mass was held  for one of Baltimore's finest sons – Judge Tom Ward.
With Father Martin Demke presiding, the Corpus Christi choir added to the ambiance of the occasion with their fine voices. They had a lot of help from the audience, too, which particularly enjoyed singing along with the popular hymn, "On Eagle's Wings."
I knew it was going to be a memorable service when one of my favorite ballads, "How Great Thou Art," was introduced by the Cantor, Anita Hampson, accompanied by pianist, Dan Meyer.
During his 89 years, Judge Ward touched many lives in a positive and deep way. Try newspaper route carrier; union member; B&O Railroad worker (like his father before him); U.S. Army Paratrooper; "Baltimore Sun" reporter; Baltimore City Councilman; Chair of the Liquor Board, Environmentalist; Politico; Irish Preservationist (Irish R/R Workers Museum on Lemmon Street); Founder of the Bolton Hill Democratic Club; Conservationist (Baltimore City & West Virginia); Lawyer; Jurist and devoted Family Man. The truth is: They don't make them like Judge Ward anymore.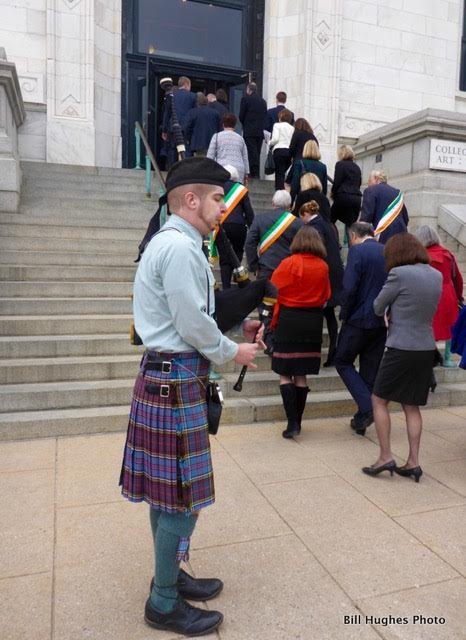 When Judge Ward was practicing law as a young, feisty advocate, where do you think his office was located? In some high tower building in the Inner Harbor? Hell, no! It was in Hampden, (Hon), right on "The Avenue," near Elm Street.
Naturally, many of Judge Ward's colleagues from the legal arena gathered to pay their respect. Former Chief Judges of the Maryland Court of Appeals; Robert M. Bell and Joseph F. Murphy; along with the former Chief Judge of the Circuit Court of Baltimore; Joseph H.H. Kaplan; and a current City Circuit Court Judge, the Hon. John C. Themelis attended the funeral.
Mayoralty candidates Catherine Pugh and Carl Stokes also were in the large assemblage. They are two of the 13 candidates on the Democratic side seeking that office.
The man responsible for appointing Judge Ward to the chairmanship of the Liquor Board, ex-Baltimore City Mayor and former Maryland Gov. Martin O'Malley, (aka "Marty O'Gov"), also made an appearance at the service. Their close friendship goes back, at least, to O'Malley's days as a Baltimore City Councilman.
Two of the Judge's children spoke at the service. Their fond recollections of their father brought both laughter and tears to the audience. The laughter came roaring out when they reminded everyone how their strict father "would not permit a television set
in their house!"
The tears showed up when they talked about the great love of their father's life, their late mother Joyce (nee McCartney), who died in 2011. They underscored how "desperately lonely" he was after the Lord had called her home.
Attorney Frank Lidinsky, whose late father, Richard A. Lidinsky, Sr., served for decades at the Deputy City Comptroller, wrote a note for the service's program, which struck a responsive cord with me. He said of Judge Ward: "His love of Baltimore City will long be remembered and appreciated. What an honor to the Irish and Catholic community to claim him as their son."
Former State Senator, Julian "Jack" Lapides gave the eulogy. For more than 45 years, the Senator and Judge Ward were both neighbors and intimate friends. Lapides (a flaming liberal if they ever was one); and Judge Ward (an arch-Conservative), with a capital "C," jointly ran the Bolton Hill Democratic Club. It was, like my old political, now defunct hangout – the Stonewall Democratic Club in South Baltimore – one of the last bastions of freedom in Western Civilization (or something like that.) It has now, regretfully, gone the way of the DoDo Bird. The club used to meet in the Fifth Regiment Armory.
Somehow, Judge Ward and Senator Lapides survived and overcame their ideological divide. I was so pleased to hear him remind the audience that it was Judge Ward, as a young City Councilman from the 2nd District, and as an bright and energetic attorney, who stopped the East-West Expressway, with plenty of help, too, from the activist communities. (U.S. Senator Barbara A. Mikulski, PLEASE copy this note!) That Monster Highway from Hell would have destroyed and/or seriously impaired the historic neighborhoods of Federal Hill, Little Italy, Fell's Point and Canton.
An honor guard from the Ancient Order of Hibernians, led by a bagpiper, accompanied Judge Ward's casket out of the church and onto the sidewalk, where the hearse was waiting. Former member of the House of Delegates, Brian McHale, was in that group. His friendship with Judge Ward goes back to his late father, Michael "Iron Mike" McHale, days in the City Council.
One of the ballads, the piper played was another old favorite of mine, "The Minstrel Boy."  It was so appropriate since Judge Ward was a take-no-prisoners' fighter on every issue that touched his big, lovable and very Irish heart. The Irish patriotic tune was penned by Thomas Moore and was extremely popular with Irish soldiers fighting on the Union side in America's Civil War.
I end this commentary with a short poem, written by one of Judge Ward's many admirers, Ms. Usha Nellore. It's titled: "In Memory of Dad." Here's it is:
"I loved the man.
He was a character!
I loved the way he tackled a mugger.
I loved the way he tackled the liquor barons.
I loved the way he tackled life.
Long life.
Well lived.
Unique and fun filled.
Strong moral fiber.
Stubborn ethical streak.
In this era of cyber,
He was quintessential
old world chic."

Bill Hughes is an attorney, author, actor and photographer. His latest book is "Byline Baltimore." It can be found at: https://www.amazon.com/William-Hughes/e/B00N7MGPXO/ref=dp_byline_cont_book_1