Field of Screams backstage tour provides story behind the scare
The fastest way out of the cemetery is by means of teetering woodland slide. (Jessica Lynn Dotson) 
There is something strangely unnerving about stepping into a dimly lit warehouse and seeing a dozen bloody chainsaws beside a severed dinosaur head.
Power tools and a toothy T-Rex were just a few of the ghastly props we encountered when the Baltimore Post-Examiner took a rainy night look behind-the-scenes at Field of Screams in nearby Olney, Maryland.
Field of Screams Maryland – one of the largest and most popular horror-themed attractions in the Mid-Atlantic region – is celebrating its 15th anniversary this year. The terror-filled trek features four different experiences for the intrepid horror fan: Haunted Trail, Nightmares in 3-D Haunted House, Hades Hayride, and Paintball Apocalypse (where park goers get to shoot zombies).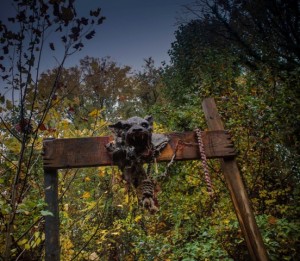 Anyone can buy a chainsaw and a hockey mask, but pulling off a full scale haunt is an incredibly ambitious undertaking.
"On a busy night, we have around 120 actors in full costume. That way we can be sure to have all the stations covered and still have actors to interact with the people who are standing in line to keep things interesting," explained associate producer Michael Lado. Lado said he's been involved with Field of Screams for the last 8 years, doing everything from set design to costuming and makeup, while immersing himself in the entire event. "I actually got started in makeup. I have a fine arts background, so it was a bit of a transition, but at least I knew how to work a brush. From there I got heavily involved with the team, and we created this attraction."
Walking along the Haunted Trail with the mellow producer, it was hard to imagine him jumping from a niche or emerging from a pool of bubbling water. However, Lado assured us the Field of Screams employs a wide variety of personalities to ensure an air of authenticity.
"This one girl who currently works with us is very, very quiet. But once she is in costume and at her station, she will get you every time. We want people who are loud and boisterous for some scenes, like the clown house or interacting with the crowd, but we take each actor and ask, 'What can this person bring to the event as part of the team?' Once people are in makeup and costume, they feel unrecognizable and tend to come out of their shell. It's really fun to watch the actors evolve throughout the season. Once the lights are on and they're ready to go, it's like seeing a whole different person.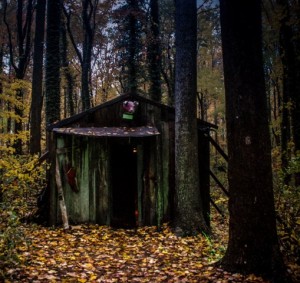 "During our orientation, we go through all of the different types of scares; take the actors on the trail and let them sit in the environment and see what they can do. We like to give them the freedom to develop a character that works for them; that way, we know that they will enjoy the work and really get into it."
Making our way through the first creaking building along the trail, Lado noted several cleverly concealed spaces from which the horror actors could spring – providing multiple scares in one setting.
"To see people jumping out of there at night is absolutely horrifying," remarked press representative Amanda Schoettler.
"Field of Screams attracts thousands of repeat customers every year," said Schoettler, "so keeping the experience fresh is of the utmost importance.
"People come up the hill looking for the slide, because that's how they remember this particular trail. Then they happen upon the graveyard and are totally unprepared for everything they will encounter. They are less aware of what is going on, and that's what we want to do here."
Each trail offers anywhere from a 30-45 minute experience. Lado told us that some of the real gems – such as the graveyard – lie a bit off the beaten path.
"There is fog and pin lighting on all of the headstones. They seem to go on forever and actors can be hiding virtually anywhere you look. It's done in a way that is organic to the area, so when you are up there, it is all just atmosphere."
One of the surprising things about Field of Screams is learning that the various ramshackle buildings were all built specifically for the attraction. Wandering through the park, one would swear the buildings were decaying derelicts from a distant past. Some of the stations are permanent in the sense that they are there year round, though all can be taken down for refurbishing or occasionally a complete do-over. Anything of value is locked away in a storage shed.
"Once they are up, we do a faux aging to give them that dilapidated look. At one station, we were able to cover it with old barn wood, to create the desired effect. But different teams will use their own idea streams to come up with the final product. Of course, we all come together in the end to keep a particular theme going," said Lado.
Passing the slide, we worked our way through a number of disquieting stations. There is a dark maze, a mausoleum, a cave and something called the Toy Box. Each stop is intriguing in its own appalling way. Beyond these frights, there is a stop called the Scary Clown house – as if the word clown really needed the chilling modifier.
With almost every step, we were faced with a barrage of potentially heart-stopping scenes, though we were assured that no one has ever actually been scared to death. Cell doors rattle, walkways sway underfoot, giant spiders descend when one least expects them. Lado said many of the thrills are light sensor activated, but most work on a random basis. Two or three people may safely pass a horrific hazard before some luckless soul is tickled by a tarantula.
Our last trek of the tour was through the 3-D Haunted House. Without giving away the store, I'll just say the effects are amazing.
Stowing away our 3-D glasses, Schoettler asked if we would like to return this weekend to fully experience all of the action. The answer, of course, was "Yes". After all, what would Halloween be without the prospect of an encounter with a twitching cadaver, or a chance to see a chainsaw at work on a gaping dinosaur head.
* * * * *
Steelhead Productions of Field of Screams runs now – November 1. Field of Screams is located at 4501 Olney Laytonsville Rd, Olney, MD 20832. Parents should be aware that the attraction may be too intense for young children and is not recommended for anyone under the age of thirteen. Tickets and other information may be found online at Field of Screams.

Anthony C. Hayes is an actor, author, raconteur, rapscallion and bon vivant. A one-time newsboy for the Evening Sun and professional presence at the Washington Herald, Tony's poetry, photography, humor, and prose have also been featured in Smile, Hon, You're in Baltimore!, Destination Maryland, Magic Octopus Magazine, Los Angeles Post-Examiner, Voice of Baltimore, SmartCEO, Alvarez Fiction, and Tales of Blood and Roses. If you notice that his work has been purloined, please let him know. As the Good Book says, "Thou shalt not steal."