Fall Fashion: Make cool shorts from undesirable pants
So I know fall is here, but I am not done with summer yet.  Lucky for me the weather seems to be in my favor, at least for now.
I am going to show you how to make your favorite shorts out of  an undesirable pair of pants. I will also show you how to make tons of great outfits with these shorts including some fall looks that will work with them as well. So even when the weather does get a little cooler, you don't have to run and get your pants — just some cute tights and you can keep sporting your favorite jorts aka jeans shorts!
First step: Go to a thrift store and buy some mom jeans or go to the men's section and buy some boyfriend jeans. Make sure they fit your waist not your hips. Boys pants and mom jeans are important because we are making high-wasted shorts out of them. You know how I love the high-waist look.  Keep in mind older pants that are out of style aka mom jeans or ugly boy jeans are going to be best for this because they are usually baggier and made out of thicker denim. Most modern jeans have elastic or stretchiness to them. That is not the look we are going for. We are going for a more '90s grunge pant to turn into hip waist hugging shorts that you won't be able to get enough of.
Second step: Put them on at home. Get a pencil and have some sharp scissors handy. Look at the pants and figure out if you want the shorts to be frayed and fringy at the bottom or rolled and cuffed. Either way they will need extra space, so don't cut them too short. Take the pencil and estimate where you think you should cut them. After you take them off, you can measure down both legs of the pants to make sure they are as even before you cut the pants legs off.
Third step: Bleach and fray them or roll them up to make cuffs. I made cuffs, which works better for the fall look as well. For long-term use, and you will want to wear them over and over again, it is best to run the bottom of the cut part through the sewing machine or use a no stitch no fray glue so when you wash them the shorts won't get shorter and shorter.
Thing's that are great about these shorts. They are cheap. They go with everything and I mean everything! They are old school so they have actual pockets that are deep instead of the fake-me-out girl pockets that are on pants and shorts these days. Don't get me wrong, no pockets are sexier than pockets, but life is so much easier when you have places to put things.
For example, your keys, phone, wallet and doggie bags. If you are like me and have been walking dogs all summer, doggie bags are really important and so are pockets when your hands are full of leashes.
The denim is thick and sturdy unlike all the stretch denim these days, so they can take a lot. The shorts retain their shape for the most part and only have to be washed because you wear them every single day and they get physically dirty, not because they are too loose and give you a saggy butt.
In fact as pants, these might give you no butt at all, but, the look is in and in comparison to how tiny your waist looks in them, they tend to make your butt look bigger than it might on its own or in a different pair of shorts. The high cut on the waist and thigh can be flattering and if not, you can find something else that makes your butt your best asset. Ones that are extra short with no pockets and are made from legging material look like booty shorts. While you are out at the thrift store or looking through your family's throw-away pile, or to-be-fixed pile from the '80s, it might be in your best interest to buy or find two pairs of mom / men's jeans so that you have a pair to wear when you are washing the other pair!
I found my pair of jeans floating around my house. I am sure they must have belonged to one of my brothers at some point and needed me or my mom to mend them,  but no one ever got around to it … Oops! So a decade later, I turned them into my new favorite shorts.
I was happy when I noticed that they were Diesel jeans and that the waist fit perfectly. I like most women have trouble finding pants that fit me. I love them because I can wear them with shirts that are no longer in style, for example if the shirt is too long and baggy or too short and tight, I can wear it with these shorts! Because of the high waist, those things are hidden or not the focus of the outfit, so you can get away with wearing things you couldn't before. If you are like me and hang onto everything, then you have a lot of clothes that have been retired since the '90s. Thank goodness the '90s look is coming back and considered vintage now.
Am I right?
Moving on … you can accessorize and layer the shorts with belts, socks, tights and shoes, but the outfit is basically the same. Shorts and t-shirt plus whatever you want. You can dress them up and you can dress them down. My summer was not complete until I made these Diesel jean shorts and now they are going to make my fall amazing as well. Good luck and power to you and your new shorts.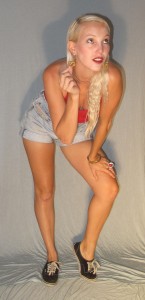 Red outfit
This is probably the lowest cost outfit
Shirt- American Apparel purchased at Mardens in Bangor, Maine, new with tags at half price $ 6.99
Shorts Diesel- circa the year I was born. Found in sewing pile, free
Belt Red vintage from a stash of belts I found the belonged to my tiny waisted mom, free
Shoes Vans -a gift/hand me down from my friend Kayla who loves vans but goes through them quickly. She no longer wanted this pair and I have been wearing them ever since.
Earring Ear Candie – my business –  of course! Ring-Betsy Johnson – gift. Necklace — vintage gold necklace heirloom my mom gave me when I was 12.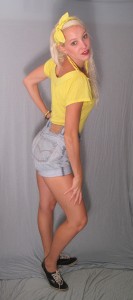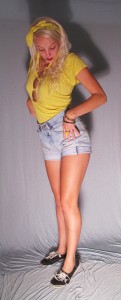 Yellow outfit
Shirt — out of style shirt from Wet Seal  – $9.99
Shorts — homemade
Bandana — found and washed it
Earings and ring- Ear Candie!!! (My business, of course!)
Brown outfit
Shirt – Old one-piece bathing suit I cut into a tank top and used a bra strap to make it a halter
Shorts – Diesel
Belt- Mom hand-me down
Shoes – fake converse from Urban – $12
Earrings – Ear Candie I took three different pairs of earrings apart to put this one together.
Fall Look
Shirt – Mustard Yellow Mudd tank from Kohls -$7.99
Shorts – Diesel
Belt – Hand me down
Tights – DKNY gift
Socks – gift
Shoes – Doc Martins $105 I bought these when I was in the 5th grade. They still fit.
Scarf – birthday gift
Hat – handmade birthday gift from a friend who sells them the Venice, Calif., boardwalk!
Sweater – Unintentional gift. I barrowed this from a friend who moved, but I love it.
Earrings – Ear Candie hand painted puzzle peace earrings made with nail polish by me.

Gwynne Davis is a blogger for her Earring/Jewelry business called Ear Candie. She is a recently certified Zumba teacher. She makes earrings out of just about anything. So keep an eye out for her fun blog posts & funky earrings.