Eastern Wrestling Association: #PatAnthony wins Sweet Sixteen Tournament and Maryland Championship
Desert Storm mercilessly drives Joey Badami's cranium into a steel ring post. (David "Ace" Livingston)
Since his victory at Evolution 2K15, #PatAnthony has been in pursuit of an Eastern Wrestling Association (EWA) championship. After several hard-fought matches that left him short-handed, Anthony was awarded the EWA Maryland Championship after snagging the opportunity from Desert Storm and Joey Badami in the finals of the Sweet Sixteen Tournament at EWA Sweet Sixteen on March 19th, 2016 at Tall Cedars Hall in Parkville, MD.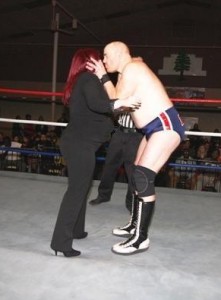 Sweet Sixteen started off positively for The Dark Horses when member Grizzly O defeated Apollo Cruz in the pre-show match. The match went off without a hitch for Grizzly, as Cruz's associates Desert Storm and Steve Driver were ejected early in the match. Grizzly's success continued through the end of the match, dodging Cruz's attack with his EWA Tag Team Championship belt, finishing him off with a massive shoulder block. Grizzly's victory entitled him to choose the stipulation for The Dark Horses Tag Team title re-match against Strom/Cruz 2016 at EWA Faith No More 2, choosing a lumberjack match.
The Dark Horses luck did not continue into TMHK's first round match against Desert Storm, "The Show" Mr. Jones, John Berg and Chris Burns (an impromptu addition compliments of guest referee MJD), an over-the-top Battle Royal. Jones was quickly eliminated following a drop kick from Berg, who was soon eliminated by the efforts of Storm and Burns. After Berg had been dispatched, TMHK sent Storm and Burns over the ropes, reversing their attempt to eliminate him. In the process, both men landed on MJD. In the confusion, Steve Driver was able to get Storm back in the ring quickly, giving him the opportunity needed to eliminate TMHK and move onto the semifinals.
The first quarterfinal match put Jason Drake against "The Baltimore Butcher" Blood. Along with manager Versace, Blood was escorted to the ring by EWA fan Ray Tsakalas. At Rage in the Cage, Blood stepped in to save the day for Tsakalas, who was the victim of an attack from Derron J and Ivan Ali. Good timing from Drake allowed him to dodge a Senton Splash from Blood. Blood quickly got his hands on Drake, choking him, but Drake got out in just enough time to have the breath to deliver a Curb Stomp to the back of Blood's head, pushing Drake into the semifinals.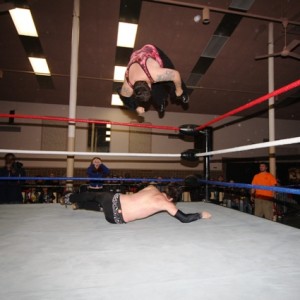 Joey Badami had a great showing in the other first round match, defeating as-seen-on Ring of Honor's (ROH) Wildman Kongo, as well as the tag team of Ivan Ali and Derron J, in a Fatal Four Way Elimination match. Despite their alliance, Derron and Ali showed no loyalties, leading to Ali's defeat by his tag team partner. Derron did not fare so well against Kongo as the 350-pounder nailed him with a monstrous Splash, leading to the second elimination. Badami decided that brains were better than brawn, spending the rest of the match working Kongo's knees, making it difficult for the Wildman to carry his weight around. A successful Running Knee Strike eventually put Badami in the semifinals.
The tournament did not start so smoothly for Anthony, losing to ROH's "Brutal" Bob Evans in the quarterfinals. Anthony's Social Media Ambassador, Violet, was ringside as usual, causing trouble for Evans. Despite Violet's meddling, Evans was able to break free from a Rollup late in the match, allowing him to put Anthony out of the tournament with a Shoulder Block…for the time being.
Jason Drake's semifinal performance was not nearly enough to overcome Desert Storm. Aside from a Facebuster close to the end of the match, Storm dominated Drake throughout the match, his size advantage key to his victory. A Scissors Kick from Storm put Drake out of the Sweet Sixteen Tournament for good. Storm seemed strangely interested in Drake's manager, Rizzo, as she helped him out of the arena.
The semifinals concluded with Joey Badami's match against the ROH veteran Bob Evans. Evans put on a clinic, working Badami's arm the entire match. Evans almost put Badami out with his Breaking Out finishing move, an Arm Trap Crossface. Determined to make the EWA Maryland Championship his, Badami eventually broke free. Soon after, Evans was briefly distracted by the referee, giving Badami the opportunity to deliver a match-ending Clothesline to Evans. Though defeated, Evans was left thoroughly impressed and raised Badami's hand, a career-defining moment for the young athlete.
Focus shifted away from the tournament finals as "Starstrukk" TJay Sykes defended his EWA Heavyweight Championship against EWA Cruiserweight Champion Wes Mercer in a 2 out of 3 Falls match. Sykes spared no time scoring the first fall, Superkicking Mercer right as the bell rung, before Mercer hand even taken the time to remove his jacket. Following this huge upset, Mercer quickly shifted gears, giving Sykes the fight of his life. The exciting, back-and-forth match ended after only two falls, the second prefaced by another of Sykes' trademark Super Kicks.
Sweet Sixteen finished off with the Sweet Sixteen Tournament finals. Joey Badami made a huge entrance, sporting ring gear from his Depart of Defense days, complemented by a mohawk and war paint. Badami looked prepared for much more than a fight…he was ready for war. The match quickly made it outside the ring. Steve Driver quickly nailed Badami with a violent Exploder Suplex. Storm followed up by bashing Badami's face into the ring post and stairs. Storm then began stomping the surgically repaired ankle of Badami before taking the match back into the ring, where he continued to focus on Badami's injury.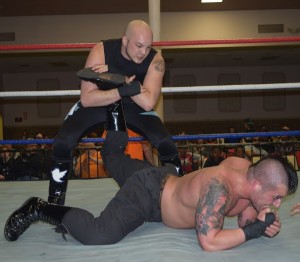 Badami, trying to turn the match around following Storm's Barrack-O-Bottom, delivered a Michinoku Driver to Storm. At the same time, Violet and #PatAnthony quickly made their way to the ring, capitalizing on Anthony's unused contract from Evolution 2K15. Anthony quickly went for the injured ankle, applying an Ankle Lock on Badami. Storm chimed in with Anthony, wrenching Badami's arm. Badami broke free, but soon found himself pinned following an STO from the conniving Anthony. Anthony was awarded the EWA Maryland Championship and the Sweet Sixteen Tournament trophy for his efforts.
During a post-match interview I conducted, Anthony accepted responsibility for the attack on Badami outside of the EWA Pain Factory last year, displaying a lack of remorse for his actions. Anthony's admission has sparked a rivalry with TJay Sykes, who condemned the Maryland Champion's sickening behavior.
To keep up to date on the latest news regarding EWA and Faith No More 2, follow EWA at EWAMaryland.com or Facebook. Faith No More 2 will take place Saturday, May 14th at Tall Cedars Hall in Parkville, located at 2501 Putty Hill Avenue, Parkville, MD 21234. Ringside seats are $15, with general admission at $12. Tickets are available at EWAMaryland.com or by calling (443) 858-2755. Card subject to change. You can follow the photographic exploits of David "Ace" Livingston on his Facebook page, Wrestling in Maryland, and William Mendrzycki on his Facebook page, Big League Photography.

Having recently graduated from the broadcasting program at The Sheffield Institute for the Recording Arts, Jack Hash is working fervently to break into business of professional wrestling as a commentator. To keep his dream alive, Jack hosts a weekly podcast, Shooting Star Cast, where he satirically tears apart all the ridiculous happenings in pro wrestling, while singing the praises of the rays of sunshine that break through the clouds of the squared circle.