Dominique 'Domo' Thompson, person of interest in 2016 Las Vegas Land/Kauffman murders released from prison
Dominique "Domo" Thompson, whom the Las Vegas Metropolitan Police Department (LVMPD) once called a person of interest in the 2016 unsolved Land/Kauffman double homicides, was released from the Federal Bureau of Prisons on January 10 where he was serving time for federal weapons charges.
Thompson entered a halfway house late last year as part of the Federal Bureau of Prisons Residential Reentry Management Program that provides programs that help inmates rebuild ties to the community and reduces the likelihood that they will recidivate.  While at the halfway house inmates are accountable and held to strict rules.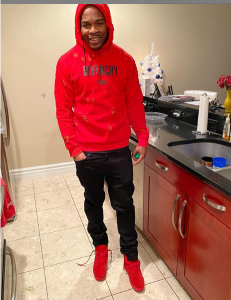 The Baltimore Post-Examiner obtained a photograph of Thompson that he shared with the public on his Instagram account during Christmas last year during his stay at the halfway house.   Thompson has since made his Instagram account private.
On October 27, 2016 the bodies of Sydney Land, 21, and Nehemiah "Neo" Kauffman, 20, were found, both shot in the head, in their Southwest Las Vegas apartment.
The murders remain unsolved to this day.
As the Baltimore Post-Examiner has reported in numerous stories, Las Vegas Township Justice Court Judge Melanie Andress-Tobiasson told the Baltimore Post-Examiner in May of 2018 that she was receiving confidential information from the police concerning the Land/Kauffman homicide investigation and that the police had all the evidence that pointed to Shane Valentine, Frankie Zappia, and Dominique Thompson.
Tobiasson also claimed that it was her and her daughter who were meant to be killed, not Land and Kauffman, however, Tobiasson never stated why she believed that.
Tobiasson claimed that the murders happened as a result of LVMPD Vice Detective Justine Gatus outing her as a source of confidential information, hours before the murders were committed. Gatus has since been transferred to the Homicide Bureau.
Frankie Zappia, whose step-father is a retired LVMPD police officer has vehemently denied the allegations.
Shane Valentine is currently incarcerated in Nevada State Prison on charges unrelated to the homicides.
Dominque Thompson could not be reached for comment.
Police are no longer commenting on the case.

Doug authored over 135 articles on the October 1, 2017 Las Vegas Massacre, more than any other single journalist in the country. He investigates stories on corruption, law enforcement and crime. Doug is a US Army Military Police Veteran, former police officer, deputy sheriff and criminal investigator. Doug spent 20 years in the hotel/casino industry as an investigator and then as Director of Security and Surveillance. He also spent a short time with the US Dept. of Homeland Security, Transportation Security Administration. In 1986 Doug was awarded Criminal Investigator of the Year by the Loudoun County Sheriff's Office in Virginia for his undercover work in narcotics enforcement. In 1992 and 1993 Doug testified in court that a sheriff's office official and the county prosecutor withheld exculpatory evidence during the 1988 trial of a man accused of the attempted murder of his wife. Doug's testimony led to a judge's decision to order the release of the man from prison in 1992 and awarded him a new trial, in which he was later acquitted. As a result of Doug breaking the police "blue wall of silence," he was fired by the county sheriff. His story was featured on Inside Edition, Current Affair and CBS News' "Street Stories with Ed Bradley". In 1992 after losing his job, at the request of the Federal Bureau of Investigation, Doug infiltrated a group of men who were plotting the kidnapping of a Dupont fortune heir and his wife. Doug has been a guest on national television and radio programs speaking on the stories he now writes as an investigative journalist.