Desperate Bangladeshis turn to shipbreaking despite low wages and risk of death
This is the second in a three-article series on labor conditions in Bangladesh by Larry Luxner, a freelance journalist based in the Washington, D.C., area. Luxner spent 11 days in Bangladesh earlier this year as a guest of the country's Ministry of Foreign Affairs.  To read the entire series click here.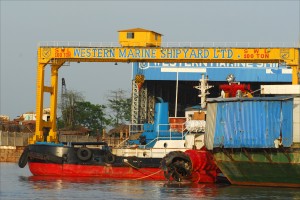 CHITTAGONG, Bangladesh — Mention "sweatshops" and Bangladesh in the same sentence, and images of hundreds of subservient, hard-working women hunched over sewing machines on a gloomy factory floor are likely to come to mind.
It wouldn't be far from the truth. At the Chittagong Export Processing Zone — one of the world's largest industrial parks — some 150,000 Bangladeshis, most of them women, assemble everything from Tommy Hilfiger polo shirts to Reebok running shoes. They toil eight hours a day, six days a week, earning only $37 a month on average. That makes them among the most exploited factory workers on Earth.
Nevertheless, these free-zone laborers have it a lot better than their counterparts in Sitakunda, a coastal village about 20 kilometers north of Chittagong.
Here, in a landscape dominated by rusting pipes, broken glass, electric cables and propellers rusting by the roadside, is ground zero of the world's shipbreaking industry.
Even by Bangladeshi standards, this place is one massive eyesore.
We weren't supposed to be here. Our 12-member international press delegation, which had been invited to Bangladesh to report on economic development and the fight against poverty, had visited the Chittagong EPZ earlier that day. A number of us, having heard that Bangladesh was a leader in shipbreaking as well as shipbuilding, pressured our government-appointed guide, Ziauddin Ahmed, to arrange a visit to one such operation.
To our surprise, the request was approved. We were even given permission to photograph anything we wanted — a switch from the free zone, where our movements and ability to shoot pictures were severely restricted.
As our minivan bounced along the road and entered the muddy premises of Rising Steel Ltd., we were met by three executives: Amjad Hossain Chowdhury, the company's managing director; Hefazatur Rahman, chairman of the Mostafa Group of Industries, and Kamal Uddin, owner of Arafeen Steel.
The trio escorted us up the stairs to an air-conditioned conference room. Like everywhere else we went, a long table sat in the middle of the room, laid out with bouquets of flowers, cookies, sandwiches, fresh fruit and bottles of mineral water.
On the wall was a plaque in Bengali and English, notifying visitors that Rising Steel Ltd. and its workers "are committed to protecting the environment, health and safety of workers, customers and public by endeavoring to adhere to regulatory and industry standards across all our facilities, encouraging pollution prevention and striving towards continual improvements."
Through the tinted glass, we looked out at the Bay of Bengal and the giant rusting ships nestled along the filthy shoreline like beached whales. Dominating the depressing panorama was the 400-meter-long Lara 1, an iron colossus described by fellow journalist John Vidal of The Guardian as "one of the largest corpses in the world's biggest graveyard of ships."
Uddin told us it would take gangs of oxyacetylene cutters nearly six months to dismember the Lara 1. And that's only one of more than 250 ships — mainly of European origin — brought to Sitakunda at the end of their useful lives every year to be dismantled by hand, piece by piece, by workers earning an average $1.50 a day.
"The vessel you see is totally out of water," he said, pointing to the half-stripped hulk. "We place an oil barge alongside the vessels and pump out the oil and toxic sludge. The oil does not go into the ocean because we sell it. We utilize everything."
Said Rahman, whose company paid $20 million to buy the Lara 1 for scrap: "Every bit of this ship will be recycled, reused and resold. Nothing will go to waste. This ship will help build Bangladesh. We dismantle 2.4 million tons of steel a year from Chittagong, but we need four million tons to keep growing."
That's especially true for Bangladesh, a Florida-sized country of 160 million inhabitants without any iron ore resources. Hence, the nation's construction industry depends on dying ships for its supply of steel. In addition, the shipyards recycle other vessel components such as propellers, generators and engines for extra cash.
If world steel prices rise, Rahman said his company could score a profit of $10 million. But if they go down, it could be a repeat of 2008, when Mostafa lost $20 million.
Chowdhury said his shipyard began operations in 1996, and that it produces around 200,000 tons of scrap annually. "Every employee must go through three months of training," he said, estimating that shipbreaking employs 200,000 Bangladeshis directly and another million indirectly. The industry generates $1 billion a year for Bangladesh and provides nearly 60 percent of the country's total steel demand.
Asked about safety issues, Chowdhury said a representative of the Ministry of Environment visits every week, and that "there have been no accidents here this year."
Yet Muhammed Ali Shahin doesn't buy that at all.
An attorney with Young Power in Social Action (YPSA), a non-governmental organization based in Chittagong, Shahin says "the shipbreaking yards are very dangerous, and workers are dying every day. Big metal plates fall on them, and they get injured. This is a very common scenario in the shipyards."
Since the industry started in the 1980s, says Shahin, more than 1,000 workers have died — including 15 in 2011 alone. On May 31, 2000, an explosion aboard a decommissioned Iranian oil tanker left 16 workers dead and another 50 severely hurt.
The biggest causes of shipyard accidents are explosions of leftover gas and fumes in the tanks. Many workers are also electrocuted or crushed by falling beams or plates.
"Every day, hundreds of workers are getting injured," said Shahin, noting that some work barefoot and that a number of them are teenagers. "Breaking ships is not an easy thing. These workers are not trained at all, but they're forced to do this work because they need to survive."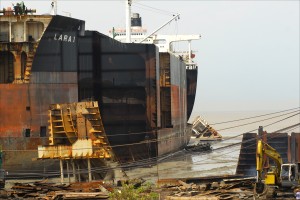 On average, he said, they earn 15 to 20 takas per hour — less than 25 cents. "They're supposed to work eight hours, but they work 12 to 16 hours, and they don't get overtime pay. The companies that sell those ships to Bangladeshi shipbreakers need to get rid of their old ships, and Bangladesh gives good prices because it has cheap labor and doesn't need to develop facilities in an environmentally friendly way. They just buy the ships and break down on the shore without any investment in safety."
During our visit to Rising Steel Ltd., every worker we saw was wearing a yellow helmet and safety goggles. But Shahin said even that's deceptive.
"Maybe they knew visitors were coming, so they gave out helmets and boots for the workers. But normally they don't provide safety equipment," he said. "All of them are breaking the ships on the seashore, dumping hazardous wastes into the ocean. All the toxic liquids are going into the sea."
It's not as if nobody has ever complained about the shipbreaking industry before. Back in 1998, Baltimore Sun staff writers Will Englund and Gary Cohn shared a Pulitzer Prize for investigative reporting following a scathing series on the Navy and lax enforcement of labor regulations that took the journalists as far afield as India.
But the situation is even worse in neighboring Bangladesh, which thanks to its rock-bottom wages now controls 50 to 60 percent of the world's shipbreaking industry. That's according to Rizwana Hasan, executive director of the Dhaka-based Bangladesh Environmental Lawyers Association (BELA).
In 2009, BELA took the industry to court — and the court ruled that shipbreaking yards must comply with international law. It also found that every ship must be pre-cleaned of toxic substances before its arrival in Bangladesh.
But "nobody follows that law," Shahin complained.
"If they cannot afford to do shipbreaking in an environmentally friendly way, they should not be allowed to do it at all anymore, because it's destroying the ocean."
Every ship, on average, contains at least a ton of toxic chemicals, all of which get dumped in the sea. "Last year they brought in 100 ships. That means in the last 40 years, you can imagine how much hazardous waste has been dumped," he said. "The sea is already dead."
Hasan agrees. She told us that in the three years since Bangladesh's highest court ruled against them, 40 laborers have been killed.
"The shipbreaking yards are flouting the ruling of the Supreme Court because they enjoy political blessing," said the attorney, who in 2009 was awarded the prestigious Goldman Environmental Prize for her activism on behalf of shipyard workers.
"The law on pre-cleaning is also being ignored. These ships have safe certificates but those certificates are meaningless. And whenever there's a visitor to their yards, they make sure their workers have helmets. This is to give everyone the impression they're improving work conditions," said Hasan. "But if this was true, the number of deaths would have gone down, not up — and the shipbreakers cannot deny this fact."

Larry Luxner is news editor of The Washington Diplomat and former editor of CubaNews. Born and raised in Miami and based in Bethesda, Md., since 1995, Larry has reported from every country in the Western Hemisphere. His specialty is Latin America and the Middle East, and he's written more than 2,000 articles for publications ranging from National Journal to Saudi Aramco World. Larry also runs an Internet-based stock photo agency at www.luxner.com.