Daytripping in the cemetery and checking out Pike's Crab House and Diner and Jilly's Ale House
Pike's Crab House (Photo by Eddie Applefeld)
Due to popular demand, well I like doing it, here again, are 10 items that came to my attention since last we met.
Don't bother with the Russell Crowe film Unhinged, violent, ugly and unnecessary.
Dolly Parton has released her Christmas album, A Holly Dolly Christmas.
Congrats to Baltimore native Ego Nwedin, she has joined the cast of SNL.
Amazon is hiring close to 4,000 people for its Maryland facilities.
When making a hotel reservation, be sure you know the difference between refundable and changeable.
Some local organization has the goal of making the inner harbor swimmable. Good luck with that.
The B & O Railroad Museum was named by Washington Parent Magazine as the Best Museum.
Bon Jovi has released his 15th studio album.
Kevin Plank's 43 acre property in Westport is up for grabs. Make your bid early.
And for a daytrip, let me suggest St. Mary's City, a former colonial town that was Maryland's first European settlement and capital.
Before we head out and look at two restaurants, allow me to offer you this. It may strike you as a bit bizarre, just humor me for a moment. On a recent beautiful fall day I decided to take a walk. Since the Druid Ridge
The cemetery is very close to home I headed there. It has a duck filled lake, lots of space and the trees are beginning their autumn look.
During that stroll, I made two interesting discoveries. First, I saw the final resting place of Art, Patricia, and David Modell. Hopefully, you'll know who they are, but in case not, Art was the owner of the Cleveland Browns and then the Ravens. He had the Browns for 35 years and the Ravens for nine. He was scorned in Cleveland for moving the team, but loved in Baltimore for bringing a NFL team and for his many civic contributions. He died in 2012, Patricia in 2011 and David in 2017. It is a beautiful mausoleum situated on a hill.
Secondly, and this is for you art lovers, I came across the crypt of the Cone Sisters. Who are the Cone Sisters? They were two accomplished and very successful art collectors who lived on Eutaw Place in Baltimore. Their collection included works of van Gogh, Gauguin, and Cezanne and they were friends with Gertrude Stein, Picasso, and Matisse.
Both were very wealthy, as you can imagine, and were very kind to the city. Upon their death, they donated much of their collection to the BMA. It is said to be valued at about one billion dollars. Most of their collection came from their trips to Europe. The crypt is Tennessee marble flanked by two Roman-style columns of Vermont granite.
Claribel (who was also a physician) died in 1929 and her sister Etta in 1949.
Now let's make a quick stop at two Pikesville restaurants, owned by the same family, and both very popular.
I'll start with the Pikes Crab House and Diner, 921 Reisterstown Road. Open seven days, serving all three meals with breakfast all day. For you crab lovers you'll want to know they are served year-round.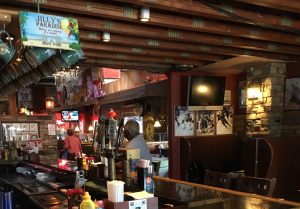 They have a bar, of course, social protocols are in effect, plenty of free parking, locally-owned (Will) and are located next door to a movie so there you have your dinner and a movie night. I usually order the pancakes or turkey burger, but last time in I had the salmon. And now that is on my to-order list….410-653-5545.
Almost directly across the street, 1012 Reisterstown Road, is Jilly's Ale House, owned by Scott, the son. Open seven days for lunch and dinner and now offering outside dining with social protocols inside. The bar is crowded almost every night with people drinking, eating and socializing. And also watching sports. Free parking very close….410-653-0610.
By the way, I only walk through Druid Ridge Cemetery during the day. There is that urban legend of Black Aggie. Oh, you don't know that one. Look it up.

Eddie Applefeld is a Baltimore native and a graduate of Towson University. He has been in the broadcasting profession for over 30 years. Currently he is the Promotions Director of WCBM radio. Before that, he was part of the Rouse & Company show on WQSR, host of a cable TV show called Dining Out and adjunct instructor at Towson.
His past accomplishments include being named a finalist in Baltimore Tourism's Employee of the Year Program and winner of Toastmaster's Speaker of the Year contest. He was also twice a heartthrob for the American Heart Association's gala fund raiser.