Cuban flag flutters once again over D.C. as revived embassy lures protesters
WASHINGTON — The last vestige of the Cold War melted away Monday morning, perhaps fittingly, on one of the hottest summer days of 2015.
By 10:36 a.m., when three uniformed officers marched to a flagpole in the courtyard of the Cuban Embassy and ceremoniously hoisted their nation's tricolor, the heat index in Washington had already climbed well into the 90s.
But it didn't matter. For the first time since 1961 — the year of my birth — a Cuban flag now flew officially over the District of Columbia. Yet the flag-raising was merely a formality. At the stroke of midnight, the Swiss government had already ceased being the protector of Cuban interests in the United States, and of U.S. interests in Cuba.
For me, the day's events had a deeply personal significance.
Exactly 30 years earlier, I'd visited the Caribbean island for the first time as an enthusiastic young reporter on assignment for Florida's Leesburg Daily Commercial — thus beginning a love affair with Cuba that would see me return 14 times more over the next two decades.
That connection strengthened further as I became editor and publisher of the monthly CubaNews, and never went away, even in 2006 when the Cuban Interests Section repeatedly began denying my requests for a journalist's visa — of course with no explanation given —though I eventually understood that perhaps my coverage was not to the Castro regime's liking.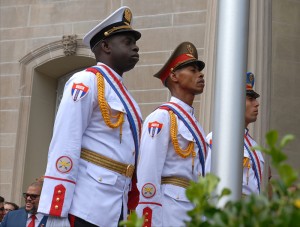 Perhaps that explains why this reporter was not among the 500 or so guests whose prized invitations allowed them VIP access as the day's only speaker, Cuban Foreign Minister Bruno Rodríguez, chronicled the half-century of bitterness — and then the recent change of heart — that made Monday's ceremony possible.
"This was obviously a historic moment," said Román Macaya, who as Costa Rica's ambassador to the United States was among the many dignitaries (including actor Danny Glover, Cuban folk musician Silvio Rodríguez and a clutch of Democratic lawmakers) packed like sardines into the sauna-like embassy. "You got the sense of relief that this finally happened. Many of the Cubans inside were almost in tears, thinking they'd never see this day. It was a privilege to be there."
But the scene was much more colorful outside, where an assortment of revolutionary sympathizers cheered the newly cemented bilateral friendship — and shouted down a handful of loud critics on the opposite side of Sixteenth Street, behind barricades and a heavy police presence.
"We're here for all of Latin America," said Wendy Jiménez, a young Bolivian woman wearing a red Casa de Virginia T-shirt. She was part of a group of 26 immigrant activists from El Salvador, Honduras, Peru and other countries. "It's a positive thing that we can all now sit down and talk to each other."
Standing next to Jiménez was a group of Workers Party activists holding up a banner that said "Welcome Cuba: End the Blockade Now" — a reference to the 53-year-old trade embargo that won't end just because diplomatic relations have now resumed.
Lee Patterson, a black man with dreadlocks and a yellow Che Guevara T-shirt, came down from Baltimore just for the occasion.
"We support the people's country of Cuba," declared Patterson, a 60-year-old retired government worker. "We support Fidel and Raúl, and the strong stance they've taken against racism. Cuba offers free healthcare and education, whereas in the U.S. people are suffering."
Asked to elaborate, Patterson — who's never set foot on the communist island — gestured across the busy street to protesters waving anti-Castro signs.
"Cuba is the shining example of humanity, despite what those racist gusanos [worms] say," he snorted. "We don't want no capitalism in Cuba — no McDonald's, no Burger King and no Hilton Hotels."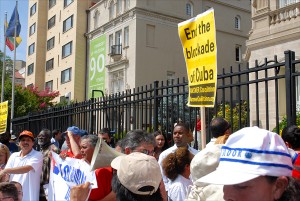 In an irony that few noticed, Cuba's stately mission here sits squarely between the embassies of two of the most rabidly anti-communist nations on Earth: Poland and Lithuania. In fact, the Lithuanian Embassy sports a huge banner proclaiming itself "Embassy of Freedom: 90 Years" — in honor of the nine decades the former Soviet republic has had a continuous diplomatic presence in Washington.
As the sun rose higher into the mid-morning sky, an enterprising young cubano — in true capitalist fashion — eventually began selling iced tea for $3.00 a cup to sweating spectators, regardless of their political beliefs.
Directly across the embassy, more than 100 journalists and cameramen were camped out with their equipment on the second-floor rooftop of an apartment building. TV reporters from Tampa to Tokyo shoved microphones in front of dissidents — including Rosa María Payá, daughter of the late Oswaldo Payá — in search of quotable soundbites.
And patriotic music blared from loudspeakers in the newly minted Cuban Embassy, some of those protesters tried to drown it out by making noise of their own.
Marlene, a young woman from Miami who declined to give her last name, banged a metal pot with a ladle as she yelled "Cuba Sí, Castro No — Castro is a dictator!"
Just in case her message was lost on Spanish-speakers in the crowd, Marlene then yelled "Abajo la dictadura! Viva Cuba libre, viva derechos humanos!" [down with the dictatorship, long live free Cuba, long live human rights].
Clearly outnumbered by embargo opponents, Marlene was matter-of-fact.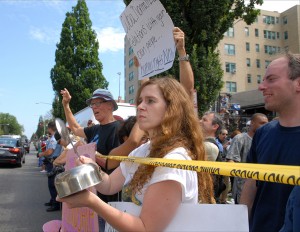 "At most, what this opening will bring is new economic opportunities, but I'm skeptical that relations will bring any real change or democracy or human rights for the Cuban people," she said, then went back to shouting "Traitors! Enemies of freedom!"
Overhearing our conversation, a young man nearby offered his take on the Che admirers gathered along the embassy's fence.
"I have nothing against those protesters over there," Francisco Vigaud told me. "They don't know what they're saying. The real traitors are all those diplomats — Americans, Cubans and others — going inside."
Amiel Ríos couldn't have agreed more.
"The slogans they're chanting are from the '60s and '70s. The Cuban government itself doesn't even use these slogans anymore," said Ríos, 31. "There's a disconnect with reality. I think it's positive to have relations. The problem is, Castro wants to dialogue with Obama and the Europeans, but refuses to have dialogue with his own people. That's the issue at heart."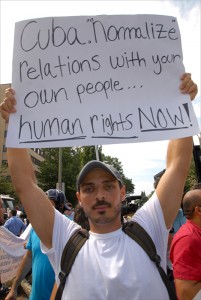 (All photos by Larry Luxner)

Larry Luxner is a freelance writer with The Washington Diplomat and former editor of CubaNews. Born and raised in Miami and now based in Israel, Larry has reported from every country in the Western Hemisphere. His specialty is Latin America and the Middle East, and he's written more than 2,000 articles for publications ranging from National Journal to Saudi Aramco World. Larry also runs an Internet-based stock photo agency at www.luxner.com.