With new nonstop flights to Costa Rica's capital of San Jose' as well as the city of Liberia from BWI-Marshall Airport on Southwest Airlines, many North Americans are now "closer" than ever to the increasingly popular Central American country. And to make it even more inviting, US citizens do not need a visa or any special medical precautions.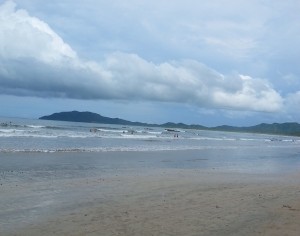 In contrast to some of its Central American neighbors, Costa Rica has a history of stability, high literacy and prosperity — enhanced today by its booming tourism as well as its traditional production of bananas, cocoa, coffee and pineapples. With nearly a quarter of its lush natural areas preserved, it's especially attractive for those who enjoy hiking, mountains, beaches, volcanoes, wildlife, swimming, fishing, surfing and of course ziplining which was to a great extent made famous in Costa Rica.
In about an hour's drive from the Daniel Oduber Quirós International Airport near Liberia, one can easily visit a mountain resort or the warm waters of a Pacific Ocean beach. One popular area in the Guanacaste Province is around the Rincon de la Vieja, which roughly translates to the Old Woman's Nook or Hideout, based on a legend about an Indian Princess. The region is especially known for hot springs, waterfalls, and an active volcano. It's not hard to spot small animals such as jaguarondis, agoutis or birds such as parrots or even toucans and if you don't see any howler monkeys, you're sure to at least hear them!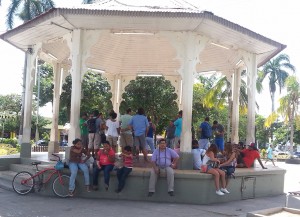 From your cabin at the Buena Vista Resort, the views of the Pacific are especially nice at sunset when foreign tourists as well as Costa Ricans or "Ticos" gather for drinks and music on the mountaintop. The rustic resort is committed to employing ecologically balanced and sustainable practices such as making soap from kitchen grease and offers zip-line rides over valleys (both regular and "extreme" versions), a waterslide and a pool.
Guests who come for a day or extended stay can take guided horseback rides through forest trails to spring-fed thermal pools or hike to a secluded waterfall. Back at the springs, slather yourself in warm mud, let it dry and then shower off to prepare you for sitting in the stone and concrete sauna. After that, you can relax in any of the pools, depending on your temperature preference.
A tractor-pulled trailer returns you to the lodge where you'll be treated to fresh coffee, sugarcane juice and snacks prepared in a traditional outdoor kitchen and clay oven. Buena Vista serves both buffets and entrees in either of its two patio restaurants.
Kristen Greer, a retiree from Redondo Beach, CA was staying at Buena Vista on a tour at the recommendation of an "old surfing buddy … who comes here to the beach to live cheaply. He just loves it, has a crowd of friends who come here together from L.A. and they just bum. Costs seem to be comparable to Los Angeles" she added.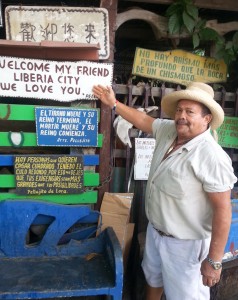 At the nearby Borinquen Resort, guests can also enjoy hot springs, ziplines and outdoor pleasures, but in a decidedly more upscale setting such as its luxurious spa with massages and hot springs.
A short visit to The Guanacaste Province's capital city of Liberia, perhaps while on your way down to the coast, might be worthwhile. There is a small but pleasant and shady Parque Central and a clean, attractive market. On the corner is the old jail or carcel, now being transformed into a gallery and then eventually a museum. There is even a nearby street with a towering Guanacaste Tree that is honored by growing untouched in the middle of the street.
One of the most colorful and best-known residents of Liberia is Rafael Zuniga, although he is called by his nickname "Pellejo" for skin or hide. The middle-aged, gregarious Pellejo welcomes visitors to his home, which is tucked away on a side street next to a creek and contains an incredible array of rare and unusual items he has collected since he was ten years old. He may even treat you to a rapid fire display of "Bomba" in Spanish to entertain you. Just ask around town and pretty much anyone will point you to his El Pellejo's museum!
You ride to the Pacific through the countryside as it winds down to both sprawling beachside resorts and quieter, more secluded areas. The expansive but well protected Potrero Bay with its views and sunsets and the warm Pacific waters make it the perfect place to kick back and relax. I enjoyed my stay at the Bahia del Sol with its pool and poolside bar, terraced restaurant and grassy beachfront.
Right next door is the new Costa Rica Sailing Center with its fleet of sailboats, kayaks and even a small sportfishing boat available for rental and lessons. Owners Jeff Herrman and Justin McCarter first sailed to Costa Rica in 1994 from San Francisco.
Fishing and surfing opportunities abound, so if crowds and surfer dudes and surfer chicks are your thing, head to the bustling town of Tamarindo whose busy main road skirts the beach and is lined with hotels, restaurants, bars and surf shops — and more surf shops — and more bars. Surfing has become a major attraction to Costa Rica, which has produced world-class champions and has been the site of major tournaments.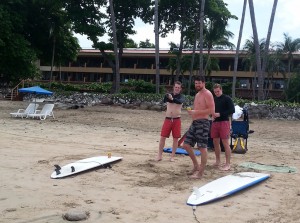 At the Neptuno Surf Shop, Sonia Mariano, a young doctor from Seattle, praised Tamarindo for being "a consistently reliable place for beginner surfers to take lessons and improve their style because of the sandy bottom and moderate waves." But surfing hot spots for the more advanced surfers abound such as Witches Rock, Zancudo Beach or Ollie's Point, so named for US Army Lt. Colonel Oliver North who used the location to smuggle arms to the Contra rebels in Nicaragua.
If urban life beckons, the lively and cosmopolitan capital of San Jose with its parks, wide variety of architecture, restaurants, museums, a zoo and even an opera house are among many reasons to enjoy a visit there. A number of airlines serve its international airport.
The "Ticos" often say "Pura Vida" when greeting or saying goodbye to friends and visitors which means "pure life", "excellent" or perhaps "damn right!" and "Pura Vida" does sum up the many reasons to visit Costa Rica, which is now more inviting to American tourists than ever before.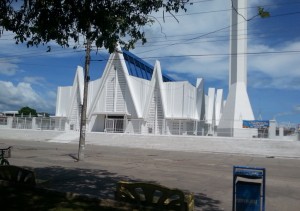 Paul Foer is a professional yacht captain and freelance writer based in Maryland. He has traveled extensively in Latin America and recently participated in a trip sponsored by the Costa Rican Ministry of Tourism in cooperation with Southwest Airlines.