Comic-Con 2015 brings in pros, fans, and hopefuls alike
Mention "Comic-Con", and what usually comes to people's minds is the San Diego Comic-Con, with its intimidating attendance rate of 100,000-plus. This weekend, however, a lesser-known but far more accessible Comic-Con took place right in the Baltimore Convention center, drawing fans, retailers, artists and writers, and anyone with a love for comic books, science fiction, and general nerdery.
Now in its 16th year, the Baltimore Comic-Con has become as much a staple of fall here as Otakon has for the summer. While a convention focusing on the lagging comic book industry might not seem like the average person's idea of a good time, a good look around Comic-Con reveals a little something for everyone, from the people who only watched The Avengers and The Dark Knight once in theaters to the true obsessives who can name every single item in Silver Age Batman's utility belt.
*   *   *   *   *
The con's largest and most immediate attraction is the Dealers Room, where comic book vendors peddle their wares. It's a good place for local businesses to promote themselves, and the Parkville-based Collector's Corner is no exception.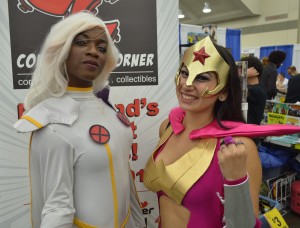 For conventions like these, the Collector's Corner has specific ways to target fans, and one of them is appealing to the characters and stories of their childhoods. "The nostalgia factor for stuff like [childhood comics], it's off the charts," explains Brian Levi during a break between customers. "People come out to stuff like this and they're looking for that memory."
However, they're reaching out to more that just geeky guys. "We try to keep something for everybody," Levi adds. He elaborates that his customer base is "far more female-centric," than it was in the past. "And they don't just get the 'girly' stuff– they get everything."
Maki Rolle is one of the Collector's Corner "booth babes," scantily-clad women hired to lure men to the booth in the hope of a few extra sales. But Maki, dressed as Storm from the X-Men, is not your traditional model.
"I started going there to their free comic book days as a fan, just like going and hanging out, and I did their costume contest," she told the Post-Examiner when asked about how she started working at Collector's Corner. "What I really liked about Collector's Corner is their booth babes– you know, booth babes at other shows, they usually hire models– and what I like about Randy [the owner] is he hires girls who cosplay, spend time making their costumes, read comic books– so we're not just pretty faces sitting here who don't know anything. We can actually have a conversation [with customers]."
*   *   *   *   *
A few booths away, Pizza Party Printing, a Baltimore-based screenprinting company, drew our attention with their bold and grotesque t-shirt designs. Co-owner Daniel Petruccelli started the company in 2012, but has been screenprinting since long before then. "I started making t-shirts for my band when I was 15," he explained.
With shirts of Pizza the Hut from the Mel Brooks comedy Spaceballs, the exploding head guy from the sci-fi horror film Scanners, and Tetsuo, the mutated lump of flesh from the anime classic Akira, Pizza Party Printing's nerdy horror aesthetic shares popularity with both sci-fi and horror fans alike.
Interestingly, none of the designs on display had anything to do with comic books, focusing instead on movies and TV shows. Petruccelli admitted that he mostly attends horror cons, such as Monster-Con in San Antonio. But Comic-Con embraces a more general audience, and he didn't seem at all worried about lack of popularity. In fact, he added, "we did the Comic-Con t-shirts this year."
Pizza Party Planning shows that Comic-Con isn't just for comics. In the Dealers Room, action figures, t-shirts, keychains, anything and everything even tangentially related to comic books has its place among the shelves. There's an entire booth for stuffed animals from anime (Japanese animation), including Pokemon of all kinds and the cute, fluffy mascots from magical girl shows. Some of the comic book vendors even sell manga, or Japanese comics, on the side.
*   *   *   *   *
Something else borrowed from Japan: the word "cosplay", or dressing in costume, which has become commonplace at conventions. Couples dress up as Superman and Wonder Woman– or, for the Marvel fans, Black Widow and Hawkeye. Stormtroopers from Star Wars stroll the halls alongside Spartans from the Halo video game series. And Deadpool, the wisecracking, fourth-wall-breaking Marvel superhero, is ubiquitous.
In the Friday evening panel "The Awesome Reasons On Why You Should Cosplay", professional cosplayer and Youtube star Ireland Reid described her love for the hobby, calling it, "a form of freedom".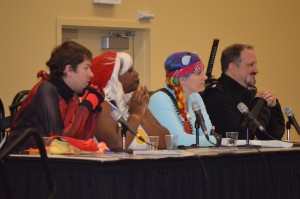 "You guys are influencing everyone in this room and you don't even know you're doing it," she told the costume-wearing members of her audience. While the costumes varied wildly in quality, every single one of them had a story behind it, which Reid invited her audience to share. Cheers and applause accompanied every deeply personal account.
"Why judge in our community?" she demanded passionately after one audience member described being bullied for not having correct details in his costume. "This is supposed to be a family, this is supposed to be a security net!"
Maki Rolle agreed with Reid's sentiment after being asked to share what got her into cosplaying. "I started when I was 15– my mom used to help me make my costumes," she said.  "What I really liked about cosplaying was that it was sort of like a place for outsiders. […] When you went to these conventions, it would be really nice to find people who were just like you, liked the same things that you did."
"I'm really thankful for all the opportunities I've been afforded because of cosplay. […] I've gotten the opportunity to do burlesque shows, kind of like 'nerd-lesque' shows; I've gotten to produce shows, and to represent other new companies at other conventions. It's a great opportunity to network with people."
*   *   *   *   *
Directly beside the Dealers Room is the Artists Alley, a place for amateur artists and creators to exhibit and sell their work. Prints of popular characters are plastered over every booth, style varying as much as subject– an anime-style 10th Doctor from BBC's Dr. Who sits next door to hyper-realistic depictions of the Crystal Gems from Cartoon Network's Steven Universe.
At the Artists Alley, we spoke to Nicky Soh, a producer, creative director and artist hoping to make it big in the comic book world. While his booth showcased many detailed, hand-drawn comic pages and a book of his designs and sketches, Soh seemed to disparage an off-handed comment that he was a professional artist.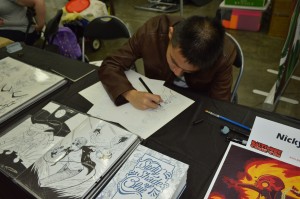 "I'm not a professional; that's why I'm in the Artists Alley," he explained. "The professionals are over in the Dealers Room, over there."
Was he here at Comic-Con to get recognized by someone higher up the ladder?
He shrugged, laughing ruefully. "It's all up to luck."
"The chances are very low– to get picked up by a talent scout, you have to be a really good artist. And even then you have to be at the right place at the right time."
Still, he praised conventions like Comic-Con as places to socialize, make contacts, and promote his art.
"You just do it [go to the con] and see what works."
Soh's illustration book, Fifty Shades of Blue, had been successfully funded by a Kickstarter campaign. Word spread online through "Facebook, the social media community, and friends."
On the other side of the Artist's Alley, James Dufendach, PR and marketing of Maryland-based indie publisher PLB Comics, shared some behind-the-scenes secrets of being a tiny part of a languishing industry.
Founded in 2006 by brothers Matthew and Josh Shockley, PLB produces two ongoing series: vigilante superhero tale The Fall, and vampire/vampire hunter buddy cop series Gideon & Sebastian. The group has been attending Baltimore cons for the past nine years.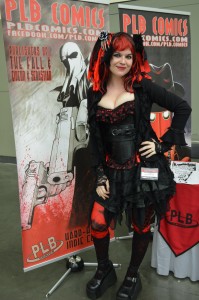 "It pays for itself," Dufendach said. "We're able to work with really wonderful people."
But when presented with the idea that this was what they did for a living, Dufendach just laughed.
"You're probably not gonna make a ton of money doing this," he said. "But we just keep doing what we love to do."
A point that Dufendach was keen to express was that comics were "literature, not just a throwaway art." This is something everyone at Comic-Con agrees on.
The upper floors of the convention center hold most of the con's programming and panels, which took place throughout the weekend. Many of the panels were about specific comic publishers and stories, such as Friday's "IDW Publishing: The Big Panel", and Saturday's "The Silver Age of Comic Book Art", hosted by comic book historian Arlen Schumer.
The Baltimore Post-Examiner attended the "Writing Great Characters" panel on Saturday morning, where seven comic book creaters, writers, and educators described the writing tips they'd used to become successful. Mark Waid, a DC comics writer and editor and Baltimore Comic-Con's guest of honor, told the audience that he likes to "find a piece of me that's in that character; a part you can share with that character emotionally."
"The characters have to want something– everybody wants. And the reader has to want something for the character, whether it's for them to succeed or fail."
Louise Simonson, writer of Man of Steel, advised to "start with a question." Terry Moore, creator of Strangers in Paradise, said, "I've always written about mysteries, things I can't figure out." With every new piece of advice from their favorite creators, fans cheered and took notes. Conventions such as these are often the only times it's possible to get up close and personal with their idols.
Though the subject matter might be dismissed by some, comic book lovers are prolific and passionate, and their talent is real. Baltimore Comic-Con is a celebration of that talent. It's a place of safety and acceptance, where everyone is free to be themself. Though smaller than San Diego Comic-Con, or even Otakon (held at the convention center over the summer), it is no less an important part of fan culture. 2015's con proved to be a resounding success.
*   *   *   *   *
Be sure to check out our photo roundup of Comic-Con 2015!

Lynn Bachman was born and raised in Baltimore. After reading Lord of the Rings at a young age, she has had a perpetual fondness for fantasy worlds, epic quests and magical horses. When you can tear her away from her role-playing games, she enjoys such things as drawing, horseback riding, and of course, writing. Lynn received her B.A. in Writing and Literature from Juniata College in 2013. Don't talk to her about sports or politics. Do ask to see her video game collection. [Steam: peacefulcascade; Playstation Network: pcascade;
3DS Friend Code: 2122-6206-0737]