CAA Tournament: William & Mary cruises into semifinals
Top-seeded William & Mary looked like a team set on advancing to its first NCAA Tournament in school history, dominating eighth-seeded Elon in a 72-59 quarterfinal win in the Colonial Athletic Association Tournament at Royal Farms Arena on Saturday.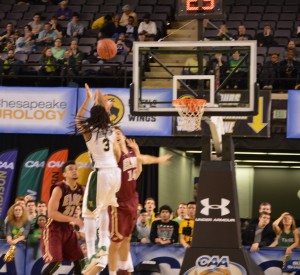 Senior guard Marcus Thornton (Upper Marlboro)  scored a game-high 17 points for William & Mary (19-11), which also got 16 points from guard Omar Prewitt and 12 from guard Daniel Dixon.  TheTribe looked every bit like the top-seeded team, as it led by as many as 18 points in the second half and was never threatened by the Phoenix (15-18).
Elon's downfall was its inability to score from long distance. After making 13 three-pointers in a win against ninth-seeded Towson in the first round, the Phoenix shot just 7 of 23 from beyond the arc against the Tribe. Elon was led by freshman guard Elijah Bryant's 15 points, while senior guard Austin Hamilton added 13 and junior guard Tanner Sasser added 11.
William & Mary, which is in Williamsburg, Va., is one of only five of the original Division I schools that has never made the NCAA Tournament. The Tribe, St. Francis (NY), Army, The Citadel and Northwestern have failed to punch a ticket to the Big Dance, which turns 77 this month.
"I've probably been a coach in the past that's tried to shield them from the pressure of our past," William & Mary Coach Tony Shaver said. "I've talked to them a lot about that's not this team's burden.  This team wants to be the first.  We're embracing the opportunity we have.  We're embracing the success this team's had this year, and we want to go after it."
William & Mary is two wins away from getting off the list – and into the field of 68 teams by earning an automatic bid as a conference tournament champion.
The Tribe, which was among four teams to finish 12-6 in league play, earned the tournament's top seed by going 5-1 against the other three teams – Northeastern, James Madison and UNC Wilmington – that finished with an identical league mark.
The Tribe faces No. 5 Hofstra (20-12) on Sunday afternoon at 2:30, with the winner advancing to the final on Monday night at 7 p.m.
William & Mary won both games against from Hofstra during the regular season. The Tribe rolled to a 100-79 win in Williamsburg on Jan. 28, but pulled out an 80-78 victory at Hofstra on Feb. 27.
No. 5 Hofstra 74, No. 4 James Madison 57
Hofstra picked the perfect time to beat James Madison.
After being swept by the Dukes during the regular season, the Pride eliminated James Madison in the quarterfinals of the Colonial Athletic Association Tournament with a 74-57 victory on Saturday at Royal Farms Arena.
The fifth-seeded Pride (20-12) had little trouble against a team that had defeated it by 11 points to end the regular season last week. Hofstra dominated from the opening tip, leading by as many 13 points in the first half and never looked back. Fourth-seeded James Madison (19-13), which had won six of its past seven games, shot just 32.4 percent in the first half, including 2 for 13 from beyond the arc and never recovered.
Hofstra took advantage of the Dukes' shoddy offense by scoring 13 points off the James Madison's six turnovers and shot 44.4 percent from the field, including 4 for 11 from three-point range to take a 39-33 lead at intermission.
The Pride, which stretched it lead to as many as 20 in the second half, was led by senior center Moussa Kone's 19 points and 11 rebounds, while junior forward Ameen Tanksley added 16 points and junior guard Juan'ya Green had 10 points and eight assists.
Junior guard Ron Curry had 18 points and five rebounds for James Madison, which also got 12 points and six rebounds from sophomore forward Dimitrije Cabarkapa.
No. 2 UNC Wilmington 79, No. 10 College of Charleston 53
The Seahawks ended one of the tournament's feel-good stories by eliminating Charleston, 79-53, in the quarterfinals a day after the Cougars stunned seventh-seeded Drexel.
UNC Wilmington, which tied for first place with William & Mary, Northeastern and James Madison during the regular season, advanced to the semifinals. The Seahawks (18-12) are two wins away from reaching their first NCAA Tournament since 2006, when they lost as a ninth seed to eighth-seeded George Washington in overtime.
The Cougars (9-24) were simply overmatched. Charleston, which finished in last place with a record of 3-15 in league play, couldn't compete against UNC Wilmington's speed and athleticism.
The Seahawks, who defeated the Cougars in both regular-season meetings, used their press to rattle Charleston. UNC Wilmington forced eight turnovers and forced the Cougars to shoot 33 percent (9 of 27) from the field in the first half to take a 36-25 lead at intermission.
UNC Wilmington was efficient offensively in the first half, shooting nearly 44 percent (14 of 32) from the field and committing just three turnovers.
The Seahawks maintained their energy in the second half, extending their lead to as many as 29.
UNC Wilmington's guards were outstanding. Senior Freddie Jackson (19 points), senior Anderson Spruill  (12 points, eight rebounds) and junior Craig Ponder (11 points, four assists) accounted for 42 points, while senior forward Cedric Williams had 19 points – highlighted by thunderous dunks on consecutive possession in the second half – to go along with a game-high 13 rebounds, two blocks and two steals.
Charleston was led by sophomore guards Joe Chealey (12 points, four rebounds) and Canyon Berry (nine points, four rebounds).
Sunday's Semifinals
No. 1 William & Mary (19-11) vs. No. 5 Hofstra (20-12), 2:30 p.m.
No. 2 UNC Wilmington vs. No. 3 Northeastern/No. 6 Delaware, 5 p.m.
Monday's Championship Game for berth in NCAA Tournament
Semifinal winners, 7 p.m.

Chris Swanson is a live music and sports fanatic and a long-time Maryland resident. He holds tightly to what some consider an unreasonable affection for the Baltimore Orioles and older music venues. Chris has a Communications Degree from the Franciscan University of Steubenville.