The lucky locals of Upper Fells, Butchers Hill and those around Patterson Park have the recently opened, bakery, restaurant and bar, Charmed Kitchen. They are open 7 days a week from early 6:30 a.m. for takeout Ceremony coffees and the bakery's offerings from croissants, bagels to Danish pastries. At 9 a.m., seated breakfast service starts (omelets, waffle, and more) and lunch kicks in at 11 a.m.   The grueling schedule continues Wednesday through Sundays with happy hour, small plates, dinner service and full bar in the evening hours.
Passion is the word that best describes Christa Bruno (chef) and Shadee Holden (baker) and their combined visions for this small, urban corner restaurant-bakery-bar, Charmed Kitchen.
Bruno started her love of food by her Italian grandmother's side. She continued the journey working in restaurants in Baltimore, Maine and Milan as well as a popular personal chef/caterer in Los Angeles. You may remember Christa from Pazza Luna Restaurant that was in Locus Point.
Holden, a Jersey boy, whose early restaurant apprenticeships started at 13 years of age and eventually garnered him a scholarship to Johnson & Wales University. His degrees both in Culinary and Pastry Arts and work experience in fine dining restaurants both in Philadelphia and Baltimore were foundation to move forward with his love of baking. Both chef and baker are alumni of Baltimore's fine dining Italian restaurant, Sotto Sopra.
Christa says, "Shadee's whole wheat, sour dough baguette is the neighborhood crack, we can't make enough." Also pictured in their photograph is the vegan loaf made of brown rice, red quinoa, flax seed and oats and the Sicilian loaf with tahini and sesame seeds.
I popped in mid-morning for their specialty croissant-of-the-day: ham and cheese. The golden exterior, topped with coarse salt was the tease; the real treat was the buttery, flaky interior. Top that off with my chai latte and it was perfect for my late morning breakfast.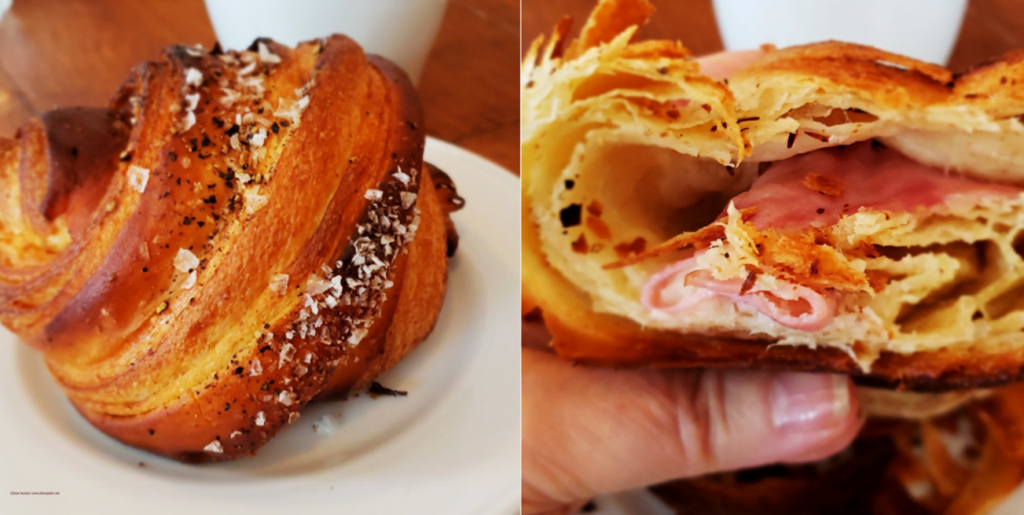 Charmed Kitchen has two special events coming up:
February 26th Tequila & Mezcal Tasting Dinner and March 12th, An Art Opening – paintings by Adrienne Williams. Get more details at their Facebook Page /events
Like Christa's nonna – Charmed Kitchen will always have something cooking.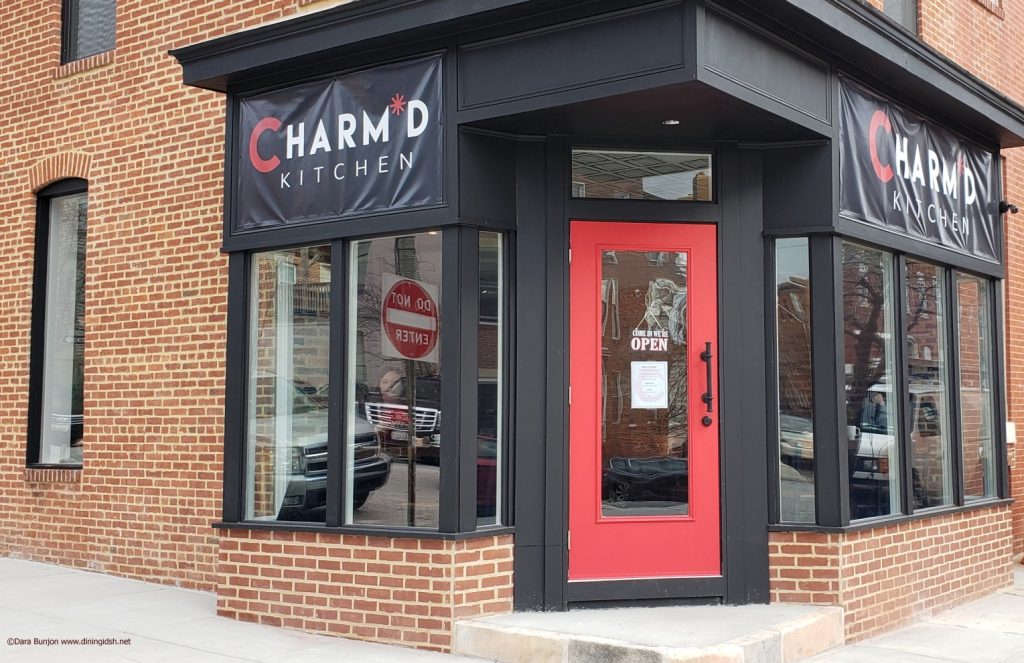 Charmed Kitchen
123 South Chester Street
Baltimore Md 21231
443 627 8369
Social Media: @charmedkitchen