Chance the Rapper delights Royal Farms Arena crowd
Fresh off of winning three Grammy Awards, Chance the Rapper stopped at the Royal Farms Arena during his "Be Encouraged" tour on Tuesday. The artist from Chicago played to a sold out crowd that stayed on their feet the entire time to give a very friendly Baltimore welcome.
If you ever get the opportunity to see Chance, make sure you take it. The show included fireworks, a drop down walkway, fire, fake snow falling from the rafter and plenty of smoke.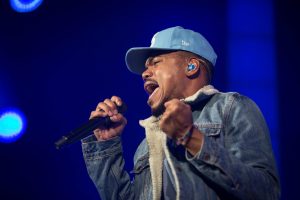 Chance played several songs from his latest album, Coloring Book, and a few older songs from hi earlier album, Acid Rain, to appease his fans that have been listening to him for years.
After 30 minutes of jumping and dancing Chance asked the audience "Would you say this has been a good show?  Well, we have just gotten started!"
The crowd responded with a huge roar that could be heard throughout Baltimore.
Erik Hoffman is a web designer and computer consultant. He has run a computer consulting company for the past four years where he enhanced businesses by designing and developing user-friendly websites that have helped companies reach targeted revenues.