Carnivalesque sizzles; Fantasticks fizzles in mixed weekend of theatre
Swami YoMahmi relishes a sticky moment during his hat-pin in the finger act. (White Starfish Photography)
The interesting thing about live theater is you never know what to expect. A troop consisting of mostly part-time players can pull off a sizzling spectacle while a professional production somehow sinks a long-time favorite. This is exactly what happened this weekend with two very different shows: The Carnivalesque Roadshow at the Creative Alliance, and a revival of The Fantasticks at Rep Stage.
First the good:
The Carnivalesque Roadshow is far and away the funniest show I've seen all season. Producers Maria Bella of Gilded Lily Burlesque and Armitage Shanks of Carny Preacher Productions have assembled a revolving cast which features many of this area's brightest burlesque performers, alongside numerous international burlesque and side-show stars.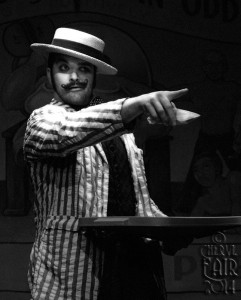 The line-up for Friday's show at the Creative Alliance in Baltimore included both Bella and Shanks, with local burlesquers Sophia Sunday, Kay Sera, Sunny Sighed, Mourna Handful, Valeria Voxx, and stage kitten Lauren Marleaux. This titillating group was joined by Burlesque Hall of Fame's 2012 King of Boylesque: Russell Bruner; Hotlanta's Talloolah Love and a peach of an aerialist named Sadie Hawkins.  Sideshow phenom Swami Yomahmi, and vaudeville contortionist, juggler & magician Jonathan Burns filled out the highly entertaining ensemble.
It's hard to pick a few stand-outs (the show was really that good) but both Bruner and Burns had the audience howling for most of the night. Sadie Hawkins demonstrated amazing skills with two lengths of chain (in a nice way, I mean), and Sunny Sighed debuted a routine so fresh, it was practically green.
Carnivalesque hit the road right after Friday's bow at the Creative Alliance; playing shows in Shepherdstown, WV on Saturday and the State Theatre in Falls Church, Va. last night. The all-too-brief tour ends next weekend with two shows; first at the Southland Ballroom in Raleigh, NC on Saturday May 10; and then at the Rex Theater in Pittsburgh, PA on Sunday May 11.
Now the bad:
The Fantasticks (by Tom Jones and Harvey Schmidt) holds the record as the longest running musical in theater history. Its original off-Broadway run spanned 42 years with 17,162 performances. With a fairly straight forward story line and an incredibly haunting opening number (Try to Remember), The Fantasticks should be a winner even with an earnest community theater ensemble. But somehow, Rep Stage – a professional company which boasts equity actors and a state of the art venue – somehow missed the mark.
So what went wrong?
Casting. And directing, which of course is being redundant.
Where to begin?
For some reason, director Nancy Tarr Hart elected to take this production down a farcical road. True, there are smiles and a few sweet moments in the opening wall scene. One could see how someone might get sidetracked from the air of regretful rumination which hangs over the play. But to make the wacky touch work, you need a top-notch cast of musical/comedy performers, and even then, that approach is something of a gamble.
In the end, Hart's slant simply does not work. Actually, it falls flat almost from the beginning. Better put: You know you are in trouble when the most memorable player in a musical is the woman who was cast as the Mute.
To her credit, Lynette Rathnam (as the Mute) is remarkably restrained. Roles such as the Mute can prove quite deadly for the other players on the boards. There are just too many chances of being upstaged. Thankfully, Rathnam takes everything before her in stride, and her quizzical looks and very merry movements are a breath of fresh air.
Nigel Reed (who would shine in any production of The Dresser) was one of the other bright spots on the stage. And Peter Boyer played the Man Who Dies with as much energy as one could put into a decidedly dated role.
Stephanie Schmalzle (as the Girl) and Benjamin Lurye (as the Boy) are certainly sincere enough, but neither actor has the range to carry this show. Michael Bunce and Darren McDonnell (as the "feuding" fathers) are two seasoned professionals. Each seemed to sense that the attempts at whimsey weren't working and both turned it up a notch to try to cover the faux pas. Neither player has a great singing voice, but their acting is solid and the pair were enjoyable to watch.
Now for the ugly:
Paul Edward Hope (El Gallo) simply cannot sing. Period. End of story.
No, unfortunately it's not the end. Hope's acting is also highly suspect.
I don't blame Hope for auditioning; that's what actors do. But why on earth he was cast in a pivotal role in a celebrated musical will forever remain a mystery. The pain of his performance was not only audible (when singing he loudly was breathing on every fourth syllable), but it was visible in the faces of his fellow players who were trying desperately to cover their colleague's miscues – or worse – following him when he rushed the tempo in the number, "It Depends On What You Pay". Again, the fault here lies squarely in the director's lap. At some point, Hart needed to recognize her vision wasn't working and her cast was simply not up to the task.
The creative side could not rescue this production; still, credit must go to musicians Ross Scott Rawlings (piano) and Meghan Gwyer (harp) who do a very nice job with the score. The fight choreography by Jenny Male is cartoonish; ostensibly in keeping with the clownishness of the action at hand. Denise Ulmand's costumes are mostly fetching – save for the Boy's effeminate cardigan – and both the simple set (A. David Blachowicz) and lighting (Michael D. Klima) work very well.
The Fantasticks is a time-honored musical, but this particular chestnut is best left in the fire.
This was my first chance to review a show at Rep Stage.  I've always heard nice things about both the company and venue, and next season's line-up features four intriguing selections. Here's hoping this misguided attempt at a farcical Fantasticks is simply an anomaly.
*   *   *   *   *
The Fantasticks runs now thru May 18 at Rep Stage in Columbia, Maryland. Running time for the play is about 2:20 with one intermission. Rep stage is located on the campus of Howard Community College. Tickets and more information may be found by visiting Rep Stage online.
On May 10, the Creative Alliance will unveil a new collaboration by painter Douglas Johnson and filmmaker Jeffery L Gangwisch titled: Organism.  Creative Alliance is located  at 3134 Eastern Avenue in Baltimore, Maryland.  For more information about this show and other exciting upcoming events, visit Creative Alliance online.

painter Douglas Johnson and filmmaker Jeffrey L. Gangwisch both discover a sense of peace and place in their first collaboration, Organism. – See more at: http://www.creativealliance.org/events/2014/jeffrey-l-gangwisch-doug-johnson-organism#sthash.Chzyd2al.dpuf
Jeffrey L. Gangwisch & Doug Johnson: OrganismCreative Alliance is located at 3134 Eastern Ave. in Baltimore, Maryland. For a list of upcoming shows, visit Creative Alliance online.

Anthony C. Hayes is an actor, author, raconteur, rapscallion and bon vivant. A one-time newsboy for the Evening Sun and professional presence at the Washington Herald, Tony's poetry, photography, humor, and prose have also been featured in Smile, Hon, You're in Baltimore!, Destination Maryland, Magic Octopus Magazine, Los Angeles Post-Examiner, Voice of Baltimore, SmartCEO, Alvarez Fiction, and Tales of Blood and Roses. If you notice that his work has been purloined, please let him know. As the Good Book says, "Thou shalt not steal."