BWI passengers greet Honor Flight vets with standing ovation
Honor Flight veterans smile with appreciation during their arrival at BWI. (Lisa Salkov)
As many Americans wrestle with the propriety of taking a knee during the National Anthem, almost 100 air travelers rose to their feet this morning to applaud a group of aging veterans.
The spontaneous show of affection, which greeted each veteran as they came off of their flight, took place at around 9 a.m. in the Southwest Airlines terminal at Baltimore-Washington International Airport (BWI). The veterans contingent – a group of about 30 men and women from upstate New York – arrived at BWI as part of an Honor Flight Tour.
The Honor Flight Network is a national organization dedicated to seeing that every veteran has a chance to visit the war memorials in Washington, D.C. According to the Department of Veterans Affairs, an estimated 640 WWII veterans die each day. The Honor Flight Network does whatever it takes to fulfill the dreams of our aging veterans.
In May 2008, Southwest Airlines stepped up by donating thousands of free tickets, and was named the official commercial carrier of the Honor Flight Network. Other generous sponsors have also come on board to make the sought-after trips a reality.
Charles Learn, one of this morning's arriving veterans, told the Baltimore Post-Examiner, this would be his first chance to visit the Korean War Memorial. Learn joined the Army in March of 1950 and served overseas during the final years of the Korean War. After returning to the states and leaving active duty, Learn spent 27 years in the Army Reserves before finally retiring as a major in 1975.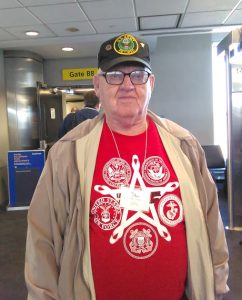 "I was first in D.C. when I got married in 1954. At that time, my wife and I went to White House and the Lincoln Memorial. I was back here again in the winter of 1963, to visit the grave of President Kennedy.
"Veterans from my area, which is western New York – Buffalo, Niagra Falls, Tonawanda – are here on an Honor Flight. We've come down this morning and we will stay all day to visit a number of memorials: the WWII Memorial, the Tomb of the Unknown Soldier and so forth. Then we'll have dinner and return to the airport at around 5:00 p.m. for a flight back home."
Learn said the return flight would get them into Buffalo around 11 p.m.. A very long day, but a treasured memory for the grateful veterans who made the Honor Flight.
"This total flight cost over $20,000 and Walmart paid for it all!" exclaimed Learn.
Dorothy Jessop, a six-year employee with Southwest Airlines, told us the Honor Flight arrivals always light up the Southwest terminal.
"We regularly fly veterans in from all across the country to travel them down to D.C. to see the memorials. These are WWII, Korean War and Vietnam veterans. Whenever they arrive in Baltimore, it is a celebration. It's really something special to all of us here at Southwest Airlines."
(Anthony C. Hayes happily contributed to this story.)

Lisa Salkov is an award-winning playwright, actress, journalist, cantorial soloist, operatic soprano and commedienne. She has also spent more than a decade as a legal assistant/paralegal, working in the areas of bankruptcy, medical malpractice, real estate transactions and family law. Behind the scenes at the Post-Examiner, Lisa edits more stories than she cares to admit. An avid fan of old films, Broadway musicals and The Big Bang Theory, you will find her most nights with a borrowed book in her hand, a cup of tea by her side and a cat on her lap.