Burnell's Lower 9th Ward Market a beacon of hope in a barren land
NEW ORLEANS: Prior to Hurricane Katrina, New Orleans resident Burnell Cotlon had never heard the sobriquet "food desert." The U.S. Army veteran only wanted to help his Lower 9th Ward neighbors, as they endeavored to rebuild their lives in the aftermath of the storm. But when Burnell learned that major retailers had no interest in the Lower 9th Ward, his instinct to help others kicked into high gear. Thirteen years later, those very same neighbors now happily turn to Burnell's Lower 9th Ward Market for many of their basic needs.
"My childhood dream was to be a policeman," began Burnell, as I briefly set aside my camera to help him mend a leaky drain. "So I did that in the Army, and I had a blast. To tell you the truth, if I could, I'd do that all over again in a New York second.
"When I came home (from Germany), I utilized my VA home loan, and I thought I was going to live happily ever after. My house is seven blocks from where we are standing today. The storm came along and wiped it all out. I had to start all over and rebuild my house.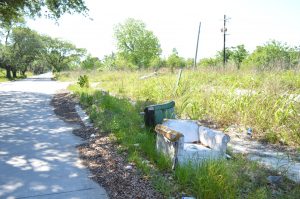 "I had forty-two neighbors before Katrina. Today, I have three."
The plumbing repair finished, we exited the store and looked across the street at an overgrown lot. Two weathered chairs at the end of the sidewalk marked the spot where a house once stood.
"Driving around the Lower 9th Ward, I noticed that we didn't have any place where people could purchase basic needs. The closest store from where we are standing is a Walmart in the next city. You have to catch three city buses to just get a loaf of bread or a gallon of milk. So, imagine if you have 4-5 kids at home and you don't have a car?
"To me, that is an undue hardship."
Returning  to the store, Burnell cheerfully greeted a couple of his regular customers. What bit of conversation they had was mostly lost on this listener, as Janet Jackson's What Have You Done For Me Lately? blared on a loudspeaker overhead.
Once back inside, Burnell continued his story.
"I called up all of the big box stores to ask if they were planning on building a store closer by. They all told me the same thing, and this is the first time I ever heard these words. They all said, "No – the Lower 9th Ward is a food desert."
"I didn't even know what a food desert was. So I said, 'You know what? Since you all are not going to do anything about this, then I am.'"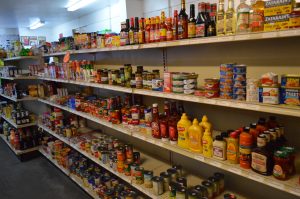 With some 18 million Americans now living in areas where fresh food isn't easily attainable, the term "food desert" has become synonymous with the nutritional plight of our neediest neighbors.
Urban areas, like New Orleans, are especially prone to the problem. Add the devastation of Hurricane Katrina – which displaced a majority of the residents as it destroyed whole sections of the community – and earnest efforts to address the Lower 9th Ward's basic needs can quickly evolve into a personal crusade.
"Looking around some more," Burnell continued,  "I came across this building here. This building cost me my entire life savings and four years of my life. I'm not complaining. Just like my Army service, I would do this all over again. The number of people who walk through these doors is incredible.
"Plus, I never know who will show up here next.
"One day, I was sweeping up, and I got a tap on my shoulder. I turn and think to myself, 'Now, who is this guy?'
"It was Mark Zuckerberg.
"Mark said he had read an article about me, and he just couldn't believe that one person would spend his entire life savings to open a grocery store.
(Pointing to a photo on the wall) "Mike Rowe dropped in to see me, too. What a phenomenal soul. He is a beautiful, beautiful guy."
Rowe would have certainly appreciated the dirty work Burnell and his wife Tekeasha undertook in turning the storm-damaged building into a viable grocery store.
"When I asked my beautiful wife what she thought of the idea, she didn't hesitate for a moment. She said, 'Let's do it.' When we first got started, the only tools we had were a wheelbarrow and a shovel.
"That's it!
"This place was full of Katrina debris and it just smelled horrible. Plus it had a great big snake, which scared my wife to death. But I'd shovel up, and she would run the wheelbarrow outside and dump it.
"Tekeasha's mean on that wheelbarrow. She is an America girl, but we met in Germany. Our paths crossed, and you know how they say when you meet someone and you know she's the one? Well, that's how it happened, and I wouldn't trade her for nothing."
Initially, Burnell sold all of his wares through a small window on the far end of the building. It took more than two years of doing business this way before he had the funds to flesh out the store with lighting and display fixtures. Once that was done, he finally opened the doors to the public.
"In my world, you're either part of the problem or part of the solution. There's no such thing as excuses. If you really want something, you're going to make it work. I wanted a grocery store. I didn't have the money to do it all at once, so I sold goods out of a window, and it worked out fine.
"I didn't have the money for steel shelving, so I went to the Home Depot, bought some wood, and I made my own shelves. I used to sleep in here on a wooden bench. I also didn't have money to hire an electrician, so I went on YouTube and learned how to wire this building myself. Of course, I still had to hire a licensed electrician to file the job for me with the city. He inspected my work and only found two wires which I'd spliced incorrectly. He fixed those two wires and four days later, I had the power on.
"The cabinets in here? They came from a house they were about to tear down. I literally jumped in front of the tractor and stopped the work crew, then yanked the cabinets off the wall and drug them through the streets for about four blocks to get them here. I bleached them down, repainted them, and now I've got some kitchen cabinets."
After spending a few moments surveying a modest toy section and a brightly colored souvenir display, we paused to look at an item most Americans now take for granted — an ATM.
"This may not seem huge to you, but it's a big deal for us. This is the only ATM machine in this part of town.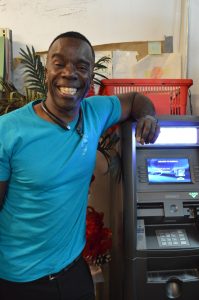 "Look, I understand why the big box stores don't want to be here. They need to have so many people living in the area to make a store financially viable. I'm making it, because I live here. This is my home, and when a man's home is hurting, he is supposed to fix it. So I went from serving my country to serving my community. I have no regrets."
Burnell said his quest to provide fresh food and basic necessities was well underway the day he realized that some of his neighbors needed even more.
"I had this one guy who'd come into my store every week and bought the same two items: laundry detergent and a coca-cola. On his bicycle, he had a big old garbage bag. I finally stopped him and said, 'What's in the bag?' He walked me outside and showed me.
"It was full of his and his daughter's dirty laundry. He told me he had to ride across the bridge to another part of town to use a laundromat.
"I never told him this, but I went back to my house and I cried. I've got a washer and dryer at my house and clearly this guy didn't.
"The following week, I told him, 'I don't know how – I don't know when – but I'm gonna get you a laundromat here.'
"I told that same story to Ellen DeGeneres. She flew me to Hollywood to share it with her audience, and then she donated all of our washers and dryers. So that same guy who used to ride his bike here once a week, now walks here and washes his clothes.
"It's a beautiful, beautiful thing.
"It's hard to believe in 21st Century America, that the needs could still be so great, but even commonplace services remain out of reach for many residents of the Lower 9th Ward."
Burnell's dedication has touched numerous people in a tangible way. Yet he is visibly humbled when he reflects on what his neighbors have given him.
"People will stop in and say, 'Hey — I saw you on television,' and that's always nice. But I have been immensely blessed by older residents here. One lady, Mrs. Smitt, literally cried in my arms. She returned right after Katrina and said she didn't think anybody would ever come back. She said God had blessed her to be able to walk through these doors and buy a loaf of bread before calling her Home.
"In some peoples minds, they think, 'Oh, Katrina happened a long time ago. It's finished.' Look around. It's not finished. People need to know, when they turn on the TV and see Mardi Gras and the French Quarter, that this city is still hurting. We're only ten minutes from the French Quarter, but look around this neighborhood – there is nothing here.
"It's like this is a third world country, but this is New Orleans, and people just don't know.
"I had a woman come in recently and ask if I would build a funeral home. I said, 'No, no, not yet – there are a few other things I want to do first.' I didn't want to hurt her feelings, but I want to build a daycare center and purchase land to build houses.
"Look, I'm just an average guy. But my dream is for the Lower 9th to catch up with the rest of the city. I'm not gonna stop. And anyone who can help me with this is A Number One in my book.
"I don't mind when people suggest things like a funeral home. I knew once I started down here that I was opening up a can of worms. People come in here and tell me all kinds of things. Some come to laugh, some come because they're angry, and some come to dance. That's why the music outside is so loud.
"With all everybody has been through down here, it's good that they still can dance."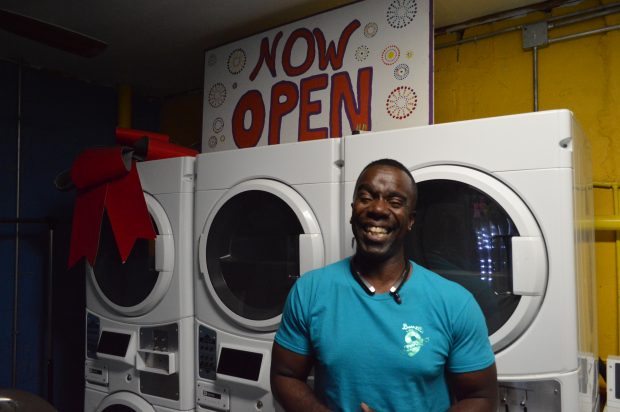 Anthony C. Hayes is an actor, author, raconteur, rapscallion and bon vivant. A one-time newsboy for the Evening Sun and professional presence at the Washington Herald, Tony's poetry, photography, humor, and prose have also been featured in Smile, Hon, You're in Baltimore!, Destination Maryland, Magic Octopus Magazine, Los Angeles Post-Examiner, Voice of Baltimore, SmartCEO, Alvarez Fiction, and Tales of Blood and Roses. If you notice that his work has been purloined, please let him know. As the Good Book says, "Thou shalt not steal."