British Chocolate Club takes on the USA/UK Chocolate War
An entrepreneurial couple has found a loophole in Hershey's import ban of British Cadbury that I reported on earlier this month. 
This entrepreneurial couple in England is using Hershey's recent import ban on original Cadbury chocolate to their benefit. Yesterday, they officially launched the "British Chocolate Club", a company sending monthly subscription boxes of quality British chocolate to their members all over the world. This should be particularly interesting to the thousands of British expats (like me) and local fans, who will find it hard to come by their favorite Cadbury chocolates, after Hershey successfully sued to stop all imports into the US. The start-up bypasses the import block by delivering to private households only.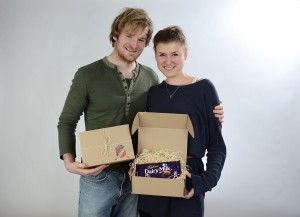 "We were amazed that in our globalized world, and in a freedom loving nation like the United States of America, a company could just get away with preventing people from physically buying the sweets they want", CEO Robert Jeffreys says. "We looked into the legalities and it turns out they can't, at least not completely. People who want British chocolate can order it to their doors from outside the US and we want to be the ones getting it to them."
Each subscription box contains between eight and fifteen different bars of popular British chocolate bars, like Flakes, Dairy Milk and Crunchies, plus classics like Toffee Crisps, Yorkie Bars and Maltesers, which have also been banned. Members can either choose their favourite bars or receive a surprise box, including chocolates that are hardly known outside the UK. The membership costs between $14.95 and $25.95 per month and can be cancelled any time.
"Being British myself, I am very value oriented, so I was determined to offer great value to our customers," Jeffreys says. "Originally, we thought we could not get this idea to work, as the shipping expenses would just be too high to offer a reasonable price. After a lot of problem solving and hard negotiation with suppliers and shipping companies, we decided on the membership model. This allows us to use our strength in numbers and offer a very well priced service to our members."
Hershey's manufacturing licensee of Cadbury's chocolate in the US uses a different recipe than its UK equivalent. In Great Britain, the first ingredient of Cadbury is milk, whereas in the US it is sugar. As a result, the British version tastes creamier and smoother, according to British Cadbury fans.
Jeffreys' fiancée and business partner Rebecca Gerken is confident on the British Chocolate Club's outlook. "We started a soft launch on Facebook and Twitter a couple of days ago and the feedback has been quite overwhelming. This is a quote from an email we received from Erin, in Ferndale California:
"I've only ever bought the British version for years, it simply tastes a lot better. Thumbs up for starting this club, my kids and I really didn't want to go without."
Gerken finishes: "At the moment, we are stockpiling chocolate boxes in our living room, but if all goes well, we will look into getting an office soon."
Visit the website for more information and to place your order. www.britishchocolateclub.com

Claire Bolden McGill is a British expat who lived in Maryland for three years and moved back to the UK in August 2015. Claire wrote about her life as a British expat on the East Coast and now works in travel and hospitality PR in the UK. She still finds time to blog about her repatriation and the reverse culture shock that ensued – and she still hasn't finished that novel, but she's working on it. You can contact Claire via twitter on @clairebmcgill or via her blog From America to England.