Bridge Columbia awaits for state funding
The pedestrian bridge linking Columbia Town Center and Oakland Mills Village. (Brianna Olinger)
Advocates for the Bridge Columbia project are patiently awaiting word from the Maryland Department of Transportation for funding that they say could ease traffic congestion,  improve safety and provide shoppers with a biking and a possible shuttle route to local businesses.
The proposal calls to add to or replace the existing footbridge connecting Columbia Town Center and Oakland Mills Village, over Route 29. Friends of Bridge Columbia, the all-volunteer group formed in 2008, estimated it would cost about $15 million to replace the bridge.
The advocates are waiting for the state to decide whether the project will be part of the Consolidated Transportation Program – a six-year budget plan for transportation improvements.
If approved, Bridge Columbia would be then reviewed by the state budget department "before submission to the legislature at the beginning of the 2016 session for approval," said Cathy Spain, one of the many advocates supporting the bridge proposal.
The inclusion of Bridge Columbia wouldn't guarantee funding,  but getting into the transportation budget plan is a prerequisite for federal and state grant monies, Spain said.
Spain said the bridge proposal includes dedicated lanes for public transit (not personal vehicles), biking and walking. The group has suggested that it could integrate existing Howard County bus routes, and perhaps a new system of environmentally friendly shuttle services to destinations on both sides of Columbia.
They envision a large, iconic structure that would identify Columbia from Route 29, encourage healthy habits (for locals and for the environment), and help to alleviate traffic issues.
In their mission statement, the bridge supporters call the existing, fenced-in footbridge "narrow, ugly and intimidating," and they express particular concerns about the bridge's lack of bright lighting.
Howard County Community College student Deryck Paul, who walks the bridge regularly, welcomes the idea of a more vibrant structure.
"There should definitely be more light," Paul said, "especially at the ends of the bridge," where it meets wooded paths.
However, some locals would prefer that the bridge, and its picturesque surroundings, remain untouched.Two young women hurrying to class at Howard Community College (who declined to give their names) expressed concerns about the impacts of construction on the area.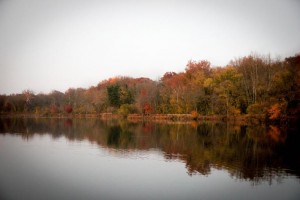 "They'd have to cut down so many trees here," said one of the students, gesturing at the view of the Little Patuxent river and Lake Kittamaqundi, reflecting the autumn leaves. "I like it as it is."
"But," said the other, "it needs remodeling, for sure. At least more lights and a new paint job."
The bridge supporters are hopeful that support from Howard County Executive Allan Kittleman will help to nudge the initiative up the bureaucratic ladder. Kittleman has been an important ally to the project, requesting $600,000 in funding, and hosting a Round Table event this past June to gather support from local leaders.
"My staff is currently exploring all funding options feasible to renovate the existing bridge," Kittleman said. "We want everyone to enjoy our vibrant new downtown, and I'm confident this will help."
In August, Kittleman included Bridge Columbia in letter to Transportation Secretary Pete Rahn, asking that it be given special consideration for the CTP.
Kittleman's letter "is a very important development,"  Spain said.
"These types of undertakings take a long time," Spain said. "Keep in mind that some of the members of Friends of Bridge Columbia have been advocating for this project since 2008, so the recent developments are very exciting."
The group plans in November to make a "presentation to the legislative committee of the Howard County Chamber of Commerce," Spain said.
"We know funding for transportation projects is very competitive, so we want to continue to spread the word about the project and its progress."
For more information on Bridge Columbia, visit BridgeColumbia.org or the Friends of Bridge Columbia Facebook page.

Lauren Molander, a Baltimore native, is on a long-winded journey to find her place in the world. She majored in Media and Communications Studies at UMBC, and hopes to build a career working with words.
Lauren is unusually enthusiastic about roller coasters, SNL, fancy teas, cosplay culture and the broody music of her early teenage years. In her free time, she can be found playing with makeup, beating the same video games repeatedly, begging her cats for affection, reading books by funny people and binging on anime.
She is still waiting patiently for her (tragically delayed) letter from Hogwarts.