BMA anniversary, Magical Realism Tarot, erotic images highlight November Art shows
The Chariot by Ronald R. Russell (Anthony C. Hayes)
The cool days of Fall are perfect for canvassing the local art scene, so The Baltimore Post-Examiner surveyed some of the current shows taking place in the area.
Magical Realism Tarot Debuts in York, PA
Last Friday evening, at the Hive Artspace in nearby York, PA., photographer Cheryl Fair unveiled 38 of the images that were used to create her Magical Realism Tarot deck. Visitors also had the unique opportunity to view Pablo Picasso's "Soleil de Mediterranee", a vibrant wax pastel depicting the Sun shining over the Mediterranean Sea, at the event.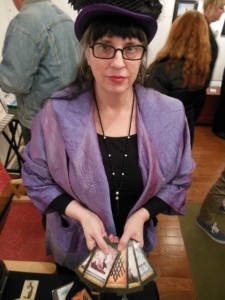 The packed house for the opening reception included some of the models who participated in the project, along with Paula Millet – the graphic artist who designed the back of Fair's fanciful deck.
Millet told the Baltimore Post-Examiner, "It was an interesting experience working with Cheryl, because I was doing graphic design, giving her straight fonts, but she had a very clear view; this esthetic vision what's gonna go with what you're doing, but still be a sightly different medium because it's graphic, so it's much more crisp. Still, it has to capture the aesthetic she was going for."
"Cheryl picked the people she chose to use as models very carefully. They are real people who, through the photoshop work, become magical – they become archetypes. They appear beyond what they were. These are not portraits. They're symbols for what the cards convey. She went not only for what the models look like, but considered their personalities, their astrological signs. But yet, it's not about them. It transcends them, but, at least to me, knowing that background brings a whole new level to the deck."
The exhibit runs now – November 30, 2014. Fair's cards will be available to the public sometime in January.
HIVE Artspace is at 126 E King St, York, Pennsylvania 17401.
More Tarot at Roman's Place in Highlandtown
Speaking of tarot, Laura Vernon-Russell is curating a cigar box tarot themed show this month at Roman's Place near Patterson Park. The exhibit, which features the work of a dozen different artists, is inspired by various characters pictured within a tarot deck.
Ronald R. Russell, Roman's residential expressionist, told the Baltimore Post-Examiner his wife Laura, "is in charge of this one."
"My wife curated this particular show, so she is the one who invited the participating artists. Interestingly, some of the artists she originally reached out to demurred because they knew nothing about tarot."
Mr. Russell has two pieces in the show. One – The Fool – is a baseball piece which includes a rookie player along with a goat. "The imagery there should be obvious to anyone who knows anything about baseball." Russell explained.
"Talking with my wife about that piece, I thought. 'Wouldn't it be great to do a complete baseball tarot-themed deck?' My wife agreed. Then on opening night, some lady walks up and showed me a baseball tarot deck, which of course took the wind out of my sails. The art was okay; not like anything I would do, but the writer who designed the deck absolutely nailed it. There went another great idea."
Roman's Place is located at 2 S. Decker Avenue, just off the 3000 block of E Baltimore St.  Along with the art show, be sure to plan on a home-style meal from Roman's kitchen.
Lotta Art Raises Funds for School 33
The 22nd annual Lotta Art Benefit was held last Saturday, at the School 33 Art Center, located at 1427 Light Street. The fund-raiser featured a lottery-style drawing for original artwork, delectable food and wine, and music. More than 100 artists generously donated their artwork for the benefit of the unique art center which has championed the arts for more than 30 years through arts education, exhibitions, and a Studio Artist Program.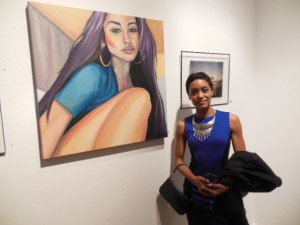 Quinn Palmer, who spearheaded this years fund-raiser, told the Baltimore Post-Examiner she was really excited that the event was back at School 33. "The move to Silo Point (the site of last year's event) was just to mix things up a bit, but some people never got a chance to see the place their money was going to support. We wanted to show people where their money is going and to show off our really nice gallery space."
Palmer had a piece in the show, plus she said she had also bought an event lottery ticket. The first piece chosen was an aluminum sculpture – "Neurona" – by artist Devin Mack. Other early selections included an oil on canvas by Nick Aumiller, a watercolor on paper by Martha Dougherty, a pleasant oil on panel "For Ophellia" by Katherine Gagnon, and a kilnformed Glass and Precious Metals inclusion called "bird:feathers" by Ursula Marcum.
Lotta Art, a program of the Baltimore Office of Promotion & The Arts, School 33 Art Center, is supported in part by the Maryland State Arts Council and through private contributions. More information about the School 33 Art Center may be found online.
Reclaimed Art at Mt. Royal Tavern
The Mt Royal Tavern is hosting an intriguing new showcase of scavenged construction materials turned art, called "Reclamations".
"Reclamations" features recent sculptural works by artist, actor and writer Mark S. Sanders. These compositions utilize reclaimed wood, concrete, metal and glass, and range from post card size to over five feet in height.
Sanders told the Baltimore Post-Examiner the exhibit reflects about 20 years of collecting the salvaged material and about 4 months in creating these particular works.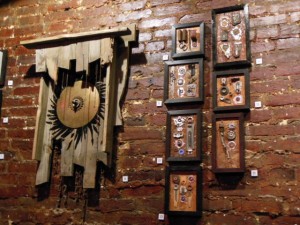 "It is abstract assemblage made from materials that I took from job sites as a home renovator. A lot of it is gonna be termite wood, rusty metal, pieces of old furnaces and even twigs and bits of metal that I found in the yards. There is no specific artist statement behind the art. I'm not trying to put forth any message. They are simply objects. I let them communicate or not communicate to people on their own."
"Reclamations" will show from November 3rd through December 1st.
The Mt. Royal Tavern is located in Baltimore at 1204 W. Mt. Royal Avenue, adjacent to the MICA campus.
Erotic Art Show at Gallery 788
Gallery 788's sixth annual erotic art show, EROSEX opened last Thursday night, along with Komono – New Paintings by Michael Stevenson, in the Hickory Room.
More than sixty artists are participating in this year's erotic art show, including works by gallery owner Eduardo Rodriguez, Desiree Dalton, Jeffrey L. Springtree Ganswisch, Zachary Titford, Other Drawlings and sixteen members of the MICA Illustration Department.
The erotic show should also provide the perfect backdrop for this Saturday's (Nov 15) Alternate Universe Pageant – the place for Drag Queens, Drag Kings and Groups to compete for cash prizes along with the coveted, "The Alternate Universe Title".
EROSEX runs now – November 29.
Gallery 788 is located at 3602 Hickory Ave., just north of the Avenue in Hampden, Hon.
BMA Celebrates 100th Anniversary
Finally, on November 23, in celebration of it's 100th anniversary, the Baltimore Museum of Art (BMA) will reopen the historic Merrick Entrance and renovated Dorothy McIlvain Scott American Wing. The reopening will highlight a new presentation of the museum's outstanding collection of American art, considered one of the finest on the East Coast. Visitors may peruse more than 800 paintings, sculptures, and decorative arts displayed throughout the second level of the museum's original building, a neoclassical masterpiece by the great American architect John Russell Pope.
Some of the reopening activities and events for the upcoming celebration include a 100th Anniversary Gala (which has already sold out), and – for Family Free Sundays – three days of cake decorating and the ongoing creation of a time capsule. Also on tap for the celebration are demonstrations of silver engraving, needlepoint, stained glass, and clock-making, and a harp presentation by Jasmine Hogan.
Visitors will also receive free personalized hand-cut paper silhouettes by Alex Vernon and free birthday cake courtesy of Charm City Cakes.
.
The BMA is located at 10 Art Museum Drive, Baltimore, MD 21218 – just south of Johns Hopkins University.
(Artist Amelia Carroll contributed to this story)

Anthony C. Hayes is an actor, author, raconteur, rapscallion and bon vivant. A one-time newsboy for the Evening Sun and professional presence at the Washington Herald, Tony's poetry, photography, humor, and prose have also been featured in Smile, Hon, You're in Baltimore!, Destination Maryland, Magic Octopus Magazine, Los Angeles Post-Examiner, Voice of Baltimore, SmartCEO, Alvarez Fiction, and Tales of Blood and Roses. If you notice that his work has been purloined, please let him know. As the Good Book says, "Thou shalt not steal."