Billy Joel rocks M&T Bank Stadium
Jimmy Carter was in the White House, Steve Jobs and Steve Wozniak incorporated their new computer company, Apple, a gallon of gas cost 65 cents, fans flocked to see Star Wars and Saturday Night Fever on the big screen and a rookie named Eddie Murray debuted for the Orioles.
The year was 1977 – a year Billy Joel was quick to point out as soon as he took the stage at M&T Bank Stadium, nearly 14,000 days after he last played in Baltimore.
More than 38 years after rocking Loyola College, Joel returned to Charm City and took the crowd on a trip down memory lane with a 24-song performance that showed even at 66, William Martin Joel from The Bronx knows how to put on a hell of show.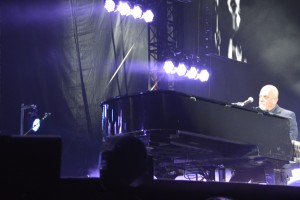 Joel, who was surrounded by eight band members on a massive stage that had more lights than the Rockefeller Center Christmas Tree, wore a black suit with a black tie with red dots as he opened with Big Shot, Pressure and The Entertainer. His fingers danced as fluidly on the keyboard as they have throughout his 50-year career during which he's sold more than 150 million records and won six Grammys.
Joel said he was happy to be back in Baltimore, cracking a joke saying he's now "Bald-imore," pointing to top of his sweaty head that glistened under the spotlight. He kept the mood light all evening, interacting with the audience by choosing songs based on fans' cheers.
Vienna or Summer, Highland Falls? He asked the crowd. Vienna won easily. Zanzibar or Say Goodbye to Hollywood? Say Goodbye, by a few decibels. But then – after powering through Movin' Out, An Innocent Man, The Downeaster Alexa and New York State of Mind – he asked: Keeping the Faith or The Longest Time?
He may as well asked the moms and dads in the crowd – and there were many – to pick between their children. Seconds later, the crowd was singing the chorus to The Longest Time.
Joel remained on stage for My Life, Goodnight Saigon, Allentown, She's Always a Woman, and Don't Ask Me Why, giving fans the hits they coveted while playing on a piano that slowly rotated 360 degrees so everyone could see him from all angles.
Then, instead of taking a set break, Joel busted out a Chainsaw.
Chainsaw, a roadie with a gut that hung over shorts, took the microphone as Joel picked up a guitar and told the nearly soldout crowd it was a time for a "religious song."
Hello, Highway to Hell.
Chainsaw made AC/DC's Brian Johnson proud as he nailed the British accent while Joel kept up on the guitar before hell turned to fire, as in We Didn't Start The Fire. In maybe the most impressive spectacle of the night, Joel sang the 1989 hit as pictures of everything mentioned in the lyrics – Einstein, James Dean, Brooklyn's got a winning team, Davy Crockett, Peter Pan, Elvis Presley, Disneyland – was shown, one by one, on massive video screens.
Joel finished the set list strong, going from The River of Dreams/Summer in the City to Scenes from an Italian Restaurant to Piano Man, as the timeless classic was sung as much by the audience as it was by the man who wrote it 42 years ago.
What made Joel so endearing is that he gave the crowd what it wanted. How long has it been since he wrote a hit song, 20 years? Joel has kept his past hits alive for decades, so he didn't stray from them when he came out for the encore.
He delivered Uptown Girl and It's Still Rock and Roll to Me as if he was still living in the 1980s before inviting LeAnn Rimes, who had been the opening act, for a duet of You May Be Right.
And just when it was time to call it a night, Joel took a seat at his piano and belted out one of his biggest hits ever, one he first brought to life in 1977.
Come out, Virginia.
Don't let me wait.
You Catholic girls start much too late.
Ah! But sooner or later it comes down to fate.
I might as well be the one…
And the crowd took it from there.

Jon Gallo is an award-winning journalist and editor with 19 years of experience, including stints as a staff writer at The Washington Post and sports editor at The Baltimore Examiner. He also believes the government should declare federal holidays in honor of the following: the Round of 64 of the NCAA men's basketball tournament; the Friday of the Sweet 16; the Monday after the Super Bowl; and of course, the day after the release of the latest Madden NFL video game.