Baseball: A Beautiful Game
Top photo of the Atlanta Braves celebrating their win by Claudia Gestro
Well, I have to admit that for the past month I've been watching postseason baseball. Primarily the National League, but I did catch a couple of the ALCS games between the Boston Red Sox and the Houston Astros. I thought for sure Boston was going to win that series, but … they didn't.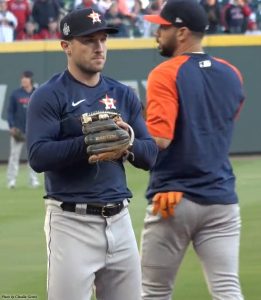 Sometimes the numbers are right. The Astros scored the most runs in the regular season (834) and the most in the postseason (84). No surprise, they were top three in every other offensive team stat. Plus, they did very well in the pitching stats. But the one stat that matters: The Astros beat the Red Sox 4-2 in the ALCS.  Houston was on a mission to prove they could win it all without cheating. They almost did it too.
My Milwaukee Brewers lost to Atlanta in the first round. The Brew Crew won the first game of that series and then poof. The Braves shut them out in the next two games and Milwaukee lost to Atlanta by one run in Game 4.
Two things we can be sure of in baseball: pitching and defense win ball games and series. If you like to watch great defensive play, this 2021 postseason had a lot of it.
The NLCS between the Los Angeles Dodgers — the team said to be the strongest going into the playoffs — went six exciting games. The Dodgers won two of the three games at Dodger Stadium, but they could not get a win at Truist Park in Atlanta.
There were a lot of questions about how the Dodgers used their pitching staff in that series. Manager Dave Roberts said it was a decision by committee to start Julio Urías in that disastrous Game 4, the one in which Atlanta scored nine runs.  Of course in Game 5 Los Angeles scored 11 for the win. Braves starter Max Fried was peppered, giving up five of the Dodgers' 11 runs.
Like I said, it was defense — and mistakes in the field — that proved to be the big reason teams won games. And the wind in Game 3 of the NLDS when Gavin Lux's sure thing long ball was destined to land in the bleachers … but landed in someone's glove instead. I don't remember who caught the ball, but we all remember Lux's reaction when it didn't leave the yard.  Twitter was awash with tweets over it.
In the NLCS outfielders made incredible catches and throws … and then embarrassing mistakes. Balls that should have been caught dropping like hail stones. There were fans in the ball parks this year and it was credibly said that the loud volume made it extremely difficult to hear on the field, hence fielders couldn't hear each other when they were trying to call each other off.
Baseball, what a beautiful game.
One thing we all came to realize watching the National League side of the MLB postseason: the Atlanta Braves were the best team from about August 1 until the end of the season. They finished the season with only 88 wins, but that was all they needed to win their division, thereby getting homefield advantage in the NLCS, despite the Dodgers having won 18 more games in the regular season.
The Dodgers, it was often reported, finished the season with a staggering 106 wins, but the San Francisco Giants finished with 107. We can all say that when the NLCS started the Dodgers were the better team on paper. Unfortunately for Dodger fans the game is played in ball parks, on the field, where the past is just prologue and maybe not even an accurate prologue for predicting a League Championship Series.
Which brings us to the Fall Classic.
Let's be honest: Everyone, other than the Houston Astros themselves and their fans, hate the Astros. They are still trying to live down the cheating scandal. Hiring Dusty Baker as the manager after A.J. Hinch was fired was a great move, but none of the players involved paid for their transgressions. And people are still wondering why Jose Altuve refused to take off his shirt when he hit that home run off the Yankees' closer Aroldis Chapman in the 2019 ALCS. Altuve claims he wasn't one of the cheaters, but who believes him? The Astros were apparently using electronic devices to let hitters know when a fastball was coming.
That being said, it was quite obviously true the Astros don't need to cheat to win. Jose Altuve is without question one of the best hitters in the game and his defense is superb so maybe it's time to put the Astros cheating scandal to bed … but I'm one of those skeptics who is still wondering how Barry Bonds grew so much muscle between 1996 and 201 when he smacked in 73 home runs, but nothing came of that little scandal. His conviction for obstructing justice was finally overturned in federal appeals court in 2015.
There's no reason to wonder why people are turning their backs on professional sports. The leagues and owners make billions of dollars each season and the players make millions, tens of millions per year, in some cases so we expect to see good, clean, games on the field.
Still, baseball is a beautiful game, one I've been watching since I was four-years-old and could shout out the names of Eddie Matthews, Lou Burdett, Johnny Logan, Warren Spahn and Hank Aaron. Who can forget watching Aaron's home runs fly out of Milwaukee County Stadium?
Back in those days ball players didn't get paid a lot so they took off-season jobs to supplement their income. As a consequence you could have a big leaguer living down the street from you, as we did. Johnny Logan was our neighbor for a while. He loved my hometown, even after being traded to the Pittsburgh Pirates. He and his wife stayed in Milwaukee until they died, which was 2013 for Johnny Logan.
So it was with great interest that I watched the 2021 World Series, pitting the Atlanta Braves against the Houston Astros.
On paper the Astros were the favored team, but as mentioned earlier the game is played on baseball fields in major league ball parks and paper … well it doesn't really count for much there.
We can look at Atlanta's great hitting in the games they won and say that's why they won the World Series. But we can also look at Houston's great hitting in games 2 and 5 and conclude that could have won the game for the Astros, had it occurred in more than those two games, Hell, we were hoping the series would be over after Game 5, the final game at Truist Park in Atlanta, but the Astros put on a monster come back to pummel the Braves, 9-5.  You see, the Astros have very good pitching as well and batters that can pound the long ball in parks on the road, not to mention pushing runners around the bases with small ball.
So it was back to Houston for that Game 6, when Max Fried exorcised his demons and pitched six scoreless innings, setting up reliever Tyler Matzek to throw two shutout innings and Atlanta closer Will Smith to record one shut out inning. The final score was 7-0 Atlanta Braves. Outfielder Jorge Soler was named the Series MVP, only the second Cuban-born player to ever have that honor, Livan Hernandez of the 1997 Miami Marlins being the first the other. When asked about it Soler told reporter Claudia Gestro, "It means a lot to me and my family and the organization. It's something really special."
Soler hit three game-winning home runs in the series, the last one a 446-foot blast that sailed over the rail road tracks at Minute Maid Park to a watch party outside the stadium. Nice souvenir — if you're a Braves fan. Minute Maid Park is the one in Houston … bummer Astros fans.
San
The Astros played great baseball all season and postseason, that's why they were in the Fall Classic, but the Braves were just destined, according to first baseman Freddie Freeman. As he told our reporter Claudia Gestro after the game when she asked about the team's legacy, "Everyone that knows me knows how thrilled I am to put on a Braves uniform every single day since I've been 17-years-old. I got to put on a Gold Coast League and it was Braves, so I've been putting on a Braves uniform for a long time. This organization means so much to me and losing Hank [Aaron] this past offseason and us playing the [Milwaukee] Brewers in the first round it was kind of setting up for one of those special years.
"Being able to catch Hank's son's first pitch and all that in the World Series, it's just been a special run that we wish Hank and Phil [Niekro] were all here to see this. But they're all up there watching."
As good as the hitting was against a very good pitching staff, Braves manager Brian Snitker knows why they won the World Series: pitching. Claudia asked Snitker about the impact his pitching staff had on winning. He said, "I think this whole World Series, World Championship; you can't say enough about our pitching. And our analytics staff, the game planning that these guys go through with the pitching coaches and Sal [Fasano] and all them; the young guys that we have that are tirelessly working towards that. Good for us that they were all throwing their best baseball all year, that whole bullpen. I don't think [closer] Will [Smith] gave up a run the entire postseason. [Tyler] Matzek was just spectacular, [A.J.] Minter, Luke Jackson — all them guys that did what they did. That's quite a — we knew going in that was going to be an unbelievable challenge with this club [Houston Astros] and how they are offensively."
A World Series-winning season begins and ends with pitching.  Yep, great defense and timely hitting are very important, but a ball club needs a pitching staff that can keep them in 80% of their games, close enough for the batters to score more runs than the other guys. The Braves had that this season, even when their record showed something different.
This was a World Series worth watching. Six games of recliner-gripping excitement with moments of despair and happiness. I'm what most might consider a cynical pessimist. Ball players — from both teams, all teams — are just the opposite. Dodgers third baseman Justin Turner once told Claudia that no matter the score, if they, the Dodgers, still had outs to play with the felt like that had chance to win. Now that's optimism and really, to win a World Series a team needs the entire team, from the front office down to the coaches, players and support staff, to believe exactly that. "If we have outs to play with, we have a chance to win." I would bet everyone in that Astros organization believes it too. That's why baseball is a beautiful game. Not to mention, short guys, like Altuve and Braves second baseman Ozzie Albies can get in the game and make a positive difference for their teams.
Yep, I'll be watching next season and mark my words … I have the optimistic opinion the Milwaukee Brewers will win it all. They have 162 games to play with so we'll see.
You can watch Claudia Gestro's World Series Report here. You can find all of her sports reports here.
•••• •••• ••••• •••• ••••
We have yet to see what happens with the pending labor issues facing Major League Baseball. My guess is the league and the players will weather the storm and get back to the beautiful game once again.

Tim Forkes started as a writer on a small alternative college newspaper in Milwaukee called the Crazy Shepherd. Writing about entertainment issues, he had the opportunity to speak with many people in show business, from the very famous to the people struggling to find an audience. In 1992 Tim moved to San Diego, CA and pursued other interests, but remained a freelance writer. Upon arrival in Southern California he was struck by how the business of government and business was so intertwined, far more so than he had witnessed in Wisconsin. His interest in entertainment began to wane and the business of politics took its place. He had always been interested in politics, his mother had been a Democratic Party official in Milwaukee, WI, so he sat down to dinner with many of Wisconsin's greatest political names of the 20th Century: William Proxmire and Clem Zablocki chief among them. As a Marine Corps veteran, Tim has a great interest in veteran affairs, primarily as they relate to the men and women serving and their families. As far as Tim is concerned, the military-industrial complex has enough support. How the men and women who serve are treated is reprehensible, while in the military and especially once they become veterans. Tim would like to help change that reality.