Baltimore Streetcar Museum: Moving monuments to a storied past
Stargazing from the steps of car 264 at the Baltimore Streetcar Museum. (Richard Panse)
Some city sounds are so commonplace you barely ever notice them: the compacting crunch of a garbage truck or the rising roar of a transit bus engine.
In a number of cities around the world, there is another workaday sound – the delightful "ding-ding" of a bell anytime a rail car prepares to take the right-of-way. Baltimoreans can hear that sound in two places: one, along the light rail line which meanders, in part, along Howard Street. The other is one of Charm City's truly hidden gems: the Baltimore Streetcar Museum on Falls Road.
This reporter was invited to tour the museum the Saturday before Thanksgiving, and to take part in a daylong photo-shoot pairing models in vintage wear with half a dozen classic streetcars.
Electric streetcars in America made their debut in Baltimore in 1885. For several generations, they were a primary mode of transportation. But the rapid growth of the automobile industry, especially after the end of World War II, eventually spelled the end of the line for trolleys in many cities. Baltimore ended its love affair with the sturdy cars in 1963. Today, all that remains of the city's once expansive, state-of-the-art system, is a few shuttered car barns, a handful of old waiting stations, and miles of track now buried beneath the asphalt roads.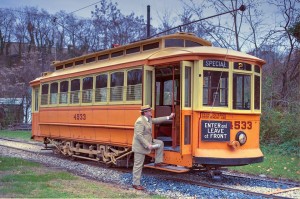 Fortunately, there is also the streetcar museum.
Ray Cannon has been associated with the Baltimore Streetcar Museum since 1967. Cannon said the museum was formed in the mid-1960s, shortly after the end of the streetcar era.
"It's an outgrowth of an idea a fellow at the old United Railways and Electric Company had to preserve a collection of historic streetcars so that future generations would be able to see what their parents and grandparents and even great-grandparents used to ride on."
"Over the years, the museum has – through the efforts of its members – developed an operating streetcar museum using actual cars which ran on the streets of Baltimore. We have a collection of cars which range from the era of the horse-drawn streetcar right up through that last car which ran on the streets in 1963. It's all volunteer, although sometimes we do have to use paid labor when it involves skills that none of our members have, or requires specialized work which uses tools we don't have access to. But otherwise, all of the operations are done by volunteers."
"At last count, I believe we have about 18 cars. Most are from Baltimore. We do have a few from other cities, at least one of which is being restored as a representation of a Baltimore car. We generally have half a dozen that we can use. The others are either under restoration or awaiting the restoration process."
Cannon added that the museum enjoys hosting guests and is open year round – Sunday Noon – 5PM. It is also open Noon – 5PM on Saturdays from June through October.
"We have a Santa Claus event coming up December 6, 7 and the following weekend December 13, 14. Families can come down and ride a car with Santa Claus, get a little treat and see our decorations."
* * * * *
The November 22 event this reporter attended was sponsored by the Friends of Philadelphia Trolleys. For $20, people could tour the museum, ride the trolleys all day and get a feel of another time by operating one of the old rail cars. All of the proceeds from the event went directly to the Baltimore museum.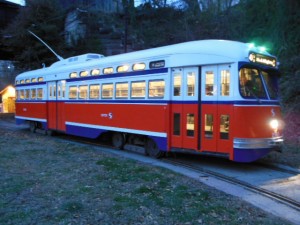 "This facility is really nice," said Bill Monaghan, Jr. Vice President of Pennsylvania's Rockhill Trolley Museum. "They are talking about putting up another car barn which would be great."
Monaghan was one of several current employees of the Southeastern Pennsylvania Transportation Authority (SEPTA) on hand for the event. SEPTA operates the light rails and trolleys in the Philadelphia area.
"I operate a trolley in Philadelphia and two of my bosses are also here, so for many of us, it's more than just a hobby. The 2187 out there is a Philly car. We enjoy coming down here to see our car."
* * * * *
Organizing the themed photo-shoot was trolley buff Richard Panse of Kew Gardens, New York.
Panse told the Baltimore Post-Examiner his love of trolley cars started at a young age.
"My father came over from Germany in the early 1920's, and he was a trolley fanatic. He studied civil engineering, and the only day he ever took off from school or college at that point was to ride the new Brooklyn Street line PCC cars. He passed that love of trolleys and trains on to me."
"Once I got older, I didn't really want to follow through on our family vacations of taking pictures of trolley cars. After he passed away, I felt something was missing, so I thought, 'Let me see if I can connect again with my father by taking pictures of trolleys and transit.' Some people thought I was pretty good at it, so I became more involved in (the hobby). I've had pictures appear in different websites, and it continues today. I still enjoy photographing trolleys. I try to get them with different backgrounds, with different scenes. I try to take pictures of a train or trolley moving through a scene as opposed of just a picture of a trolley car."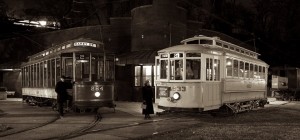 Panse said his hobby has taken him as far away as Milan, Italy and to several cities in Germany. Domestically, he has visited Kenosha, Wisconsin, San Francisco and Pittsburgh. "Boston has some vintage trolleys that they still run. And I've been to Philadelphia several times. So, I've really traveled all over the world taking pictures of trolleys and trains."
With so many stops, we wondered if Panse has one special destination on his bucket list?
"Lisbon, Portugal. That's the one place I really want to get to. They have numerous operations. And they have cars which scale these winding, twisting roads the middle of city, which I'd love to photograph and see how they turn out."
"I actually enjoy photographing more then riding (the trolleys), because I look at it as a challenge. I sort of go back to when I was a young kid and watching the trolleys and my father being fascinated when they came in. I just have this image in the back of my mind of my father enjoying watching them. I'm reliving his memory. And of course, now I have these lovely vintage models who enjoy doing this too, which makes it even more fun."
The models Panse was speaking of are fellow New Yorkers (and friends) John and Camille.
* * * * *
During a break in the photo-shoot, Hampden resident Sheri Tracy took some of the participants on a fascinating tour of the restoration barn. Tracy cheerfully admitted she was pulling double duty that day, as she is both Secretary with the Friends of Philadelphia Trolleys AND a volunteer at the Baltimore Streetcar Museum.
Tracy told the Baltimore Post-Examiner she estimates there are about 30 volunteers who man the site on a regular basis. Her post-Thanksgiving plans included decorating the PCC car from Philadelphia for the Santa event.
"When I was little, my godfather used to bring me down here. My son Logan had a chance to operate a trolley when he was about 8, so he has been volunteering ever since."
Now seventeen, Logan is the founder of the Fans of the Baltimore Streetcar Museum.
Tracy said she is currently preparing to qualify to operate a trolley with passengers on board.
"Logan has already qualified, so once I make it," she proudly beamed, "we will be the first mother/son team with that unique designation."
* * * * *
Along with painstakingly directing the photo-shoot, both Richard Panse and his wife Karen had a chance to operate a trolley car, as volunteers coached the novice couple through the dynamics of accelerating, coasting through curves and braking and stopping the vintage machines.
Richard noted that in all of his years as a trolley fan, he had never operated one of the classic rail cars.
Neither had Karen, who, after executing a perfect stop, excitedly exclaimed, "Aha! My next job. I want to move to San Francisco! I can drive a car there!"
Or here in Baltimore, for that matter.
Karen Panse has definitely got the knack.
I couldn't help but notice that, before moving the big car along, she always remembered to sound the bell.
* * * * *
The Baltimore Streetcar Museum is located at 1911 Falls Road, just south of the old Hampden mill district – below the North Avenue bridge. The museum is open year round on Sundays from noon -5pm and on Saturdays from June – October. More information about the museum, including details about this weekend's rides with Santa, may be found by visiting the Baltimore Streetcar Museum online or by liking the museum's Facebook page.

Anthony C. Hayes is an actor, author, raconteur, rapscallion and bon vivant. A one-time newsboy for the Evening Sun and professional presence at the Washington Herald, Tony's poetry, photography, humor, and prose have also been featured in Smile, Hon, You're in Baltimore!, Destination Maryland, Magic Octopus Magazine, Los Angeles Post-Examiner, Voice of Baltimore, SmartCEO, Alvarez Fiction, and Tales of Blood and Roses. If you notice that his work has been purloined, please let him know. As the Good Book says, "Thou shalt not steal."