Baltimore standing strong with Standing Rock Sioux
On November 15th, Baltimore joined over three hundred communities in the United States and around the world in standing in solidarity with Standing Rock in opposition to the Dakota Access Pipeline. The global event took place at the request of indigenous leaders, who called on a wide network of Native-lead, social justice, and environmental groups to mobilize in front of local Army Corps of Engineers buildings (or at the branches of major banks who back the pipeline) one week after the election. This day of action was organized well in advance of the election outcome and was designed to put pressure on President Obama and the incoming administration to reject the Dakota Access Pipeline (DAPL) for good.
It was the Army Corps of Engineers who "fast-tracked" the pipeline through land sacred to the Standing Rock Sioux. This pipeline, which will carry fracked oil, was originally routed through a majority white suburb but was rerouted due to concerns over contamination risks to drinking water in this area. The United States government has again and again failed to uphold their treaties with Native communities. By not consulting tribal governments before breaking ground, Energy Transfer Partners has broken federal law, as well as the 1851 Treaty of Ft. Laramie.
This unrelenting pattern of environmental racism was seen in the planning of the Keystone XL, and more recently at Oak Flat in Arizona where Senator McCain put a midnight rider on a bill to allow foreign copper mining company Rio Tinto rights to Apache lands.
Right now, indigenous people from over a hundred nations are putting their bodies in the way of bulldozers at Standing Rock. Burial grounds have already been destroyed. These non-violent, peaceful water protectors have been met with rubber bullets, pepper spray, and just last night—freezing blasts from water cannons in North Dakota's brutal winter temperatures.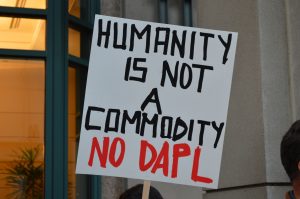 Baltimore came out in strong numbers to show their support for the Sioux's right to clean water and to the management of their land. The location of the rally, at the intersection of South Howard and Baltimore Street downtown, was somewhat challenging due to the light rail tracks, the elevated light rail platform, and two lanes of traffic, but the crowd split themselves in half to cover both sides of Howard. While half remained in front of the Army Corps buildings, the other half engaged the rush hour traffic. The crowd, which chanted, rang cow bells and beat drums, was met with enthusiastic honking in support. Participants had created fact sheets to pass out and there was much dialogue with people in transit. It was heartening to see the people who, upon learning about #NoDAPL, spontaneously joined the chanting or joined in passing out the literature. It was an entirely peaceful rally.
Leaders from Baltimore Stands with Standing Rock, an arm of Charm City Farms, relayed first-hand accounts of attending to injured people on the ground at the camps, the need for medical and food supplies, as well as stoves and firewood. Baltimore's Native community has had a presence in Standing Rock from day-one. Over $350 dollars was raised in support.
As violence against the water protectors escalates, it is essential that continued pressure be put on President Obama, legislators and the banks who back the pipeline. The Army Corps of Engineers announced plans to delay further movement until more studies had been done, but this will only push the pipeline's construction to fall under the new administration. President Obama has the ability to reject it now, the way he eventually did with Keystone XL.
Call the White House today at (202) 456-1111. Introduce yourself, say where you are from, and tell the staffer that you would like President Obama to reject the Dakota Access Pipeline, protect the water of the Standing Rock Sioux, and honor the treaties.
Divest your money from Citibank, TD Bank, ING Bank, Suntrust and Wells Fargo. These banks, among others are backing the pipeline.
Like and Follow Baltimore Stands with Standing Rock for updates about how Baltimore is involved on the ground in North Dakota. Email ameejill@hotmail.com for questions about donations.

Kate Wyer's novel, Black Krim, was a finalist for the Debut-litzer from Late Night Library. She was also a finalist for the Omnidawn Fabulist Fiction contest. Wyer's collaboration with illustrator Katie Feild resulted in a novella titled Land Beast. 100% of the proceeds from this book go to anti-poaching organizations. Her work has been in The Collagist, PANK, Necessary Fiction and other journals. Wyer lives in Baltimore and works in public mental health.